Why the World's Best Brands Focus on Hospitality
Published November 26, 2018
As leader of the Union Square Hospitality Group and founder of Shake Shack, Danny Meyer is known as one of the world's top restaurateurs.
As I listened to him speak onstage at The Global Leadership Summit, I thought, "Who wouldn't want to work for this guy?"
His understanding of hospitality explains why he is so successful. He sees his success as a road that is paved with well-handled mistakes, and he turns mistakes into opportunities to prove his value of hospitality.
As far as hiring people in his restaurants, he says, "Technical proficiency means you can do your job. But perfection in your job only counts for 49%. The rest is hospitality. Not service. Hospitality is about how we made you feel when we delivered service. If I know how to deliver great service and how to make you feel better, you are probably going to come back to my place."
Meyer shared that he hires people based on these emotional skills:1) Kind-hearted and optimistic, 2) Curiosity, 3) Good work ethic, 4) Empathy, 5) Self-Aware, 6) Integrity.
The hospitality culture that Meyer creates made me wonder, "Where else is hospitality modeled at the very highest possible level?" Let's look at some shining examples.
Southwest Airlines
Chris Robbins worked for Southwest Airlines for 20 years and said, "Hospitality is the friendly and generous reception and entertainment of guests, visitors or strangers. It's the act of establishing a friendly relationship between the host and the guests." The employees are continuously demonstrating a Warrior Spirit, a Servant's Heart, and a Fun LUV-ing Attitude.
Hospitality is different from service. It's more about creating a feeling in the guest. It's about creating a relationship between the server and the served.
Southwest says hospitality is different from service. It's more about creating a feeling in the guest. It's about creating a relationship between the server and the served. You cannot have bad hospitality—you either feel it or you don't. You must provide the same hospitality to the next person you meet, even if things aren't going well for you or for them.
I have a personal experience with Southwest. Recently, I was on a short, early-morning flight when the flight attendant walked passed me and asked, "Is there anything else I can do to serve you?" I said, "Well, it is a little warm in here." She responded, "Sir, the captain has control of the temperature in the cabin, would you like to talk to him?" I thought she was kidding. "Seriously?" I asked. She said, "Follow me." She escorted me to the galley at the back of the plane, called the captain, and put the phone to my ear. The captain asked, "Sir, how can I serve you?" I responded, "Can you make it cooler in the cabin?" His answer: "I would be happy to make it comfortable for you." Only at Southwest!
Buckingham Palace
Deputy Master of the Royal Household, Edward Griffiths, says, "We entertain 70,000 people a year [at Buckingham Palace] and every one of our guests wants to walk away with a remarkable memory from their visit. Hospitality is all about the way people feel about what they have just experienced. We have to concentrate on those last two percentage points that matter. Even in the most formal setting, we must make people feel at home. Formality must never intimidate."
People who work at Buckingham Palace must have that spark of enthusiasm. If people are happy in their work, the customer can feel their attitude. More than likely, if you were to experience an event at Buckingham Palace, you would be far more impressed with how they made you feel rather than anything else.
Chick-fil-A
Chick-fil-A bases their hospitality on the scripture from Matthew 5:41, "If anyone forces you to go one mile, go with them two miles." Go beyond what is expected. Under-promise and over-deliver. We take these simple, everyday phrases for granted, but Chick-fil-A uses them as their core values: create eye contact, smile, speak enthusiastically and stay connected. How can obvious, simple, everyday phrases have so much impact?
Go beyond what is expected. Under-promise and over-deliver.
They also add what is called "second-mile service," three services that not as many fast food restaurants think about—delivering meals for high-need guests, performing table touch-ins and carrying large orders to cars.
The next time you visit Chick-fil-A, you will notice these three genuine characteristics: 1) active listening, 2) leaning in and 3) being proactive. This is demonstrated by opening the door or offering an umbrella on a rainy day. Practical, simple things that become their "secret sauce." There's nothing secret about this sauce, only that Chick-fil-A makes sure every customer who enters their restaurant is greeted with these simple things.
Why does Chick-fil-A bother to do these things? Because they care for each guest separately. If you ever wonder how the server knows your name, it's because the cashier takes your name and then shares your name with the table server. They also ask, "How may I serve you?" rather than, "How can I help you?" Notice the difference in the question. The serving question is clear and to-the-point, putting the customer first. The second question leaves room for the customer to feel like they are an inconvenience.
The Bible and Hospitality
1 Peter 4:8-10 says, Above all hold unfailing your love for one another, since love covers a multitude of sins. Practice hospitality ungrudgingly to one another. Let your hospitality be an extension or an overflow of God's hospitality to you. Be a good steward of God's grace.
So, what do Southwest Airlines, Chick-fil-A, Buckingham Palace and the Bible all say about hospitality?
There's always a welcome sign above the entrance. And the way guests are treated will be the thing they remember most about the experience.
Never miss an inspiring leadership insight or the latest leadership news!
About the Author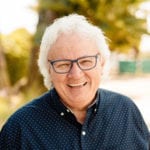 Chief Culture Officer
In 2007, Stan Endicott founded Slingshot Group. It has grown to become one of the top church staffing and coaching companies in America. He follows the instruction and understanding of Proverbs, 20:5: "The purposes of a person's heart are deep waters, but one who has insight draws them out." Most recently Stan's creative approach to coaching has been captured in his IMPROVleadership coaching model, which helps leaders build trust, encourage risk-taking, increase collaboration and promote creativity. Today his role at Slingshot Group is that of CCO, Chief Culture Officer.