Ministry and #MeToo
Episode 8
Becoming Better Together Panel Discussion
DeVon Franklin, Jeff Lockyer, Danielle Strickland, Liz Testa
The Ministry and #MeToo learning journey concludes with an lively and insightful panel discussion as Liz Testa, DeVon Franklin, Jeff Lockyer and Danielle Strickland take questions from our studio audience. They tackle questions like: How do you help a leader who has blind spots in the ways they are addressing issues of sexual misconduct? How should men confront the temptations of power? Given the risks of false allegations, should organizations refrain from hiring women? Where do we draw the line between imposing strict boundaries with men and women versus encouraging more casual working relationships?
Running time: 24 minutes
Download:
Resources Mentioned:
Rev. Liz Testa
Pastor; Coordinator for Women's Transformation and Leadership
Rev. Liz Testa is a visionary leader passionate about encouraging others to embrace their God-given gifts and callings. As the Reformed Church in America's denominational leader for Women's Transformation and Leadership, she has witnessed joy, healing and transformation in the lives and ministries of hundreds of women. In 2018, her team launched a new learning process that fosters healthy, flourishing ministry partnerships between men and women. A dynamic preacher and presenter raised biculturally in New York and Spain, she is an enthusiastic bridge-builder between diverse contexts, customs and cultures.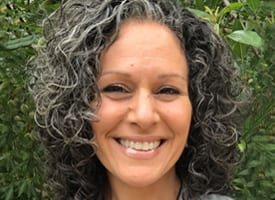 DeVon Franklin
Producer, Author, Speaker; CEO of Franklin Entertainment
DeVon Franklin is an award-winning producer, best-selling author and spiritual success coach. Beliefnet named him one of the Most Influential Christians Under 40. He is CEO of Franklin Entertainment with 20th Century Fox and has produced the hit films Miracles from Heaven, Heaven is for Real and The Star. Franklin wrote the New York Times best-selling book The Wait with his wife, Meagan Good. In his latest book, The Truth About Men: What Men and Women Need to Know, he discusses why men behave the way they do, offering a positive way forward for men and women alike.
Jeff Lockyer
Pastor; Co-host of The Global Leadership Summit's GLS Podcast
Jeff Lockyer is the lead pastor of Southridge Community Church, a multi-site movement in Canada where each location serves a specific community need in the Niagara Region. He is passionate about leadership development, serving as co-host for The Global Leadership Summit's GLS Podcast. Jeff's church has done pioneering work to understand the causes of gender inequality in his ministry and established innovative programs to intentionally build leadership into women and girls.A former national team runner, he is founder and Head Coach of Tailwind TC, a regional track club for elite young distance runners. 
Danielle Strickland
Pastor; Author; Justice Advocate
Danielle Strickland has led churches, started training schools, established justice departments and served the marginalized all over the world as an officer of The Salvation Army. She is an ambassador for Stop the Traffik and Compassion International, and she co-founded Infinitum, Amplify Peace, and The Brave Campaign. With a deep calling to empower people, Strickland speaks at conferences around the globe and has authored several books. Her most recent book, The Zombie Gospel, draws out deep lessons on what it truly means to be human.