Published June 25, 2015
Building Unity, Transforming Churches, Caring for Children, and Equipping Emerging Leaders in Namibia
"My name is Tobi Nel, and I'm a pastor at Walvis Bay Community Church, Namibia, and I've been the GLS coordinator for our country for the past 3 years. I first came to the Summit because a friend, who is a business man and member of our church, took me with him to attend the GLS at Willow Creek in Chicago. We both felt this would be a fantastic event for the leaders of our country, so we contacted the Willow office in South Africa, and the team there played a huge part in making it a reality.
We hosted our first event for Namibia in 2008 and it literally changed our lives and our church. We experienced a "volunteer revolution", and we knew that it had a great impact on the attendees. The GLS has helped a great deal in growing our leadership skills and it has become a non-negotiable yearly event for our leadership team. Since 2008 we've expanded to four GLS sites in Namibia.
The Summit Builds Unity Across Namibia
Because of the Summit, we've seen racial boundaries break down, people coming to Christ and others growing in their relationship with Christ.
One of the greatest impacts that I have personally experienced was when churches in our city started coming together. Before we had our first GLS, the different churches and denominations didn't do anything together. We invited all the different church leaders and their teams to the GLS, and some of them came. The next year more came, and the next year even more. Now, it is scheduled into their yearly program.
We started to communicate with one another and formed what we call a "Pastor's Circle." Every second week we get together, share insights from the Word, pray for one another, have something to eat and fellowship as partners in the same Kingdom.
The Summit Transforms Churches
A few years ago Gary Haugen was one of the speakers at the GLS, and he said something that changed our lives:
"If you want your leadership to matter, lead in the things that matter to God."
As a result of that, we started a trust that has the sole mandate of caring for vulnerable children in our community, simply because we know they matter to God. Today we feed close to 2,000 children a day, run a pre-school, do after-school classes, and we opened a foster home.
Building into Emerging Leaders Across Namibia
I was talking with my friend, Robert de Villiers, who took me to Willow for the first time, about reaching more leaders with the GLS. We dreamed of having more events, although smaller "mini GLS" events, but reaching leaders that we would otherwise not necessarily reach, especially the younger leaders in our country.
We also wanted to make it very accessible to them by bringing the GLS to their location and without them having to incur any costs. For that to happen, we needed a substantial sponsorship. We did a proposal for First National Bank and they agreed to partner with us. We purchased the equipment and a trailer and we have a fully mobile setup. We have been doing MLS events for the last three years with programs varying between 90 minutes to half-day events. At this point, I would like to mention my awesome wife, Magda. She's been doing the MLS events with us from day one and hasn't missed a single event. She does the snack packs and décor and even helps with the technical setup!
Ultimately, our dream is to reach the young leaders because we believe they are the leaders of our future. If we can inspire and equip them now, they will be better leaders for the future.
We would like to show sessions like Gary Haugen's, as well as others, to challenge students to get involved with social responsibility projects and other projects to serve the vulnerable in our communities. Last week, we held an event at a private school for 76 students, parents, and teachers, who were blown away by what they learned from speakers like Blake Mycoskie. As a direct result, the school plans to hold a local shoe drive for their community. And beyond that, these students are being equipped to be the leaders of the future of Namibia, and the GLS is an incredible tool in this year-round movement to transform Namibia for the Kingdom."
-Tobi Nel, GLS Coordinator, Namibia
We welcome and encourage comments on this site. There may be some instances where comments will need to be edited or removed, such as:
Comments deemed to be spam or solely promotional in nature
Comments not relevant to the topic
Comments containing profane, offensive, or abusive language
Anonymous comments
If you have any questions on the commenting policy, please let us know at heretoserve@globalleadership.org
Equip, encourage & inspire global leaders with a gift today
When you give to the Global Leadership Development Fund, your gift inspires and equips Christian leaders, facilitating transformation in some of the world's most challenging environments.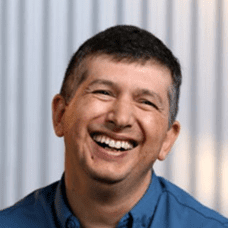 "Without your heart for giving, we could not have had the GLS in many countries like Bolivia, Ecuador, Cuba, Chile, Peru and others in the rest of Latin America."
Carlos Arroyo, South America