Published August 30, 2017
Because of the GLS | Leaders Embrace a Vision that Could Transform Sri Lanka
"Add value to people." – John Maxwell
It sounds like such a simple concept doesn't it? But in this day and age, all we have to do is turn on the news to see a despairing amount of people being de-valued. What is a leader to do?
Can a culture built on adding value to people change a community?
Can it change an entire country?
Ihaab Iqbal from Sri Lanka certainly thinks so. And it is one of the biggest reasons he is so passionate about bringing the GLS to more leaders in his nation.
Ihaab has a vision, fueled by the GLS, to build a culture that adds value to people.
As the leader in charge of overseeing the GLS in Sri Lanka for the last six years, Ihaab is witnessing how perspectives are shifting. "My vision is that every single person would be a good influence on who they interact with regardless of their position in society," Ihaab explains. "Our country has gone through rough challenges, but the underlying reason is people need to be valued. We've had conflicts and political and economic instability. We've had so much rapid change, and not all of it is positive. These changes make Sri Lanka the society we are today, but our people need to be fueled with a vision for the future. I see the GLS as a tool to address that. And right now, I feel we are on the crest of a wave where we could impact our entire country."
The one thing that most captures Ihaab's heart is the idea that we can learn about different leadership principles and value systems, but it always comes down the common thread…
Leadership is all about people.
"The Gospel is all about people," Ihaab shares. "Leadership is about learning how to have good relationships at different levels. Because of the GLS, I no longer see people from the perspective of what they can't do, but I rather see what they can do and what influence they have. My interest in people's value changes how I do things.
"If each person valued everyone they came in contact with, it would bring the most significant change to our world."
The GLS helps Ihaab remember his own value so he can continue to bring value to others. "I have been to the point of wondering what on earth am I doing," Ihaab shares. "My function, the impact of it and significance becomes the question for me. But when I come to the GLS, it is a booster, a recharge. God speaks to me. He gave me a vision to share the GLS with more leaders in Sri Lanka."
The GLS addresses the whole person – their whole value.
"We tend to look at life in separate compartments, but for me, I believe God has made us one person," Ihaab explains. "There are no separate parts of your life. Everything is intertwined. The GLS wraps it all up together. Unlike other events or programs, I feel the GLS has a more unselfish approach. It is more about dealing with the person and less about the bottom line.
"The GLS can infuse vision into a person. It is not about what you can do for your bottom line; it's about how you live your life. How you impact people around you. That is why the GLS is a good tool for Sri Lanka."
Thank you for fueling Ihaab's vision
Ihaab is witnessing how when a leader changes, churches change, and then entire communities.
Thank you for being a part of fueling this vision in Sri Lanka and supporting and praying for leaders like Ihaab. Because of you, the GLS has gone from one event six years ago to 16 events today. Ihaab hopes to reach 25,000 leaders by 2019. Imagine the impact!
"When I came on board with the GLS in 2011, I saw it as just a simple tool being taken to business leaders," says Ihaab. "But as I followed the program, I began to realize the potential to change our country. I've been given the opportunity to take the GLS to all parts of Sri Lanka. And that has been possible purely because of donations.
"I speak for my team when I say we are truly grateful. We don't really get to see who is behind all this, but we know there are a lot of people supporting us in various ways and we are thankful for that."
To learn more about how to support leaders like Ihaab,
go to www.willowcreek.com/give
We welcome and encourage comments on this site. There may be some instances where comments will need to be edited or removed, such as:
Comments deemed to be spam or solely promotional in nature
Comments not relevant to the topic
Comments containing profane, offensive, or abusive language
Anonymous comments
If you have any questions on the commenting policy, please let us know at heretoserve@globalleadership.org
Equip, encourage & inspire global leaders with a gift today
When you give to the Global Leadership Development Fund, your gift inspires and equips Christian leaders, facilitating transformation in some of the world's most challenging environments.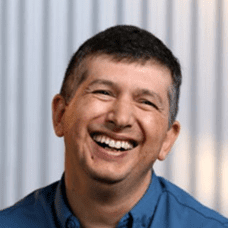 "Without your heart for giving, we could not have had the GLS in many countries like Bolivia, Ecuador, Cuba, Chile, Peru and others in the rest of Latin America."
Carlos Arroyo, South America