Published April 8, 2019
Why I Didn't Give Up Working in the Church
My battle with depression and anxiety.
Growing up in the church, I spent almost my entire life in ministry—first as a volunteer and then on staff.
On the outside I was an ambitious, trustworthy, servant-hearted, excited, kingdom-minded man. I have an incredible, beautiful wife and we have fun-loving, studly sons. My social media showed a lot of wins and successes. As a student pastor, I was in my sweet spot. I was close to a dream job, and at the time, I couldn't ever imagine doing anything else.
On the inside, however, I was anxious and depressed. When I drove into work, I would sweat just thinking about the immense tasks at hand. In meetings, I was scared that when it was my turn to speak up, I wouldn't be able to. I feared my peers would view me as incompetent to lead. This overload of stress and anxiety drained me during the week, and when weekends came around, all I could do was sleep.
In large groups, I was almost paralyzed. I scouted out my nearest and best exit, in case I needed to get sick. I hated "lying" when people asked how I was doing. On the outside everything was great, but on the inside, I was anxious for what felt like 99 percent of my days. I was having panic attacks 2-3 times a day, 5-6 days a week.
There were the days when I felt incapable of doing anything.
There were the days when I felt incapable of doing anything. I literally could not function. I didn't want to talk to anyone—not my wife, best friends or my family. Not even God. I didn't want anyone to know what was really going on. I didn't think anyone would understand. I wasn't telling my wife everything I was experiencing. I didn't even fully comprehend how far this had gone, and how deep-seated it had become.
Satan loves it when we feel alone. I believe he loves it when we isolate ourselves from others and suppress vulnerability and transparency with thoughts like: It's all in your head; It's not that bad; No one else understands; If I tell anyone else they will think I am weak or it will sound stupid. My worst internal thought is: You've got this. All of these thoughts are fodder for Satan because they lead us away from the community God has built for us to thrive so we don't live alone in fear.
I decided it was time to fight.
I had a near death experience. I was having a lot of wild symptoms and was on the verge of severe serotonin syndrome. My doctor caught it before I was hospitalized with what could have had dangerous implications. Living life with anxiety and depression is a day-by-day, hour-by-hour and minute-by-minute fight. Now, after living with it for over 25 years, I understand that I am not alone. Too many people still believe Satan's lie that they are alone and, "They've got this."
Without the Summit, I would have given up.
I would have given up on working in the church a few years ago if it had it not been for the continual reminder from the Summit that the local Church is the hope of the world.
Before then, I felt alone. But I realized I cannot fight alone—people lose the battle if they are not in a community.
God has shown me the need people have for true community. A community that really cares! Once I began opening up about my depression, anxiety and panic attacks, I began receiving texts, messages on social media and even occasions when co-workers came to my office to sit on my couch and tell me they struggle with the same thing, yet had never told anyone.
With inspiration from the Summit, I developed a vision of a community where people feel noticed, known, valued and loved. I took on the initiative to recruit 72 section leaders at my church in a two-year period. My hope was to create an environment where people didn't feel alone like I had.
Need for connection and authentic care
In a world where almost everything is automated, I want so much for people to personalize their interactions. A return to handwritten notes and meaningful texts. A return to face-to-face conversations. Our culture seems to value speed and efficiency, but I want to slow down and be present with people. I also want to see our faith community to do the same thing. I want the church to be a true community and not a gathering where people feel alone.
At the 2018 Summit, Craig Groeschel reminded me that I have to "Have a heart to care. You will never be a leader others want to follow unless you care and they know you care." Slowing down, being authentic and listening really makes an impact on people because they aren't used to it. I was also reminded that, as hard as it is, exposing my weaknesses and vulnerabilities has brought me a long way on a personal level, and also with my team!
Why you should attend the Summit
Out of all the years I have spent with the Summit family, staff and faculty, there is not one minute that I regret or see as time wasted!
"I am created to be dangerously unique"
Each year, I am come away rejuvenated. My eyes are opened to a rich diversity of leadership styles and approaches. Not only that, but I am inspired by the stories of God moving all around the world and reminded that He is moving in me and through me in the same way. I keep my Summit notes close to me all year and refer to them often.
Erwin McManus statement, "I am created to be dangerously unique" is hanging in my bathroom, is written on a whiteboard at work and I will probably have it printed to remind me of that truth. God did not create me as a cookie-cutter human being. He created me to love passionately, serve generously and emulate Christ for all I meet!
We welcome and encourage comments on this site. There may be some instances where comments will need to be edited or removed, such as:
Comments deemed to be spam or solely promotional in nature
Comments not relevant to the topic
Comments containing profane, offensive, or abusive language
Anonymous comments
If you have any questions on the commenting policy, please let us know at heretoserve@globalleadership.org
Equip, encourage & inspire global leaders with a gift today
When you give to the Global Leadership Development Fund, your gift inspires and equips Christian leaders, facilitating transformation in some of the world's most challenging environments.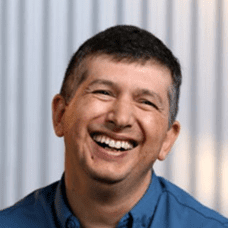 "Without your heart for giving, we could not have had the GLS in many countries like Bolivia, Ecuador, Cuba, Chile, Peru and others in the rest of Latin America."
Carlos Arroyo, South America