Published July 5, 2021
Teen Leader Empowered to Lead Movement Helping Girls Realize Their Worth
Our premier leadership event, The Global Leadership Summit (GLS), attracts people of all ages and industries, but one of the most exciting aspects is the number of young emerging leaders who join us each year. With energy, passion and a desire to make the world a better place now and in the future, emerging leaders as young as 11 years old are finding great enjoyment and a purpose for their life when they take part in the Summit.
For high school junior, Diamond Penn, the GLS in 2020 reinvigorated her passion for the dreams God placed on her heart. "There are so many ideas God placed on my heart!" Diamond exclaimed. "I am confident after all God has revealed to me through The Global Leadership Summit. I loved getting to grow as a leader and be encouraged on my leadership journey. I am ready to finish what He has started in my heart! I'm so thankful for the opportunity to attend and I can't wait to see all God is going to do in my life and the lives of others around the world!"
Called to Lead
With the dreams and ideas on Diamond's heart, her leadership journey is just getting started. And it all began when her mom recognized the leader Diamond was becoming and called it out. "My mom's been telling me I'm a leader since I was little," said Diamond. "She explained to me what that meant, but it didn't really hit me until people started following me. At first, I just thought people were trying to copy me, so I used to get irritated by it. But my mom helped me see that I was a leader and I had influence with those around me. I began to see how Christ is leading me, I'm following Christ and others are following my lead to Him! THIS is what it means to lead. They aren't copying me! They are inspired by me! And God made me a leader for a purpose."
My mom said, 'God is using you so those beams of light shine through you to the world.
"My mom said, 'God is using you so those beams of light shine through you to the world. You can't expect that to not have an effect!'"
As many leaders know, leadership isn't always easy, and at a young age, Diamond has experienced this reality too. "I've had to learn not to be afraid about not fitting in," said Diamond. "Everything in society says you have to fit in, blend in, mend in. But if you get caught up in fitting in, you miss your purpose. And I realized Jesus didn't fit in! So, I decided I'd rather stand up for Jesus than fit in, and that takes some getting used too. I don't always understand why people are drawn to my leadership, but I think it might have something to do with grace, vulnerability and letting God lead me. When God leads me and moves through me, I can share my story in a way that helps others."
Camp Bible Study Seeds the Beginning of a Movement
Diamond's heart for others radiates through the projects she's excited about today. What was seeded during a summer camp where she was asked to lead a Bible study has grown into a project to help teen girls understand their worth. "When they asked me to lead a Bible study, I was willing, but didn't know what my topic should be," said Diamond. "I prayed about it and felt like God asked me to talk about beauty… Beauty?! It feels like everyone talks about that. But He showed me I needed to focus on what it means to be God's beautiful beloved daughter. It turned out to be a really inspiring experience. More than 20 girls wanted to be part of my study! And afterwards, one of the girls came up to me and told me she had been struggling with this idea for a long time, and this study really helped change her life. And I thought, wow, Jesus, what is going on? So, my idea for Bold.Beautiful.Beloved. has been on my heart ever since."
In 2020 in the middle of quarantine, she took her ideas further and set up a website for Bold. Beautiful.Beloved. focused on helping teen girls realize their true worth, and also started a couple other projects including research into what she can do to support kids in the foster system, as well as a YouTube channel called, Watch God Glow.
Finding Confidence at The Global Leadership Summit
With encouragement and fresh skills learned at The Global Leadership Summit, Diamond is moving forward with greater confidence to pursue what God put on her heart. "I want to help more girls see themselves as daughters of the King," said Diamond. "So many girls in my community struggle with this idea. They compare themselves to others all the time and I think it's really important for them to know their beauty isn't in highlight reels and Instagram filters, but rather from the inside out. I want them to know that they are beloved by God and treasured."
I think it's really important for them to know their beauty isn't in highlight reels and Instagram filters.
"It really breaks my heart to hear some of the stories of my friends about the things they think they need to do to 'get a guy,' and the things girls are willing to risk to feel liked or 'loved,'" said Diamond. "There is a deficiency in realizing how much they are already loved by God. They chase after love everywhere else and wonder why they aren't satisfied. Don't they know how loved they are? It's for this big reason I want to see the Bold.Beautiful.Beloved. movement grow!"
Forgiveness Opens Up Opportunities
Another aspect of leadership Diamond discovered early on was the importance of forgiveness. This was reaffirmed again at the GLS in 2020 when Lysa TerKeurst gave a powerful talk on forgiveness in leadership. "I realized when you have unforgiveness in your heart, it is harder to move forward in the fullness of what God desires for you," said Diamond. "The path of honorability and honesty God was asking of me meant I had to forgive my dad for some things that had happened in the past. Once I did, things started opening up more for my projects. Not only that, but I also realized there was a connection in what I needed to forgive in my dad with what God was calling me to do. For many girls, their image or relationship with their dad impacts the way they see themselves and receive or give love. So, it was really important for me to take this step."
Why Emerging Leaders Should Attend the Summit
"The Summit was amazing and so inspiring," said Diamond, reflecting on what she learned at The Global Leadership Summit in 2020. "I loved the speakers' vulnerability to share their stories and the process of what it's like to lead. It wasn't always easy for them, but they continued to live out their purpose."
…being a leader is also about being vulnerable enough and honest enough with yourself and others to go through tough times and learn from your experiences.
"I was just reflecting on this again recently and thought about coming to the end of my life—I want to die with my cup empty, fulfilling the purpose God gave me as his beloved daughter. The Summit was a great reminder that God created me to be a leader. And I don't have to be perfect. I can make mistakes, because being a leader is also about being vulnerable enough and honest enough with yourself and others to go through tough times and learn from your experiences. It's about taking one step at a time. Each step on this journey, even if it is as simple as writing that next blog post, sending that next newsletter, building the website or having that conversation—there is joy in it because each step moves toward the purpose God put on my heart."
Say Yes to the Opportunity
Our youth are our future. And in order to build the future for the better, we need to invest in the next generation of leaders who are and will be the change makers of that future!
"There are opportunities God presents us in life and it is that decision to say yes that makes all the difference," said Diamond. "The Summit will change your life. It'll help you discover your purpose. When you realize your talents were given to you and that you are here for a purpose, it changes the way you live. God loves you! When you go to the Summit, you'll discover how to spread that love with intentionality to everyone, everywhere. The Summit is a great propeller, and God used it to remind me who I am in Christ and the mission He called me to."
Through the generous support of our donors, we are able to offer reduced rates for Emerging Leaders ages 11-18 to attend The Global Leadership Summit. Simply click on the Student/Faculty/Military affiliated link during your registration process and choose "Emerging Leader" to receive the reduced rate of $49 ($160 off the regular individual rate of $209).
Get tickets for the emerging leaders in your life! Get tickets >> 
We welcome and encourage comments on this site. There may be some instances where comments will need to be edited or removed, such as:
Comments deemed to be spam or solely promotional in nature
Comments not relevant to the topic
Comments containing profane, offensive, or abusive language
Anonymous comments
If you have any questions on the commenting policy, please let us know at heretoserve@globalleadership.org
Equip, encourage & inspire global leaders with a gift today
When you give to the Global Leadership Development Fund, your gift inspires and equips Christian leaders, facilitating transformation in some of the world's most challenging environments.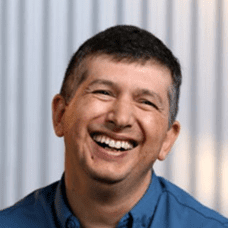 "Without your heart for giving, we could not have had the GLS in many countries like Bolivia, Ecuador, Cuba, Chile, Peru and others in the rest of Latin America."
Carlos Arroyo, South America