Ben Sherwood: Leading and Succeeding in the Age of Disruption
Published August 13, 2019
The following are notes from Ben Sherwood's talk at #GLS19. Use them to help you apply the content you learned at the Summit.
Future Prediction: Futurists believe within the next 100 years; we'll see the equivalent of 20,000 years of human progress.
How to lead in a time of crisis and how to lead in a time of rapid change and disruption.
Nelson's Touch: The battle of Trafalgar in 1805 off the coast of Spain. Admiral Horatio Nelson was outgunned, out-manned and predicted to lose. It was the British Army against the Spanish and French Armada. The objective was to stop the French and Napoleon from invading Britain. He considered the battle history and how they fought parallel. Admiral Nelson made the decision to fight perpendicular–going straight at the Spanish and French lines in two columns and try to separate them into three sections he knew he could defeat. Admiral Nelson was wounded by a bullet and died after the battle. His body was given a hero's welcome as it was brought home to England. His statue now stands in Trafalgar Square because of his bold leadership.
What is required to be a person of influence? A bold leader?
1. You need to be a farmer with a pitchfork
The greatest swordsman in England can handle the second greatest swordsman. They know the rules. They fight by established principles. They train against each other. They fought each other many times before. The greatest swordsman in England is afraid of a farmer with a pitchfork. A farmer with a pitchfork has nothing to lose.
Asymmetrical conflict: Where one side has ten times more power than the other.
Studies found when conventional tactics were used in a conventional conflict of power, one is ten times mightier than the other.
71.5% of the time, the stronger power wins.
When one side uses unconventional strategy, unconventional tactics and innovative approaches, the weaker side wins 63.6% of the time.
Story of David and Goliath: David wins 63.6% of the time across the arc of history.
● Leaders need to be bold and innovative.
Stories of history: In 1928, a character named Mickey Mouse was created by Walt Disney, but he couldn't get distribution for those shorts and no one saw them until a character named Steamboat Willie showed up. Picasso made 20,000 pieces of art. Einstein wrote 240 papers. Edison had 1,039 patents and Richard Branson has started 250 companies.
● It's the quality of the idea and also the quantity.
● Some of us have just one idea a day or in a week. Develop as many as you can because there is a high correlation.
Where do ideas come from?
A desire to know what's next.
From men and women and leaders who gather to learn and to expand their horizons. When we don't look backwards very long–when we keep moving forward, opening new doors and doing new things because we're curious and curiosity keeps leading down new paths.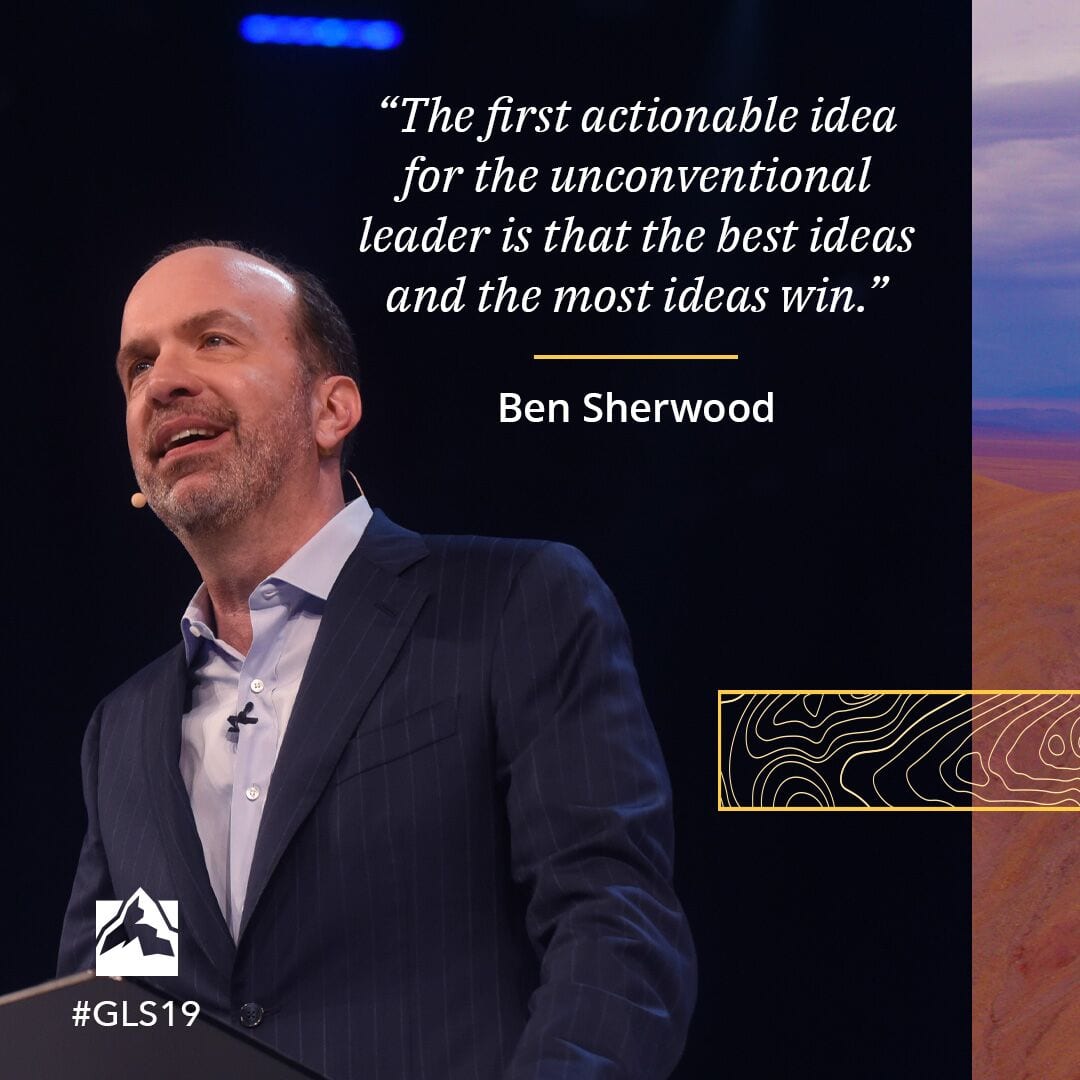 2. Belief in Magic
When you believe in something, believe it all the way.
Story of Walt Disney: Walt's first full-length animated feature was known widely for years in Hollywood as Disney's folly. Snow White and the Seven Dwarfs cost $1.5 million in 1937 and took years to produce. It was three times over budget but when it premiered, it was the most successful movie.
3. What are you waiting for?
• The way to get started is to quit talking and start doing.
Story of the FAA: The airplane crash survival school training flight attendants and other safety experts on how to survive a plane crash. The first 90 seconds is all the matters. When flying, the first three minutes and the last eight minutes are when disaster strikes.
How to get going and start moving:
1. Maintain your point of reference
Exert influence.
Know where you are and where you're trying to go.
No matter how hard you get hit, no matter how hard the knock is, if you maintain your point of reference, you stay on course.
It's when people lose their point of reference that we can get lost.
2. Wait for sudden and violent motion to stop
Things will settle.
In the calm, you can grab a hold of the team and inspire them to pursue the direction that you've set out.
They always do and this is when the calmest and coolest decisions can be made.
3. Practice realistic optimism
Story: James Stockdale was the highest-ranking officer in Vietnam serving as a prisoner of war. He remarked that the optimists were not the ones who survived.
Optimists rode their emotions up and they rode their emotions down and it was too much for them–the dashed expectations.
When brutality continued, Stockdale observed it was the realistic optimists who endured and survived and managed to lead.
A realistic optimist is someone who has an unflinching sense of their surroundings, ruthlessly honest about the challenges that they face.
True situational awareness–the military term for all of the threats and the realism to maintain optimism about the future.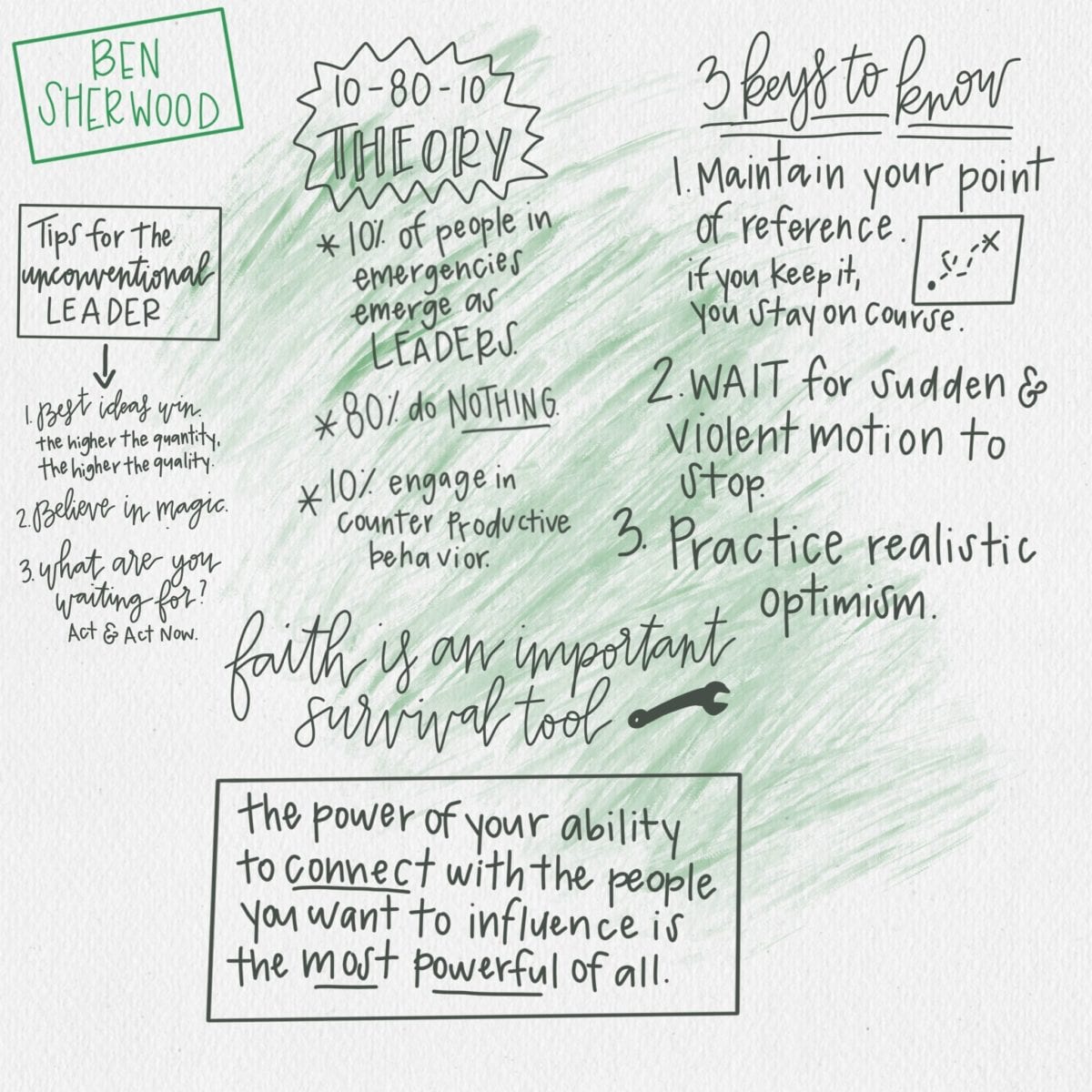 The power of faith and community is undeniable.
Story of research: Research tells us people who attend church regularly live 7.7 years longer than people who do not.
Power of the community, the behaviors and the leadership that come from religious organizations around the world.
80% (5.2 billion people) of the world's population is involved in organized religion.
Religious attendance and religious participation drive psychological, social and behavioral benefits.
Faith is such a powerful survival tool and it is a powerful leadership tool.
What's the one thing the one leadership idea to impart today? Only connect.
Connect with your fellow men and women.
Connect with the mysteries around us.
Connect one to many.
Connect one on one.
The power of your ability to connect with the people that you want to influence is the most important power of all.
If you want to increase your influence, if you want to increase your boldness, if you want to be the leader you were meant to be, connect.

Never miss an inspiring leadership insight or the latest leadership news!
About the Author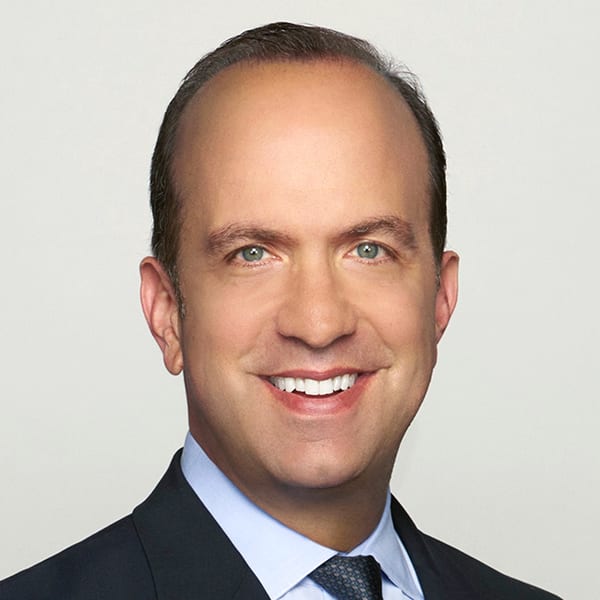 Producer & Co-Chair Disney Media Networks, Author
Disney | ABC Television
Ben Sherwood served as Co-Chairman of Disney Media Networks and President of Disney | ABC Television Group from 2014 to 2019. Sherwood oversaw a portfolio of global entertainment and news properties, including the ABC Television Network, ABC News, ABC-owned television stations, the Disney Channels Worldwide, Freeform, and Disney's ownership interest in Hulu and AETN, including History Channel, Lifetime and A+E.At Disney/ABC, Sherwood managed a 12-billion-dollar business with 12,000 employees responsible for the creation of more than 25,000 hours of original content every year.An award-winning journalist and best-selling author of both non-fiction and fiction books, Sherwood's articles and essays have appeared in many publications including The New York Times, The Washington Post, the Los Angeles Times, and Newsweek.
Years at GLS 2019