Jason Dorsey: Generational Clues Uncovered
Published August 13, 2019
The following are notes from Jason Dorsey's talk at #GLS19. Use them to help you apply the content you learned at the Summit.
Maybe what is said about generations, each generation, isn't true
● The strengths of every generation bring value
● Generations are clues, not a box
The trends that shape generations:
1.Parenting
The trend no one talks about
It's okay to be uncomfortable
Why is parenting important?

It influences everything we do
It's how we decide if a job is beneath us

Should we go in debt to go to college?
Should we go to college?

Research shows entitlement is primarily a learned behavior
2. Technology
Each generation has a natural relationship with technology largely driven by our age
It's invisible until we are forced to interact with someone of a different generation
Technology is only new if you remember it the way it was before, otherwise it's all you ever know
3. Geography
Within the same generation, you will see differences based on geography and no one brings that up
There is a difference between the urban, rural and even other countries
Story of home: Jason grew up in a small rural area where he would have a spontaneous family reunion in the grocery store.
Generations are not boxes
● They are power clues on where to start
● Companies and society give generations a bad reputation and stereotype
Story of data: Jason would speak to corporate executives, boards and leaders in communities who would say negative things about generations. Jason asked to see their data and realized it almost never matched what they told him. He is solving and bridging the generations with his own research globally to separate myth from truth.
The WHY behind behaviors and myths in the workplace
Millennials
● Millennials are now the largest generation in the workforce
● Experiencing delayed adulthood–not purchasing cars, homes, getting married and starting families as young as the previous generations
● Delayed adulthood changes how they look at stability with the work-life balance
We need to be aware as leaders to make sure we're adapting and not looking at the 25 or 30-year-old through the lens of a 25 or 30-year-old, 20 or 30 years ago.
● Demographics say 18 to 34 are covered by advertisers that came out of the 1960's
● We often don't adapt as leaders yet we need to, if we're going to be effective
Millennial generation is splitting in two:
1. Doing what we were told we were supposed to do
• Going to school, have a job, are responsible and show up
2. Struggling to create real world traction
Millennial Generational Dislocation: As the generation splits, you self-select into one part of the generation, and you can no longer relate to the other part of your own generation.
● Happens around the age of 30
Leaders, how does this affect your communities?
Millennials are not tech-savvy. They're tech-dependent.
● Research uncovered this is the way millennials engage
● Example: If you want to reach them, target ads online to them
Generation X
● In an interesting life stage, being pulled in two directions, family and professionally
● Taking care of two generations: Their parents and Millennial children
● Naturally skeptical, they ask to see the data, they admit they weren't sure if they were going to like something
● Gen X is the glue within an organization
Baby Boomers
● Define work ethic and measure success in hours per week
● Believe there are no shortcuts to success–it takes policy, procedure and protocol
● They believe you must pay your dues
Generation Z
● Came of the age around the great recession
● Saw their parents struggling growing up
● Research shows Gen Z is very practical with their money and driving thrift store sales and saving money
● It is predicted that many members of the Gen Z are going to leapfrog some of the Millennials over the next five to ten years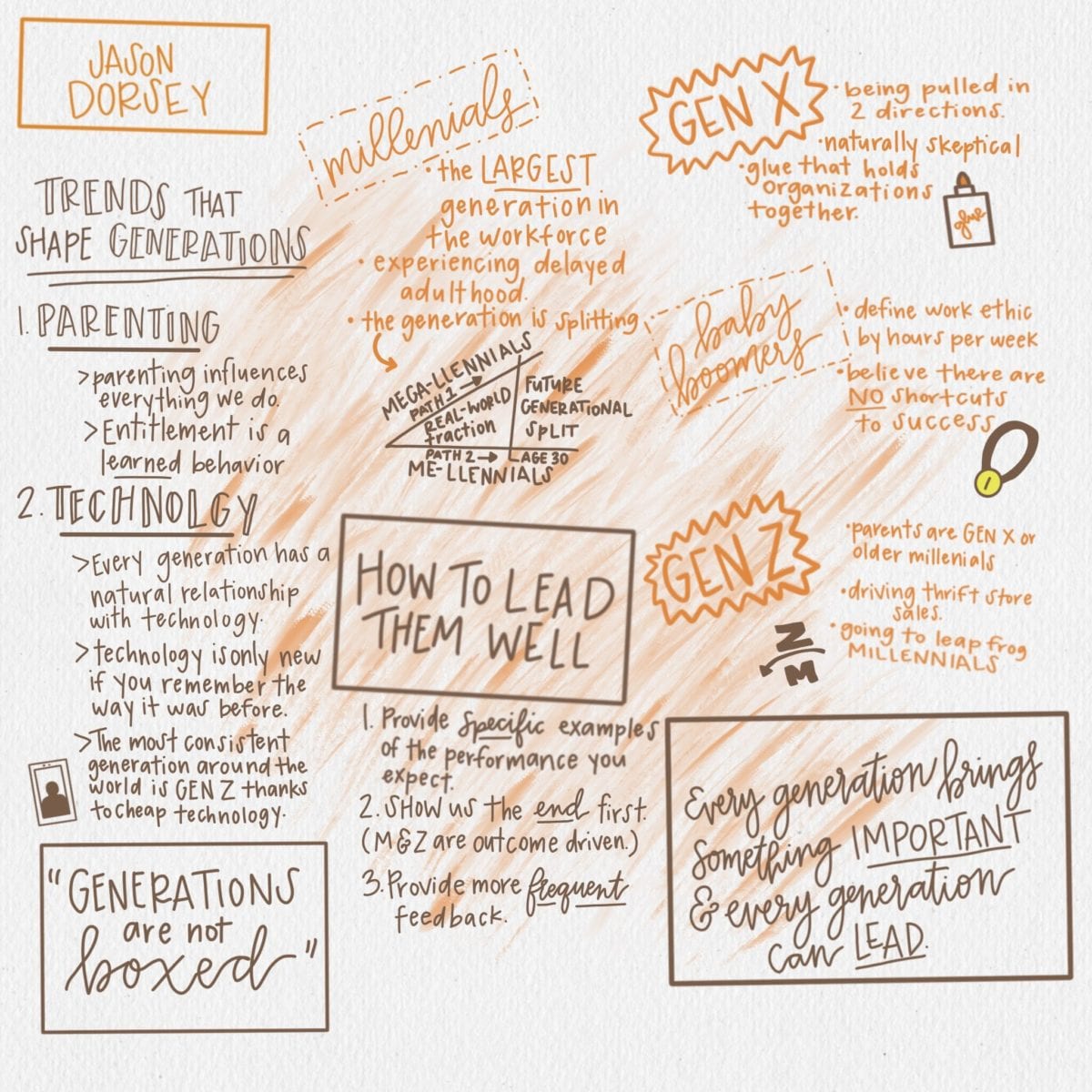 What can you do as a leader regardless of the size of the team or company? Learn the language of leadership.
1.Provide specific examples of the performance you expect
● If you want Millennials to do something, make a video or show photos explaining it
● Show what it looks like
● The language of leadership varies by generations, gender and geography
2. Lead
● This is critical for messaging
● Most leaders message in a linear format: Step 1,2,3,4,5
● Millennials and Gen Z do not think linearly; they are outcome-driven
Story of outcome driven: Millennials and Gen Z get a video game and skip to the end. They learn the cheat sheet and beat the game then go back to play the game from the beginning. They want to see the end first.
● Show Millennials and Gen Z the end result and they will work backwards and ensure the goal is reached
● Show the end and they will follow every single step
3. Feedback
● Provide quick hit feedback and more frequent feedback
● No trophies, no rewards–feedback
Example of feedback: "Hey Sarah, I saw you helped Jesse yesterday. Thanks so much for stepping up and we needed you."
● That's it, stop talking
● Other generations were taught if your boss is talking to you, you're doing something wrong
● Millennials and Gen Z were taught if your boss is not talking to you, you're doing something wrong.
Every single generation brings something important and every generation can lead.

Never miss an inspiring leadership insight or the latest leadership news!
About the Author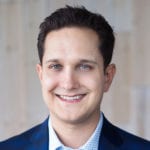 #1 Rated Gen Z & Millennial Speaker; Researcher
Jason Dorsey is President of The Center for Generational Kinetics, which delivers research, speaking and consulting to separate generational myth from truth for leaders around the world. His team has repositioned global brands to win each generation and taken clients from last to first in both employee retention and customer growth. Considered the #1 generations speaker and researcher and called a "research guru" by Adweek, Dorsey uses original data-driven research to explain generational behaviors.
Years at GLS 2019