My Hope for A New World: Dismantling Racism and the Barriers Between Us
Published June 16, 2020
A healed nation is one that is equitable for all.
What we are witnessing in this moment—right now, summer 2020, is a catalytic shift in our world.
Racism has been America's greatest sin and one of the world's most dangerous plagues. It destroys any society where it is allowed to exist. And what you can feel in this moment is God's creation, the Heavens and all of humanity crying out, "Enough is Enough."
It is as if Dr. Martin Luther King, Jr. incarnate uttered a prophetic announcement, "Racism your time is up!"
What we love about the Global Leadership Network is its authentic commitment to fight for the liberation and leadership of all people. Every race, every tribe, every tongue. It is an encouragement to me to see a vast majority of the world, embracing these same ideals.
For too long we have sat by and watched racism rear its ugly head from the recesses of culture. For too long we have flirted with the stench of prejudice and the presence of evil in our workplaces, at our family functions, among our personal social media channels, on our private phone calls and within our broken systems designed to favor one people group over the other.
I implore every leader to open their eyes to the significance of this global moment.
As the multicultural, bi-partisan Black Lives Matter protests rang from the streets of Mombasa, Kenya, to Minneapolis, Minnesota, we were reminded that the people of goodwill outnumber the forces that seek to pit us against one another.
The rally cry echoed throughout the chambers of our hearts as a righteous hope filled the air.
It is a hope that screams justice
A hope that carries our deliverance on its back
A hope that gives way to love and action for the purpose of real change
Martin Luther King often connected this type of hope to what he would refer to as "cosmic companionship"—that above the cosmos exists a presence that prioritizes the liberation of the oppressed. Therefore, the oppressed can have confidence and subsequently hope in times of great struggle birthed out of the fight for freedom.
I implore every leader to open their eyes to the significance of this global moment.
Let those who have an eye to see, see.
We each have an opportunity to contribute to the freedom struggle of black and brown people in this exceptional moment. We are living through a moment packed with potential to be one the history books record as monumental.
I often think about what my story will be 20 years from now when my kids or grandkids ask me the question, "Where were you, when the world changed?"
I pray my answer will be, "I was wiping dirt and residue from my face after being knocked down for the third time as we collectively put our foot on the neck of systemic oppression and racism for the last time."
I want my story to be that I gave it everything I had. That I didn't forfeit my impact for momentary influence. That I spoke truth to power in love and helped as many leaders around the World—White/Black/Asian/Hispanic—leverage their power to break the back of racism once and for all.
No matter where you are in the world, now is the time to put all your chips on the table.
This is a clarion call for a new day.
We are in a moment.
No matter where you are in the world, now is the time to put all your chips on the table.
Say what you need to say. Disrupt the status quo. Inflict new policies within your organization. Make the changes you need to make in the executive board room. Challenge broken mentalities inherited by hatred. Leverage your influence to truly make a difference.
Now is the time. This is the moment.
A New World is on its way.
Never miss an inspiring leadership insight or the latest leadership news!
About the Author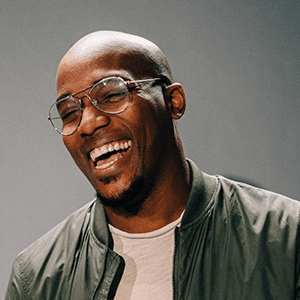 Speaker and Host; Director of City Strategy
Speaker and Host; The reThink Group
Sam Collier is a broadcaster, producer, podcaster and thought leader who firmly believes "When your story connects to God's story, it leads to a greater story." A nationally-syndicated radio host across 45 cities in the U.S., Sam also has two radio podcasts that bear his name, reaching 1 million listeners around the world. He is a a top-20 Gospel Billboard producer, having produced and written for several Christian artists. Sam co-founded the faith-based consulting firm, The Resource Group Global and also founded No Losing, Inc., a nonprofit empowering young people to achieve their goals in life with a winning mindset. His recent book is Find Your Voice: Capturing the Power of Influence to Live a Great Story.