GLS20 Session Notes: The Leadership of a Legendary Athlete
Published August 7, 2020
The following are notes from Kakás' talk at #GLS20. Use them to help you apply the content you learned at the Summit. 
Three and a half billion people are watching your every move—waiting for you to make a mistake or cheering you on for the goal of your career! The pressure and criticism could break the strongest soul—so what would it take to thrive under this kind of uncertainly and stress? In this candid interview session, Claudia Tenório draws out ways in which Kaká has managed public scrutiny and praise, overcome setbacks, developed resilience and mental toughness, lead those around him and leaned into his faith for strength.
CONNECTION | One Of The Greatest Football Players In The World 
Key moments in his career

2007 Athens—pressure of the game
2005 Champions league against Liverpool and Istanbul—hardest and most historic games played. Being on the losing side was a great lesson.
2006 was a year of overcoming things
2007 was a familiar position as 2005, resulting in anxiety—5 minutes before the end of the game, Liverpool scored, and the 2005 game came back to him. The team withstood the pressure and they won the game.
A captain leads the team forward—not just on the field, but in the business behind the scenes.
Motivation and Inspiration 
Motivation is something that comes from outside.
Inspiration comes from within and is connected to goals, purposes and values.
STORY | About Kaká's Journey: 
Started playing when he was 8 years old.
At 15, he decided to play professionally.
How Were You Able To Maintain That Momentum During Your Career?  
Motivation and inspiration
Love of the sport and dedication
The community aspect to play with friends and kids helped me to stay focused and disciplined
The love of the game helped to stay focused on track
What Is The Importance Of Humility In Leadership? 
Humility is an essential function in leadership.
The best humility example in leadership is through Jesus.
You have to be willing to serve others and prioritize that in your leadership.
Humility isn't diminishing yourself but knowing who you are and positioning yourself in relation to that—not being better or less than anyone.
Humility is about having a clear identity.
Listen, admit wrongdoing and ask for forgiveness.
The Impact of Faith In His Career: 
Can't separate faith from who he is.
When you have media exposure, you have to decide what criticism you will let bother you.
Business leaders and church leaders—it's no different than being a famous athlete. You get to decide what you're going to be exposed to and criticized for, and which battles to fight.
How Do You Deal With Criticism? 
Of course, it can bother you, but see the criticism in a different way.
Sometimes what bothers us the most turns out to be true.
Learn from the possible truth in criticism and how it can help you improve.
If the criticism is a personal attack and a response is given, the attacker gains more visibility.
Rely on your team and trusted advisors to help answer in a wise way.
How To Deal With Negative Feedback From Coaches/ Other Leaders: 
Understand where the leader is coming from and where they base their leadership from.
One of the main roles of a leader is to cultivate the interests of the entire team and put it together to best serve everyone.
Two Types Of Leadership: 
Fear/ Authoritative

If you don't perform well, this type of leader creates the fight—the unhealthy tension where the team walks on eggshells.
The team is scared to not perform well.
This isn't sustainable long term as it creates a hostile environment.
Fear is a motivator, but the team isn't willing to sacrifice for the team and leader when the time comes/ when asked to.

Love

You might not always agree with the decision this leader makes, but know the leader is always concerned with the human beings affected.
Puts the emotions and consideration for the other team members above their own decisions and ideas.
Caring enough to ask your team about their personal life.
A love-based leadership approach motivates the team to try harder and to find a solution amongst themselves.
What Does Poor Leadership Look Like? 
Lack of communication
Lack of focus
Failure
Lost direction—the team isn't sure where the business or team is going and what the common goal is.
Understand the various cultures and techniques to find enrichment and leading to respect.
It is essential to respect everyone—even if you disagree.
NEXT STEPS: 
It doesn't matter if you have an "official" leadership role, you are a leader of yourself, leading your own life.
Listen to motivations around you. These help you to take action and make decisions.
Make your choices in the best way possible and know your identity.
Never miss an inspiring leadership insight or the latest leadership news!
About the Author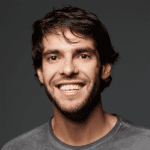 Brazilian Retired Soccer Phenomenon; FIFA World Player of the Year
FIFA
A Brazilian football (soccer) legend, Ricardo Izecson dos Santos Leite, famously known as Kaká, is one of only eight players in history to have won the Ballon d'Or, the FIFA World Cup and the UEFA Champions League. As the first sportsperson to amass 10 million followers on Twitter, he is considered one of the most famous athletes in the world. Starting his professional career as an attacking midfielder at the age of 18 with the Brazilian football club, São Paulo FC, he quickly became a critical member of the Brazilian national team. Before retiring in 2017, Kaká, spent most of his famed career with AC Milan and playing for Real Madrid. Additionally, he captained the inaugural campaign of the MLS Orlando City Football Club as its first designated player. Throughout his career, Kaká's leadership on the field has earned many awards and achievements including the Ballon d'Or, FIFA World Player of the Year, MARCA Legend Award and AC Milan Hall of Fame. Listed to Time's 100 Most Influential List for two consecutive years, he is also a UN Ambassador for the World Food Programme.