Bear Grylls: Soul Fuel
Published August 13, 2019
The following are notes from Bear Grylls's talk at #GLS19. Use them to help you apply the content you learned at the Summit.
Story of the SAS: Bear joined the British special forces and after six months was returned to unit. He felt like he wasn't good enough or smart enough. That failure built his resilience and looking back, he sees the power it had on his journey.
The Four F's:
1. Failure
The truth hurt
We like to gloss over our failures
Failures are a large part of our story/journey
They are the doorway that tells a story
Failure shapes us
How we react to failure determines everything because life doesn't always reward the brilliant or talented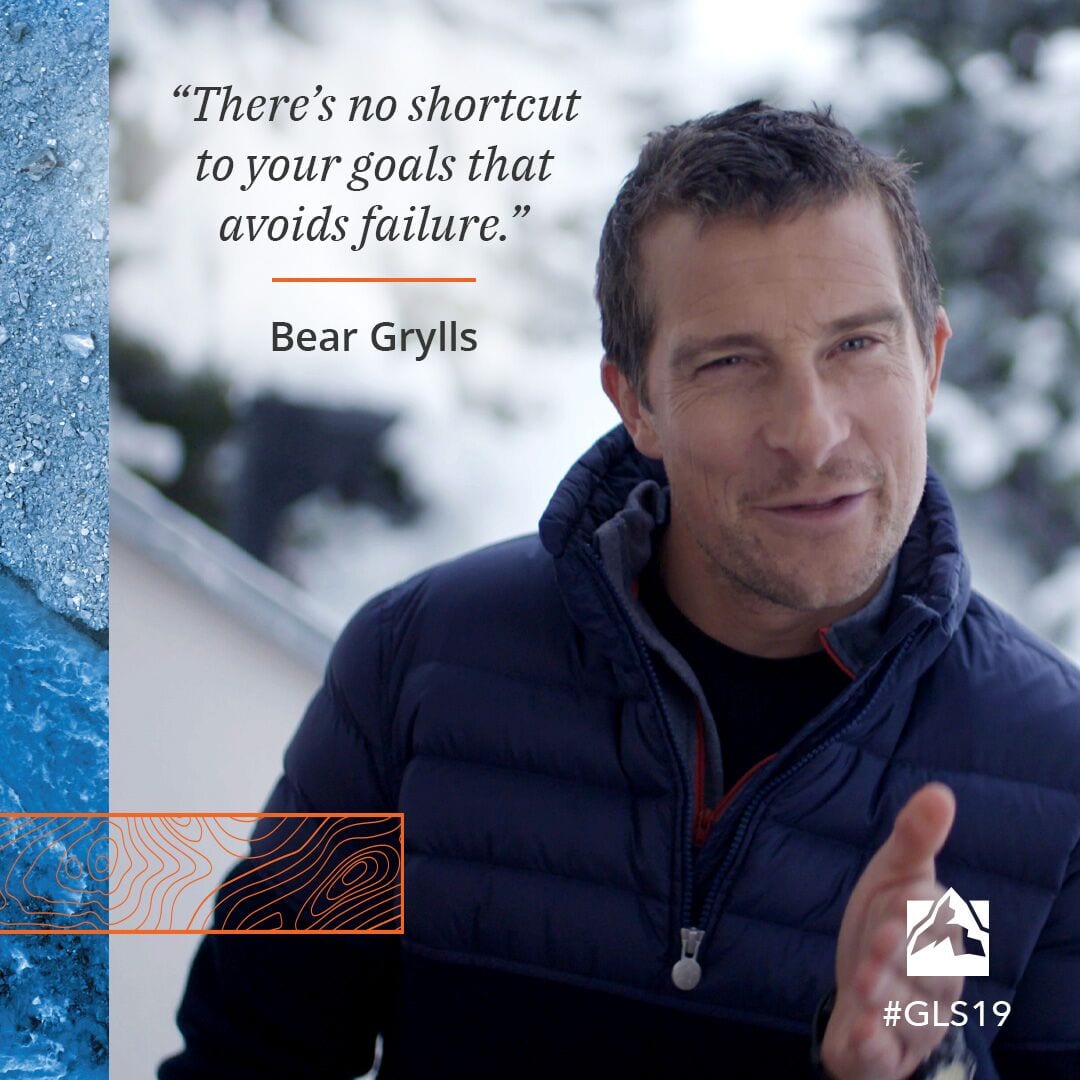 Story of his injury: Bear's parachute cord wasn't working properly when he jumped out of a plane. He hit the ground and ended up breaking his back.
2. Fear
Face your fear and stop running from it
Whoever we are, life will test us physically, mentally and emotionally
Embrace the jump
Use this as a driver–as an emotion to sharpen us
The marks and the wrinkles make the story
3. Fire
How do we access it?
Keep moving forward even when you don't want to
Understand no one is brave, brilliant or extraordinary all the time
Deliver the extra when it matters
"Always a little farther"
The trigger to give more when most people give up
Simple but not always easy to keep going
Persistence requires digging deep and finding the fire that burns inside us all
What are you made of?
An ember is all it takes
NGU: Never Give Up
Know the power of resilience because it is the storms of life that make us all strong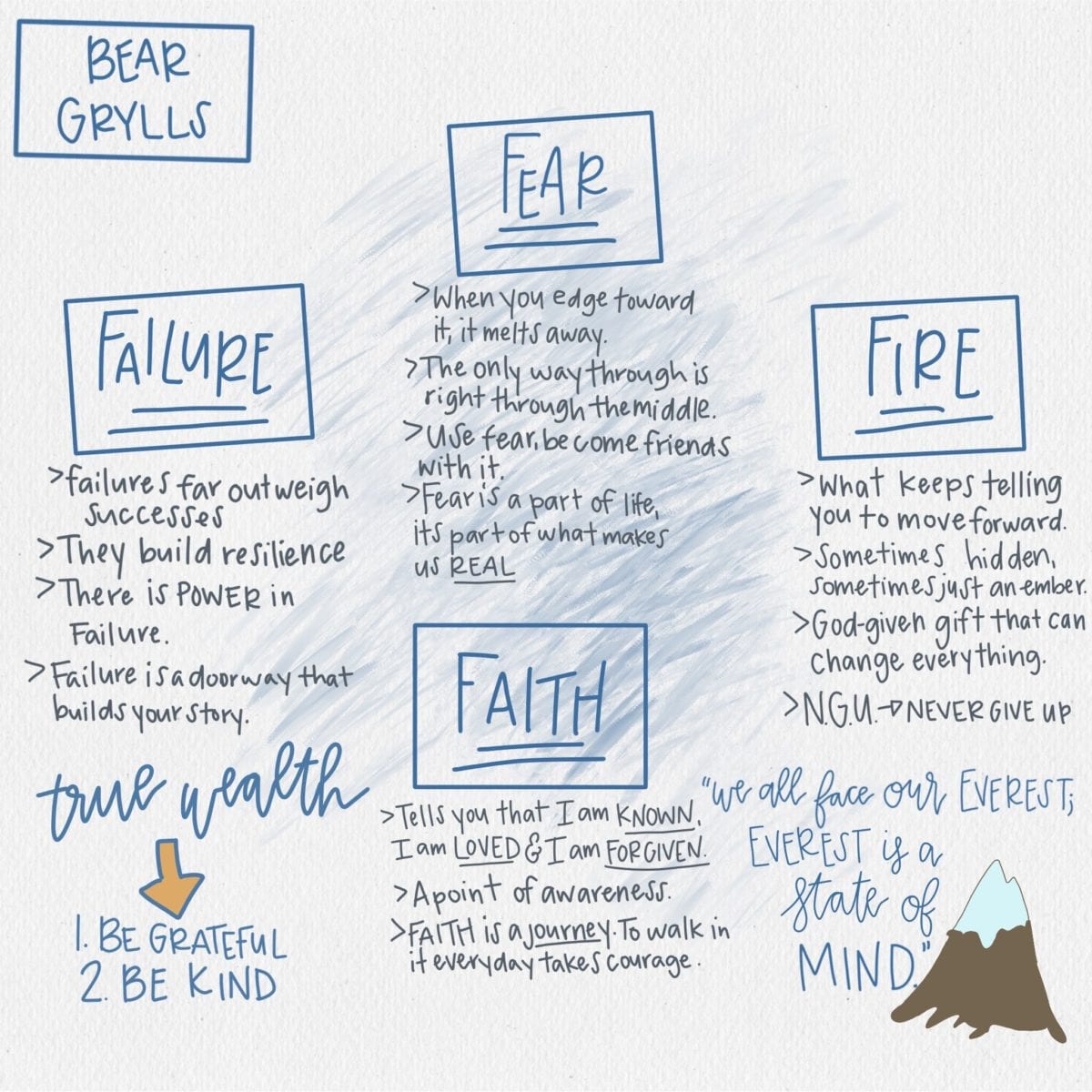 3. Faith
The voice says, "I'm with you" and "lean on me"
The universal presence around us
Quiet, personal and a secret strength, a backbone
Faith says, "I'm known, I'm loved and I'm forgiven regardless how many times I fall down or fail"
Nothing to lose but everything to gain
Different than religion
Story of Jesus: He did not conform to religion. He is a prime example of religious rebellion and abiding by faith.
Dreams will require failure first.
Fear is a constant journey map along the way.
Reaching our summits should never be our full story.
Finding true wealth is being grateful and being kind.
Gratitude because we all stand on the shoulders of giants
Don't be an idiot
Real wealth is going to be found in our relationships

Never miss an inspiring leadership insight or the latest leadership news!
About the Author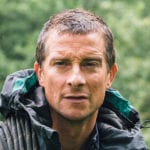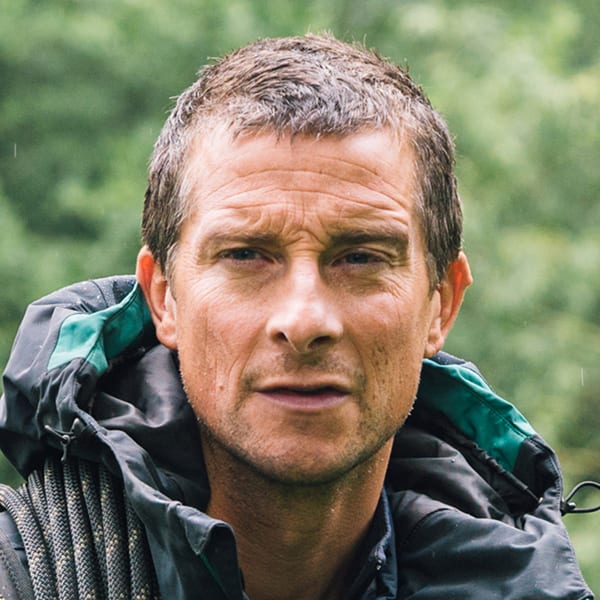 Adventurer; Writer; TV Host
Bear Grylls is the embodiment of adventure. A former member of the British Special Forces, Grylls has climbed Everest, crossed the Arctic Ocean in an inflatable boat and has publicly supported the Alpha Course to help inspire people in their journey of faith. His Emmy-nominated TV show Man Vs Wild became one of the most watched programs on the planet with an estimated audience of 1.2 billion. He also hosts NBC's hit show Running Wild with Bear Grylls as well as groundbreaking series on National Geographic, Netflix and Amazon. He is a number 1 best-selling author and has sold over 15 million books. These include his autobiography Mud, Sweat and Tears, and this year a powerful new book on faith called: Soul Fuel.