Fear-Less Leadership
Published March 19, 2018
You may think I made a mistake in the title—shouldn't it be 'Fearless' Leadership? No, it's not a mistake. It is very intentional!
Fear is a natural human emotion, created by God, that protects us from doing foolish things. Like any emotion, it's critical we hold fear in the right balance within our leadership. As leaders we should neither be full of fear nor completely without fear. We need to be fear-less leaders.
Growing up on a farm in a South Indian village was a dream childhood, including carefree hours spent playing with friends among the rubber trees beside the river where we swam and fished—an idyllic playground. The tropical hum of cicadas was usually punctuated only by our laughter and fun.
Until the inevitable shriek, "Snake!"
As leaders we should neither be full of fear nor completely without fear.
Our farm was home to a number of poisonous snakes. From a young age, we were taught to fear them, immediately calling for adult help when we spotted one on the farm. My grandfather had seen too many fatal bites to allow ignorant fearlessness to determine our fate. So, for our own preservation, we were taught to fear the snakes.
Thirty years later, I went to visit one of our leaders who had started work among a group of snake charmers. These people handle snakes for work and play; their children are at ease among the reptiles I was taught to fear! It was fascinating to watch from a distance as the snake charmers performed, coaxing the cobras out of the basket until the magnificent animals were swaying to the music.
As the chief guest, I was then invited forward so they could honour and welcome me with a garland—a common Indian custom. Only this time, the garland to be draped around my neck was actually a large king cobra!! All my childhood instructions and memories flooded back. I was paralyzed with excessive fear, unable to move forward.
They laughed at me and assured me of my safety. Culturally, my refusal to accept their welcome and hospitality could offend and even end our work among them. Our leaders reinforced their assurance, but I still couldn't move. Thankfully one of our senior leaders saw my genuine predicament and stepped forward, inviting them to place the garland on his neck instead of mine. Today, we still have a thriving work among this people group.
This experience caused me to consider the role of fear in my leadership. How do I avoid ignorant fearlessness while refusing to stay paralyzed by excessive fear? How do I ensure I lead from a fear-less position?
These four key principles have helped me:
1. Don't receive a fearful spirit, because it is not from God.
2 Timothy 1:7 says that God has not given us a spirit of fear. A fearful spirit is never from God.  Rather, it is the devil who comes to steal, kill and destroy.
Resist destructive fear—send it back. "Return to Sender!"
2.  Fear God.
We know fear is a natural human emotion that moderates our behaviour. Fearing God is a great behavioural moderator. The fear of God is an essential cornerstone of a God-centred leadership style.
3.  Practice the presence of God.
The famous 23rd Psalm tells us, "Even though I walk through the valley of the shadow of death, I fear no evil, because you are with me."
What we meditate on becomes magnified in our lives. The more we focus on the problems, the more fear intensifies its grip and leaves us paralyzed. Conversely, the more we allow God's promises and greatness to dominate our thinking, the less fear can grip us. Intentionally practice the presence of God in your life and continue to meditate on His reassuring promises.
…don't allow fear to paralyze you and prevent you from stepping forward into all God has for you.
4.  Allow more of God and His love into your life.
1 John 4:18 tells us that perfect love casts out fear. In 1 John 4:8 we also read that God is love. Therefore, the way we discover perfect love is to allow more of God into our lives. And as we allow more of God into our lives, the less room there is for fear.
This is an irony of the Christian life. If you are struggling with fear in your leadership, the antidote you need is not courage—it is love.
Would you join me today in the pursuit of fear-less leadership? Do not attempt to rid yourself of all fear or you will miss out on healthy, God-given, protective behavioural moderation. However, don't allow fear to paralyze you and prevent you from stepping forward into all God has for you.
Instead, let's be leaders who find godly balance as we serve and fear Him.
Never miss an inspiring leadership insight or the latest leadership news!
About the Author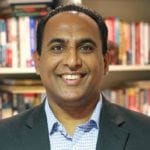 Founder & President
Jossy Chacko is the Founder and President of Empart. He uses his gifts as a communicator to challenge business and spiritual leaders to capture a larger, God-size vision.
Years at GLS 2016