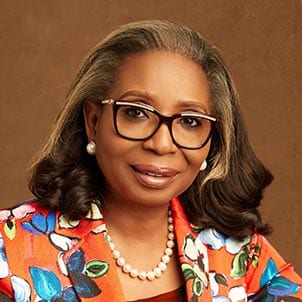 Founder & CEO
| The Chair Centre Group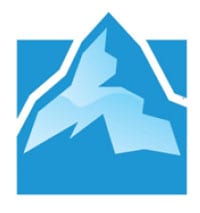 GLN Staff Writer
| Globalleadership.org/Summit
GLS21 Notes: Only You Can Choose
Published August 5, 2021
Everywhere we work—our businesses, our churches, our nonprofits—give each one of us choices every day. They put before us difficult situations in which we must decide how to move forward.
In her talk at The Global Leadership Summit, Ibukun Awosika shared her own experiences as a leader in a very challenging ethical environment to explore how understanding who you are, your purpose and value system is the only way to walk steady in the shifting sand of culture. Her talk gave us insights on how we might gain this kind of integrity and strength as we lead through an uncertain future to create a world where everyone can thrive. Only you can choose who you want to be.
Enjoy these official session notes to help you dive deeper into what you learned!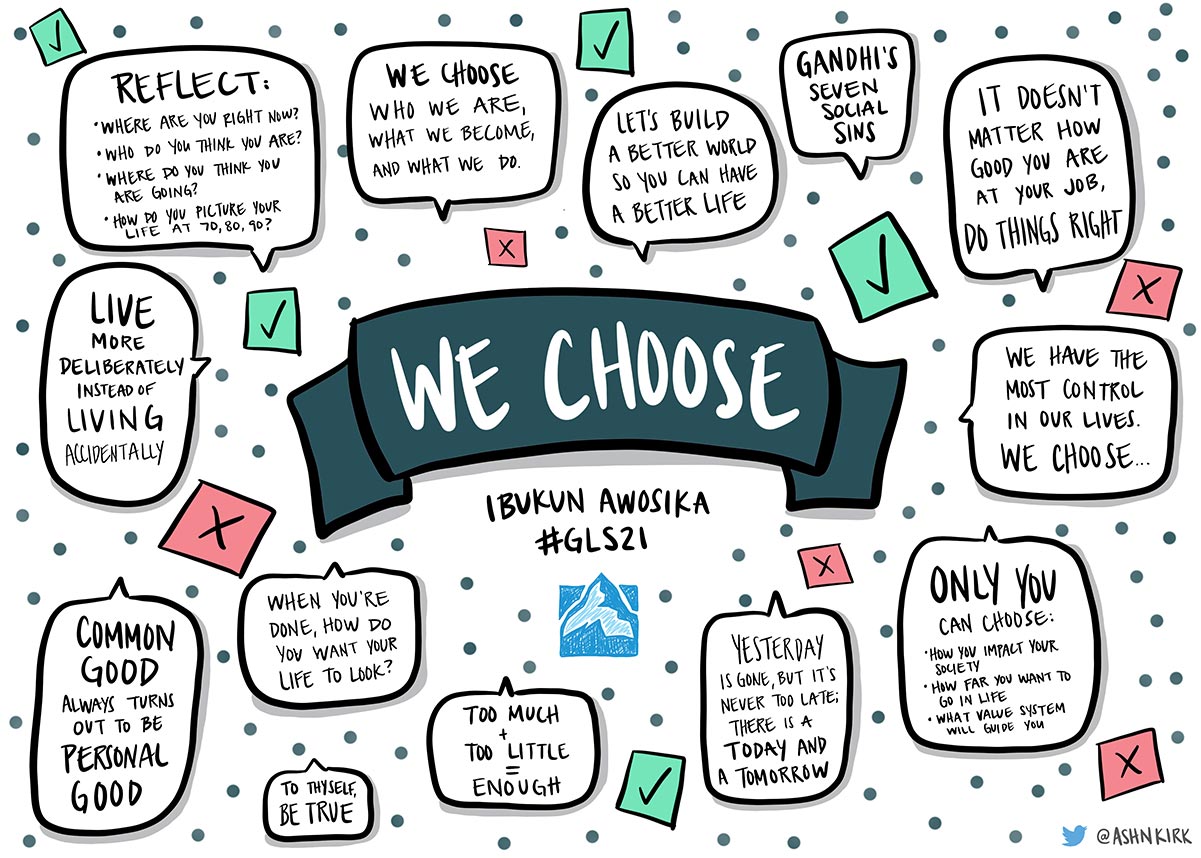 Only You Can Choose
As a people, we have the power of choice. We get to choose who we are, what we become and what we do.
Only you, ultimately, make the choice. Every choice you make every day has consequences.
Only You Can Choose: How far you want to go in life > How you want to accomplish your life goals > How you want to impact society > What value system will guide your journey.
I made two choices: (1) I would never sleep with a man to get a job; (2) I would never pay a bribe to get a job.
To thyself be true!
We look at the mirror every day. What do you see? What is covering up your real view of you? What are the inner thoughts, ambitions, that you have that you cannot express because you are trying to conform to other's views?
At the center of each of us is a core. The core of who you are should not be destroyed or replaced by being a wife or mother. For men, it is the same.
What is key to understanding how to able to make the right choices for ourselves?
Reflective Exercise
Where are you right now? (In the context of your ambition for your life)
Who do you think you are?
Where do you think you are going? You can't get to somewhere if you don't know where you are going. Are you on a journey that will take you to where you really want to go?
Bonus Question: How do you picture your life at 70? 80? 90? What do you want your legacy to be? How do you want your life to end? If you have a picture of how you want to finish, you can go back and do an analysis about where you are and where you want to be. It's about living more deliberately and intentionally, rather than accidentally.
There are follower-leaders. Leaders without vision, just following along. What is your vision?
Yesterday may be gone, but it's not too late as long as there is a today or tomorrow.
Making the Right Choice
Your choice is driven by your values, goals and your ambitions.
If you don't have an agenda set, you don't know why which choice is best for you.
There are many moments in time when you find yourself at a crossroads. How do you make decisions at that time?
Do you consider common good or just personal good?
Common good always turns out to be personal good. When communities work good, they work for everyone.
How do you take the right decisions? What guides those decisions? What is the backbone of the value system?
Faith as a backbone for our value system
Gandhi's Seven Social Sins
The list: wealth without work; pleasure without conscience; knowledge without character; commerce without morality; science without humanity; religion without sacrifice; politics without principle.
Be a man of character, civility, diligence. Let your handshake be good.
Bottom line is good for all businesses. But bottom line at any cost is not good for anyone.
Love your neighbor as yourself. We must be able to behave in a way that we can actually reach our neighbor.
We play corporate politics. It's a short-term game. It always falls apart.
8th added by Ghandi's Grandson: Rights without responsibility
When we build a better world, it will come into our home, better corporate organizations, communities.
Too much plus too little equals enough.
Never miss an inspiring leadership insight or the latest leadership news!
About the Author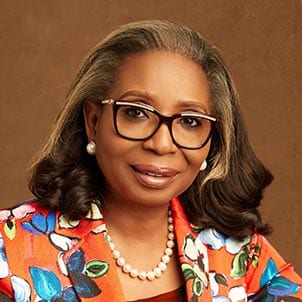 Ibukun Awosika's has vast combined entrepreneurial and high-level corporate and not-for-profit board experience across various sectors and geographies spanning over three decades. Globally recognized, she has received multiple awards, including the 2020 Forbes "Woman Africa Chairperson" award, and was also the first Nigerian recipient of the prestigious "International Women Entrepreneurial Challenge" award in 2008. Today, Awosika leads as founder and CEO of The Chair Centre Group, overseeing manufacturing, retail and bank-way security system services. Awosika also formerly led as chairman of First Bank of Nigeria Limited, the country's premier and most valuable banking brand. Over the course of her career, her leadership has given her the honor of influencing Nigeria's economic growth by chairing a number of corporate and nonprofit boards including, d.light Design Inc., Convention on Business Integrity, Digital Jewels Limited, and Afterschool Graduate Development Centre, a facility which she promoted to help address youth employability and enterprise issues in Nigeria. She also sits on the boards of Cadbury Nigeria Plc and the International Advisory Board of IESE Business School in Barcelona, Spain. She was Chairman of GEMS Africa Limited, FBN Life Insurance Limited, FBN Capital Limited and Kakawa Discount House Limited. She also served on the pioneer board of Nigerian Sovereign Investment Authority, as well as the National Job Creation Committee. Awosika is a graduate of Chemistry from The University of Ife, Nigeria; an alumna of the Chief Executive Programme of Lagos Business School; the Global Executive MBA of IESE Business School (Barcelona); and Global CEO Programme of Wharton, IESE and China European International Business School. With high interest in social issues, including the plight of women in society, Awosika is co-founder and former chairperson of Women in Business, Management and Public Service, as well as the president of International Women's Entrepreneurial Challenge Foundation. An ordained pastor and founder of the Christian Missionary Fund, her faith-based organization works with hundreds of missionaries across Nigeria to change lives with the provision of medical and educational supplies and resources. As a fellow of the African Leadership Initiative, Aspen Global Leadership Network, Institute of Directors and Society for Corporate Governance Nigeria, Awosika aspires to use her opportunities in life to further the greatness of her country by raising entrepreneurs to create jobs. She is a member of the Nigerian Economic Summit Group, served on National Job Creation Committee, and sits on the International Advisory Board of IESE Business School, Barcelona-Spain, and the Governing Council of Pan-Atlantic University.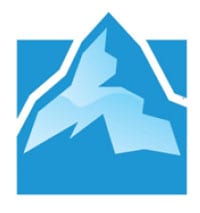 The Global Leadership Summit (GLS) is a two-day infusion of actionable leadership insights and inspiration broadcast to hundreds of host sites across the United States every August. In the following months, the GLS is translated, contextualized and hosted by local leadership committees at hundreds of locations across Africa, Asia, Latin America, Europe and the Middle East. This global event convenes a world-class faculty who share their distinct perspectives and expertise, inspiring and equipping people around the world with practical leadership skills that can be applied within their context, wherever they have influence, and used to empower positive transformation where it's needed most. Attracting an audience that represents various industries, including marketplace, non-profit, healthcare, education, government, ministry and corrections, the GLS has become a unique platform, unlike any other, bringing people together to not only empower better leadership within the organizations they represent, but in a growing number of cases around the world, this event also acts as a catalyst for organic local movements initiating systemic, city-wide change. What started as a single event back in 1990's, the GLS has grown to attract tens of thousands of people today.