Published October 1, 2016
The Impact of the GLS | Compassion That Compels in the Battle For Your Life
Kristianne sat in the hospital waiting room, holding her sister-in-law's letter in her hand, waiting for her to wake up after her latest surgery in her battle with cancer.
"I want you to know I'm secure and very peaceful with you being here waiting on me to wake up." Kristianne soaked in her sister-in-law Sonja's letter, letting the words echo through her mind, thinking of her own sister's battle with cancer as well.
Kristianne decided to get up and make her way to the recovery room, slipping past the nurse's station. "Sonja, I'm here," she whispered.
"I knew you'd come," Sonja answered. "…I'm so cold."
Kristianne rummaged through the room looking for a blanket with no success, but found a wrinkled up cardigan in her bag, picked it up and lay it over Sonja.
What Kristianne didn't know at the time was that her sister and two sister-in-laws'  battles with cancer, Sonja's letter and a wrinkled up sweater would spark a dream in her that would ignite a compassion movement.
"Cancer is a thief that steals a woman's identity and threatens to rename her as a diagnosis or medical record number, where just a few moments before she was known as sister, daughter, mom, wife or friend to others," Kristianne said. "Cancer makes a woman feel invisible, and when they are visible in their own mirror, the ravages of chemo, radiation and surgery aren't what they want to see and they wrestle with who they've become.
"Every woman who has been told she has cancer suddenly becomes a warrior. Her life is hijacked by an invisible enemy and no matter where she was the day before her diagnosis, her life will never be the same. Everything is tunneled into surviving and beating cancer. This warrior's 20-mile march may be a few steps from their bedroom to fix their children breakfast and somewhere in the hallway in those 20 steps, they've taken a walk across their own mortality, wondering how many more times they'll be alive to do this for their children.
"I often tell a woman that cancer doesn't name you. God names you and He calls you BEAUTIFUL ONE. You're never alone because God is with you and there's an army of believers you may never meet who are praying for you."
A Spark is Ignited at the Global Leadership Summit
Kristianne Stewart is a regular attendee of the Summit, and when she heard Jim Collins say "You can't have a meaningful life without meaningful work…and intrinsic excellence," she was motivated to take a leap of faith in her dream to reach every woman battling cancer.
She began an organization called Compassion That Compels, which exists to comfort and encourage women during their battles with cancer and remind them they are not alone. One of the primary ways she decided to do this was by delivering what she calls Compassion Bags filled with encouraging gifts including a devotional, a journal, tea, a mug, a Chick-fil-A gift card, mints and last but not least, a blanket to keep women warm. All of these gifts are given to remind women they are not alone in their battle and there is a God who loves and adores them.
Compassion Grows
In 2013, one of Kristianne's Facebook posts went viral and she had requests for Compassion Bags coming in from all over the nation. "I boldly prayed and asked God what He wanted me to do," said Kristianne. "Despite my own surgeries and medical challenges, I knew God had brought these women to me. I had a decision to make."
Kristianne was reminded of a talk about bold prayer and bold action. "If there was one resounding thing in these talks, it was confidently stepping forward, knowing that the foundation was firmly in place," she explains. "After discussions with my incredibly insightful husband, I put aside everything I thought I was called to do with Compassion That Compels and began leading in what God called me to do."
Growth continued for her organization, and she returned to God's leading every step of the way. "I had no idea how to sustain the growth. We'd had fundraisers, but the demand for bags was ongoing." Kristianne did not give up, but she was reaching a breaking point.
In the midst of the demands, God was still at work. She stepped into one of the many Altar'D State retail stores located around the country and discovered a program they had called Mission Mondays. Her hope and passion were re-ignited. After conversation, and discovering their kindred spirits for women battling cancer, Altar'D State stores forged a partnership with Compassion That Compels that launched Kristianne's dream into a sustainable ministry. "Without Altar'D State's Mission Monday program, Compassion That Compels might not have the same presence it does today," Kristianne said.
"Walking into a treatment center and blessing a complete stranger with a Compassion Bag is the most rewarding part of this ministry," she said. "Kneeling before them, hearing their stories, praying with them and then leaving that center with someone added to my heart's collection. They become part of the Compassion That Compels family. I see their heart when I look them in the eyes and I really SEE them for who they are. This is what fuels my soul and is my highest calling—to show God's love and compassion to others. I truly believe that God has called me to this ministry and poured out His grace even as my second sister-in-law has found her healing in Heaven and is there with several of my friends."
Since Kristianne began the organization back in 2013, she's delivered more than 2,800 Compassion Bags in 39 states, Canada, UK and the Netherlands with the help of her partners including Altar'D State, DaySpring, Brownlow Gifts, and Chick-fil-A.
Equipped through the Summit for the Rest of the March
"The Summit equips me to lead with the love of Christ and cast the vision to others," says Kristianne. "I always stress to our board and volunteers to never lose sight of the fact that it's not about a bag, but about a beautiful and brave woman in the battle of her life.
"My grander vision grows every day from a legacy platform founded on my deepest pain," she said. "My legacy scaffolding started with a foundation of Christianity where I learned to be unshakable when cancer shook me. Scaffolding has guardrails. I think legacy scaffolding has both guardrails and bumpers, and mine might even be pink. Remember in the pursuit of the grander vision, one speaker said 'God treasures people more than visions.'  Every GLS has become part of my legacy scaffolding, and from the faculty, I've learned to lead in the noisy chaos of self-doubt and pace myself for the daily 20-mile march—all for God's glory."
Kristianne's legacy grew when she was asked to write a 52 week discussion guide for Jesus Calling this year. Hear more about her journey in this podcast. God continues to work!
We welcome and encourage comments on this site. There may be some instances where comments will need to be edited or removed, such as:
Comments deemed to be spam or solely promotional in nature
Comments not relevant to the topic
Comments containing profane, offensive, or abusive language
Anonymous comments
If you have any questions on the commenting policy, please let us know at heretoserve@globalleadership.org
Equip, encourage & inspire global leaders with a gift today
When you give to the Global Leadership Development Fund, your gift inspires and equips Christian leaders, facilitating transformation in some of the world's most challenging environments.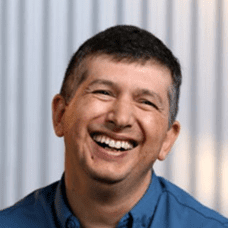 "Without your heart for giving, we could not have had the GLS in many countries like Bolivia, Ecuador, Cuba, Chile, Peru and others in the rest of Latin America."
Carlos Arroyo, South America