Published February 10, 2016
God's Call to a Retired Businessman | What Happened When He said "Yes"
Jim Willey is a Vietnam war veteran and a retired businessman with 40 years of experience in the corporate world. After retirement in 2001, Jim decided to spend more of his time focusing on charitable work. As a regular attendee of the Summit, not only has he received fresh and tangible business skills over the years, but it has also equipped and encouraged him for his latest calling.
It started with folding chairs
In 2005, Jim was sitting in a church service at Celebration Community Beach Church in Naples Florida when he heard pastor Gene Scott explain how he had sent 250 used folding chairs to a school in Haiti, but wasn't sure if they ever arrived. When Jim asked Gene about this, he challenged him to take a trip to Haiti to find out.
Jim accepted the challenge, and before he knew it, he was on a plane for his first trip to Cap Haitien. Jim was able to locate the chairs in a school that previously didn't have any benches or chairs for students to sit on. But there was more to this trip that God had orchestrated.
Assaulted by poverty
At the time of his Haiti trip in 2005, the country was in turmoil. "My senses were assaulted by poverty," said Jim. The scenes and images of hunger and despair that he experienced were devastating. "I came back from that first trip completely heartbroken. How could these conditions exist two hours (by plane) from Miami Beach?" he exclaims. "We are not talking about Africa or Bangladesh. We are talking about less time than it takes to fly from Chicago to Pittsburgh."
But Jim experienced another side of Haiti that has stuck with him ever since that first trip—the tenacity and kindness of the people. "The people are so incredibly kind. There is a lighthearted, big-smile-in-the-face-of-adversity kind of attitude. There is a tenacity in Haiti's people that I love." Jim soon realized that his life would never be the same. God was urging him to do something to bring hope to these courageous and worthy people. In 2011, Help for Haiti was born with a different charity model behind it. Unlike many of the organizations that Haitians were used to seeing, this one was based on empowerment, partnership and self-sustainability.
An important decision
One of Jim's early experiences in Haiti was building 10-15 benches for students who attended a rural school. "When I showed up, I thought they had ordered wood that was the wrong length, but the carpenter said it was cheaper to order a 12-inch wide piece and cut off two inches, which could be used for support pieces.
"I worked on one 2×4, cut about 6 feet of length and was totally exhausted, soaking with sweat!" said Jim. "The two carpenters did it all day long, completing all the benches in a single day."
Since that day building benches, Jim and his family made an important decision. Help for Haiti adopted a model that has shaped the organization and embedded itself in its mission to feed, educate and employ the people of Haiti so they can build a sustainable future. "We will never bring missionaries to Haiti to complete work that able-bodied men and women in Haiti are capable of doing, and desperately want to do. Can you imagine Haitian laborers watching a group of teenagers on a mission trip, wheel barrowing dirt to build a latrine when they have families at home that they could feed if paid just $1 per hour to do that same work?" Jim asks. "We need to re-educate ourselves about the difference between hurting and helping; that is, as I've come to call it, the difference between a 'handout,' and a 'handup.' When did a strategy to build dependency on a charity ever work to the benefit of the recipient?"
Defining a Vision
Jim and his wife, Betsy, along with their two grown sons, Jared and Matthew, had a family meeting before they organized Help for Haiti in 2005. "We discussed what we could do that would not play into this paradigm of dependency that other charities so often succumb to," said Jim. Out of this family meeting, they narrowed their vision to three major points: , Food, Education and Employment.
"We provide food so kids can stay focused on their studies, not their stomachs. We help them get educated, so they can become employable. We help them explore ways to create businesses, so they can be self-sustaining," said Jim. He defines their vision to this statement, "We feed and educate kids in Haiti and stay with them until they have the employment skills and a job to be fully self-sufficient Haitian adults."
The path ahead
Since its existence, Help for Haiti has built a school that educates 250 students in nine grades. They've also partnered with Feed My Starving Children, www.fmsc.org as well as local churches in New Hampshire and Massachusetts so far providing more than 750,000 meals. This year they added another school, and now feed 430 students each day.
"How does one small charity in Rye, New Hampshire take on a task this big?" Jim asks. "Where is all the money coming from to put all these kids through school?"
"Honestly, the path we are on excites and frightens me," Jim shares. "God wants it that way, so we will never believe we can do this on our own. We are learning everyday and using common sense to deal with what is in front of us. We pray a lot, we keep moving forward and we trust that the answer will be there when we need it. In five years, the money has always come in when we needed it. We pay local Haitian leaders, Marcot, our manager; Nelson, our project manager; and 14 teachers every month. We supplement the teachers' pay, and we have a plan in place to help the school become self-sufficient. We built a school and raised thousands to feed kids every day. How much louder can God tell us to just keep going?
"In five years, we will have kids in college in Haiti. Some will be in trade school and at least one I know wants to be a pastor. In five years, another church and school will be built. These are the challenges in front of us. God will help us figure it all out in His time."
Motivated by the Summit
"The Summit was a motivator and a valued resource when we founded the charity five years ago," Jim explained. "I don't remember the first GLS I attended, but it was several years before I even thought about doing work in Haiti. The GLS recharges my battery. I have been moved by the idea that the local church and its ability to change the world with the love of Jesus Christ. This is at the base of the life I believe we are all called to live out."
We welcome and encourage comments on this site. There may be some instances where comments will need to be edited or removed, such as:
Comments deemed to be spam or solely promotional in nature
Comments not relevant to the topic
Comments containing profane, offensive, or abusive language
Anonymous comments
If you have any questions on the commenting policy, please let us know at heretoserve@globalleadership.org
Equip, encourage & inspire global leaders with a gift today
When you give to the Global Leadership Development Fund, your gift inspires and equips Christian leaders, facilitating transformation in some of the world's most challenging environments.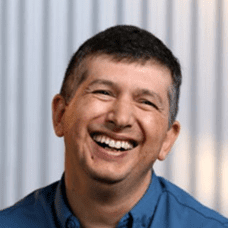 "Without your heart for giving, we could not have had the GLS in many countries like Bolivia, Ecuador, Cuba, Chile, Peru and others in the rest of Latin America."
Carlos Arroyo, South America