Published January 15, 2018
3 Reasons Why the GLS is Growing so Fast in Africa
When Philip Tutu, country director for The Global Leadership Summit in Ghana, first brought the GLS to his country, he didn't know what to expect. He thought it would be a small event, maybe a few hundred people. But to his surprise, and the surprise of his team, nearly 1,000 people showed up. In a matter of a few years, the GLS is now hosted at 10 sites in eight cities, serving more than 7,500 people in Ghana in the 2017/2018 season.
How does something like this happen? How does a country like Ghana, which had never before heard about the GLS, bring in so many people?
Philip believes there are three reasons for this in Ghana specifically, but also for all of Africa, and the outcomes have been transformational.
1. Hunger for just leadership
"The crisis in Africa is that leadership is a challenge," says Philip. "So whenever people hear about leadership, they want to learn more. People have a hunger to grow."
Philip explains that African leadership tends to be about position, power and title. "Anytime a story is told about Africa, we hear about things that are not going well," says Philip. "The stories are about war, famine and disease. Our biggest challenges come from corrupt leadership. We have leaders who are very selfish. But with The Global Leadership Summit, people come to understand leadership is not tied to position; it's about changing your life and becoming a person of influence. That is a driving force for the Summit in my country. People come and are willing to listen.
"Last year our theme was, developing your leadership to bring about social transformation. At the time, we were just about to get into election. So people who desire just leadership were willing to come to the GLS and hear what it was all about."
2. A network of Christian leaders who desire to end corruption

Before Philip became a country coordinator for the GLS, he was serving with a national Christian movement to evangelize Ghana. In his role as a leadership trainer, he was able to connect with pastors and leaders from all denominations and organizations in Ghana. This gave him a great opportunity to invite this diverse community of believers together to attend the GLS, and address the needs of the country.

The GLS has become a network of Christians who have come together around a vision to end corruption, and transform their communities. "My heart wants to see zero corruption," says Philip. "When leaders receive resources, I want to see them use those resources for the best of the people. That is my greatest vision and passion for the GLS in Ghana. It is the cry of my heart that people will live and work with what God has given to them for the sake of the people. And when they go to the bed at night, they know they have served this generation."

3. Encouragement to bring transformation to communities

Philip has two favorite stories about the outcome of the GLS in Ghana. This is what happens when leaders stepped up to bring transformation into their sphere of influence:

A school is transformed

A school headmaster of 13 years attended the GLS. When he returned to his school, which had never been painted or landscaped, he got to work on transforming the school. Teachers asked him, what really happened here? And he said, I went to a leadership conference and realized that to be a leader of influence, you must create change.

As a result, the kids started doing things differently. The teachers started doing things differently. The whole environment was different.

A hospital is transformed

A medical student who started attending the Summit a couple years ago, recently became a medical doctor. He could have stayed in the big city, making good money, but because of the Summit, he chose to do something different. He chose to go to the remote, highly corrupt part of the country to serve in a dilapidated hospital in much need.

When he got there, the infrastructure was falling apart. People were miserable. Through his initiative, and because he saw a leader as someone who brings change where it's needed most, he transformed the whole hospital.

Now when people come to the hospital, they don't want to leave! This doctor could have chosen an easier path, but he wanted to create change for the glory of God. This is the impact of the GLS.

Philip's Vision

Philip's vision is being realized in Ghana, "My greatest vision and passion for the GLS in Ghana is to see people who have resources use them for the good of the people. I pray people will live and work with what God has given to them for the sake of the people, and at the end of the day, they know they have given their all to serve others."
We welcome and encourage comments on this site. There may be some instances where comments will need to be edited or removed, such as:
Comments deemed to be spam or solely promotional in nature
Comments not relevant to the topic
Comments containing profane, offensive, or abusive language
Anonymous comments
If you have any questions on the commenting policy, please let us know at heretoserve@globalleadership.org
Equip, encourage & inspire global leaders with a gift today
When you give to the Global Leadership Development Fund, your gift inspires and equips Christian leaders, facilitating transformation in some of the world's most challenging environments.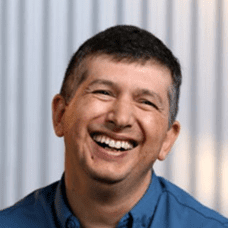 "Without your heart for giving, we could not have had the GLS in many countries like Bolivia, Ecuador, Cuba, Chile, Peru and others in the rest of Latin America."
Carlos Arroyo, South America