Published December 27, 2017
4 Reasons Why I Want to See the Summit Grow in Ghana
We are reminded time and again about why The Global Leadership Summit is so valuable, particularly in places like Ghana where godly leadership resources are less accessible. Rosemond Quarcopome, marketplace leader in Ghana, and key marketing leader for the GLS in West Africa, says one of the biggest challenges she sees in Africa, and in her case, Ghana, is poor leadership. So when she came across the GLS for the first time in 2015, she immediately jumped on board. "I am fired up and I want everyone to get it!" says Rosemond.
Here are the 4 reasons why Rosemond wants to see the Summit grow in Ghana, and across the globe:
1. Everybody wins
"When I heard the opening address at my first Summit in 2015, I felt like there was something I needed to do," says Rosemond. "He said, when leaders get better, everybody wins. Most of the challenges we have in our nation are due to poor leadership.  So when he talked about leading like Jesus did, I thought, how do I lead that way? How can I help other people lead like that? Because if everybody leads like Jesus led, we will be in a better place, everybody will win. This idea fired me up! And that is my biggest dream!"
2. My business runs better
"Way before I came to the GLS, I was given greater responsibilities in my company," says Rosemond. "We have 40 subsidiaries, and I've been given the responsibility of mobilizing the heads of all the various subsidiaries.
"Coming to GLS gave me opportunities to help the leaders transform and to lead in the organizations the way Jesus would have led. Anytime I meet with them, I anticipate the GLS resources will influence them. At every meeting I make sure I show at least one video from the Summit. And I encourage people to attend the GLS too!
"Just in my organization, I'm looking at having a community where everybody will want to lead like Jesus. How do we do that? By loving the people! If every one of us loves the people we live and work with, we will have peace here on Earth.
"I continue to invite more and more people from my company to come to the GLS every year. I use the GLS to reach out to people in my company, which employs over 200,000 people all over the country in Ghana.
"The biggest thing I want to see changed in my company is to see people lead with passion. I want people to lead with hope.
3. People find hope
"I want my entire nation to lead and live like Jesus," says Rosemond. "There are people out there who are starving to know what they can do to make the world a better place for everyone.
"I want to share whatever we get from the Summit, letting people know they can be better—we can be better.
"People without hope often think they can't do anything—that there is nothing good for them. We can help them feel there is hope. They are cared for, they are loved and they can do almost anything."
4. A GLS in every nation
"I want to tell the Summit audience that this is a unique opportunity to bring transformation and hope to our world," says Rosemond. "Can you imagine the GLS in every nation? Can you imagine, everyone fired up? I can't wait for that day to come!"
Thank you from Ghana
I just want to say thank you, all of you, who've contributed in making this GLS come to Ghana. I know I'm subsidized, because you gave. I want God to bless you, and I want you to know you should not stop what you started, because there are so many more people out there who need to have this experience. As you continue to give, God will reach out to them, and we will have a world with good leaders, and everybody will win. Thank you, and God bless you.—Rosemond Quarcopome, GLS leader, Ghana
We welcome and encourage comments on this site. There may be some instances where comments will need to be edited or removed, such as:
Comments deemed to be spam or solely promotional in nature
Comments not relevant to the topic
Comments containing profane, offensive, or abusive language
Anonymous comments
If you have any questions on the commenting policy, please let us know at heretoserve@globalleadership.org
Equip, encourage & inspire global leaders with a gift today
When you give to the Global Leadership Development Fund, your gift inspires and equips Christian leaders, facilitating transformation in some of the world's most challenging environments.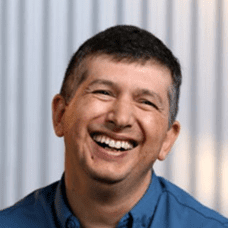 "Without your heart for giving, we could not have had the GLS in many countries like Bolivia, Ecuador, Cuba, Chile, Peru and others in the rest of Latin America."
Carlos Arroyo, South America