Published February 7, 2018
50 Widows Can Send Their Children Back to School Because of One Pastor's Vision
Julius Msheliza is a pastor from northern Nigeria, where he also serves as the GLS coordinator for both the event, and year-round initiatives in that part of the country. After attending the GLS in 2016, he was inspired to start a ministry to serve widows and their children who've been affected by the insurgency of Boko Haram. (NOTE: Boko Haram is a Suni Islamist militant organization based in Nigeria.) Julius' influence is lifting women and children out of hopelessness, and giving them opportunities to thrive.
The Bible says, in this world we will have many tribulations. But Jesus says, be of good cheer for I have overcome the world. (John 16:33)
We take encouragement from God's word knowing that He will be with us when we pass through the water, when we go through fire.
For the past six years in northern Nigeria, we've been grappling with the Boko Haram insurgency, which has claimed over 20,000 lives and rendered so many women widows and so many children orphans. We have 36 states in Nigeria. Six states are now under the insurgency. It's a really bad situation.
I made up my mind that for the rest of my life, I would look for ways to add value to people.
Because of the Summit, my life changed in so many ways. However, it was a watershed moment in my life in 2016.
From that Summit I made up my mind that for the rest of my life, I would look for ways to add value to people.
After the event a few friends and I decided to raise money to assist the widows and give them capital to engage in business so they could put food on their table. So far we have been able to empower about 50 widows. We haven't solved the problem there, but we are touching their lives in small ways.
The joy and celebration we saw that day on the faces of the widows we helped was a life-changing experience for me. We have now decided to expand the program to bring in more widows and to start forms of skill acquisition that will further help them out of hopelessness and misery. We know God will help us.
One woman's story in particular especially touches my heart. Her husband was a pastor, and the Boko Haram killed her husband and burned down their church. She became more destitute because there was no breadwinner in her family.
By giving her capital so she could to start a business, she has been able to send her children back to school.
This is very, very important to us because in order to break the cycle of poverty, you need to educate the children. For her to be able to send her children back to school is a big deal.
Every time I get messages from the women, they tell me they are praying for me, for God to keep me so I can live longer and help more women.
We've also seen other pastors coming on board trying to help people around them who are also in poverty, inspiring more people to do something for their community.
Thank you for making the GLS available in my country!
Nigeria, like any other African country, has a leadership problem. Corruption is one of the major challenges we have in Nigeria. It is one of the reasons we have so much poverty. The quality of our nation depends on the quality of the leaders we are raising.
To raise and multiply leaders will bring about a change in my community, my society and my country at large. The GLS has given us that platform and the resources to do that. This is the biggest desire of my heart.
I appreciate you for creating this platform that empowers leaders in churches and in businesses. I want to ask them to continue to do the good work. I believe the good Lord will reward you for the good work you are doing. I'm eternally grateful to Willow Creek Association and The Global Leadership Summit for giving me the tools and resources to become a change agent in my community and the world. Mega blessings to you.
We welcome and encourage comments on this site. There may be some instances where comments will need to be edited or removed, such as:
Comments deemed to be spam or solely promotional in nature
Comments not relevant to the topic
Comments containing profane, offensive, or abusive language
Anonymous comments
If you have any questions on the commenting policy, please let us know at heretoserve@globalleadership.org
Equip, encourage & inspire global leaders with a gift today
When you give to the Global Leadership Development Fund, your gift inspires and equips Christian leaders, facilitating transformation in some of the world's most challenging environments.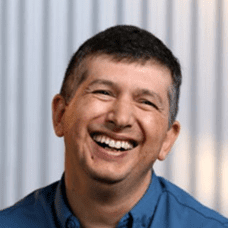 "Without your heart for giving, we could not have had the GLS in many countries like Bolivia, Ecuador, Cuba, Chile, Peru and others in the rest of Latin America."
Carlos Arroyo, South America