Published May 8, 2017
6 Leadership Principles that Change an Organization
With 25 years of experience in building and leading an organization together, and several years of prior executive leadership experience, Mark and Dreama Waldrop of Therapy Management Corporation (TMC) have learned a lot about how to lead an effective organization.
"I've been most inspired by the role I get to play in leading and mentoring our leadership team to be more effective, authentic leaders–leaders our teams choose to follow and are not forced to follow."—Dreama Waldrop
"Dreama's dedication as a clinician and leader ensures that TMC's vision is embraced throughout our organization," Mark Waldrop explains. "She works closely with our leadership team to anticipate and prepare for changes in the industry that will impact our clients, patients, employees and company. Furthermore, her devotion to a company culture of 'giving back' has resulted in the majority of our staff participating together in giving back to the community financially and through volunteer work."
Prior to co-founding TMC with his wife, Mark was the executive vice president of operations for a chain of 56 skilled nursing facilities throughout nine states. Mark uses his unique expertise and provider-side perspective to guide TMC in delivering service excellence to their clients.
Over the years, Mark and Dreama have applied many leadership principles to their organization, which make them stronger, including several they learned by attending The Global Leadership Summit.
But the six principles that stand out most are Find your "Hedgehog", Focus on Vision, Incorporate Faith, Build a Healthy Culture, Give Back and Keep Learning.
1. Find your "Hedgehog" (Jim Collins)
In 2005, Mark and Dreama had no idea how the foundations of their company would be changed after reading the book "Good to Great" by Jim Collins with their core senior leadership team. As a result, the leadership culture of their company changed for the better. They began implementing many of the key principles from his book, including the concept of the "hedgehog" business principle, which continues to shape the infrastructure of the organization. A "hedgehog committee" was created to drive their decision making.
Essentially, the hedgehog concept in business is a deep understanding of the intersection between what you can be the best at in the world, what drives your economic engine and what you are deeply passionate about. (Read more about Jim Collin's hedgehog concept here.)
2. Focus on your Vision 
"The first session that changed the trajectory of our company was listening to the talk about moving our teams From Here to There," Dreama says. In this talk, we discussed how leading from here to there involves understanding five major leadership foundations:
The power of vision
The toughest person you'll lead (yourself)
Mastering 360-degree leadership (others)
Building a fantastic culture
Pursuing your unique calling
"I totally embraced what he said and we worked hard to accomplish this as an organization," Dreama shares. "This idea has helped us be more focused on our vision and create processes to identify and correct obstacles along the way. As a result, we have seen consistent growth in our company.
"Now we embrace the courage to give glory and credit to God more publicly through our mission and vision, and not just internally. And we are constantly improving on executing our vision to make a positive difference in the lives of those we serve.
3. Incorporate Faith
Faith was always an important part of Mark and Dreama's personal life, but it wasn't until they began embracing faith as a way to lead their company that they began to see even more growth. Attending the Summit as a team had a big impact on them, and they began to incorporate faith into their vision and mission, giving God the glory for their direction. Two major things changed in their company—they embraced a culture of prayer, and they became a "give back" organization.
They embrace a culture of prayer. They pray and request prayer more openly, as well as invest in not just the professional growth of the staff, but also their personal growth. God whispered to them to start a prayer team as well as Bible study groups for their teams. Embracing faith internally as a company created a safe way to get a deeper understanding on what the field was thinking and feeling. As a result, they decided to take a leap of faith and be open to the public about being a faith-led organization. They not only pray as a staff, but also for their customers. This year, they added a prayer request option on their website.
They became a "give back" organization. God whispered to them to start a non-profit arm of their organization called Together Making Changes, establishing "giving back" a core value, not just an initiative.
4. Build a Healthy Culture (Patrick Lencioni)


A big step in building the infrastructure of an organization starts with a healthy culture. Patrick Lencioni's Summit sessions as well as his books, The Five Dysfunctions of a Team and The Advantage were instrumental in helping TMC improve their culture.
"We worked for over two years to implement all of the human systems he spoke about in The Advantage, as well as the principles in his book The Five Dysfunctions of a Team to ensure we were a healthy team first and foremost.
"As a result, we began implementing of the tactical meetings, focusing on clarity of communication and reinforcing our vision and mission."
5. Give Back
As mentioned in point three about incorporating faith into their organization, giving back became key in their overall health and culture. In 2012, they started a non-profit called Together Making Changes. Today, almost their entire staff contributes through payroll deductions so they can give back to local charities in their community.
To date, they've been able to give away almost $400,000! Not only do they give financially as a team, they also donated a total of 4,353 volunteer hours.
"To us, one of the most rewarding aspects of running a faith-based business is the opportunity it provides to give back to others in need. We created Together Making Changes precisely for this purpose," Dreama shares. "I'm most proud of our teams for their commitment to 'giving back' and helping others."
The mission—to serve as the catalyst for passionate people to enrich the lives of those we touch in the communities we serve.
6. Continue Learning
"I'm most proud of the leadership team for the commitment they show to being true Level 5 leaders, understanding the importance of continuous learning, and walking the talk," Dreama shares.
Mark and Dreama have been inviting their team to The Global Leadership Summit over the last several years, as it has been instrumental in the growth of their organization.
Do you want your organization to grow? Consider bringing your team to the Summit this year for continued learning.
We welcome and encourage comments on this site. There may be some instances where comments will need to be edited or removed, such as:
Comments deemed to be spam or solely promotional in nature
Comments not relevant to the topic
Comments containing profane, offensive, or abusive language
Anonymous comments
If you have any questions on the commenting policy, please let us know at heretoserve@globalleadership.org
Equip, encourage & inspire global leaders with a gift today
When you give to the Global Leadership Development Fund, your gift inspires and equips Christian leaders, facilitating transformation in some of the world's most challenging environments.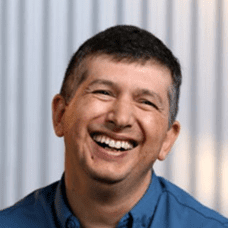 "Without your heart for giving, we could not have had the GLS in many countries like Bolivia, Ecuador, Cuba, Chile, Peru and others in the rest of Latin America."
Carlos Arroyo, South America