Published July 24, 2017
7 Leadership Truths for Parents
When we hear the disheartened words of a woman who says, "I'm not a leader. I'm just a mom," we're stirred to respond with, "But moms may have the greatest influence of all!" As mothers, women may feel like they are not leaders unless they are leading a team in a corporation, ministry or government office.
The reality is, mothers are some of the most influential leaders in our world.
We often hear stories about mothers who are using what they learn at The Global Leadership Summit (GLS) to be leaders and influencers in their families and beyond. For Jessamy Johnson, former interpreter for the US State Department in Africa, now mother of four foster kids (three siblings and a teenager) and one biological daughter, the GLS has been instrumental in providing leadership tools and encouragement as a mother.
"The Lord called my husband and me to the very heart of one of our country's deepest needs – parenting vulnerable children through foster care," says Jessamy. "I completely shifted gears and left behind my adventurous, world-traveling, fulfilling career to dive into what we call adventure parenting in our own home."
The Summit speaks to parents.
"The Summit solidified the degree to which my husband and I have been called to a higher level of leadership—not only as individuals, but also as a couple, and as a family. We felt sparks of vision for the future and an excitement about the bigger-than-us things God has already called us to and may be stretching us toward in the future. We filled our arms with resources, devoured the messages and we're spending time together in prayer and planning professionally and personally as a result of what the Spirit spoke to us through this event."
Almost every speaker from the 2016 GLS provided takeaways Jessamy and her husband could use as parents.
Here are Jessamy's seven most helpful GLS takeaways for parents:
God treasures people most. When He entrusts us with His treasure, we must do everything possible to love and serve them well.


As an adoptive mom, these words touched Jessamy's heart. "Our first placement was a one-year-old girl, two-year-old boy and five-year-old boy," says Jessamy. "On our journey, God told us we'd never send kids out of our home. They'd either go home to their birth family, which was our goal (to see whole families heal), or they'd stay home with us. We would never start kids down the path of moving from foster home to foster home.

We also adopted a 15-year-old, and if there's ever a time you want to believe God is in control and He's got this, it's when you adopt a teenager! But He's got it. His way is the best way. And it's best when we step out of the way!"

If the leader looks worried, everyone will be worried. Have fun. Enjoy each other and the journey. – Alan Mulally


"Adopted kids read everything that happens so carefully because they tend to stay hyper-vigilant. When they see the adults struggling, it is even scarier for them than for a kid raised in a stable environment. It was a good reminder to me to make self-care a priority and not let myself get run down or stressed. I don't want to put on a show or be false in front of the kids, but I want to be a strong leader they can place confidence in when so many other leader figures have let them down.

"We're making sure we get the time together we need to strengthen our marriage and function well as a leadership united team."

You have to let your heart break. – Melinda Gates


"Our hearts break every day for our kids," Jesssamy shares. "You just can't resist it or it'll destroy you when it finally crashes down. Every day we have to face their pain so we have to let the tears come when they need to."
When people hear your vision, they should know the size and scale of your God. It should keep us awake at night and energized during the day. – Jossy Chacko


"We have had incredible opportunities to share our story in our own city and recently to a broader audience through RE/MAX International," Jessamy explains. "We absolutely love that Jeff's entire real estate team has caught his passion and commitment to serving foster kids. Remembering to scale our expectations and dreams to God-sized ones, and not limiting Him is huge in parenting. God wants to do more than we can ask or imagine, so we'd better be asking and imagining big!"
Do not over-goal. What are the fewest battles necessary to win the war? – Chris McChesney


"This is a good question to ask ourselves, especially when dealing with pre-teens and teens!" Jessamy says.
Veto but don't dictate. People have to have their say, but they don't have to have their own way. – Chris McChesney


"Just listening to kids makes them feel empowered, gives them a voice and teaches them that later in life they'll need to speak up," says Jessamy. They also need to know we don't always get our own way. It's a fine balance between teaching kids to speak up and use their words, but to accept when the outcome is not what they hoped."
Add value to people. – John Maxwell


"I loved how he outlined what followers (children) ask leaders (parents) and felt it especially apt to adopted kids who don't innately feel the answers to the three questions the way biological kids do," Jessamy explains. "He says they ask,

'Do you like me?' which gets at compassion. 'Can you help me?' which gets at competence. And 'Can I trust you?' which gets at character.

"Adopted kids really aren't sure about the answers to those questions and we are aware of that every single day. We compare our biological daughter's level of confidence in our compassion for her, competence to meet her needs and character that we won't let her down, to the expectations our adopted kids have that tell them adults don't care, can't do anything anyway and will let them down."
The GLS is for every kind of leader.
"You absolutely cannot get the tools, resources, encouragement and wisdom you will get from the Summit for any better cost of time or money. It is worth every second and every penny and then some. Make time for it. Show up focused and ready to absorb. Whatever kind of a leader you are—parent, teacher, boss, manager, counselor, friend, neighbor—YOU influence others, and the sooner you accept that and take it seriously, the sooner you can be more effective, more powerful, more of a blessing to those around you. You'll be blessed by doing whatever it is you do well and seeing people impacted by your choices, words and behaviors.
"The Spirit is alive and working, not just because some book says so, but because we've seen it with our own lives. What a gift to have a story that lends itself to sharing the Gospel story.
The Summit is a powerful time of reflection, growth and equipping for anyone who shows up ready and willing. There truly is no reason not to go. Once you go, you'll be planning to go back and thinking about who you can bring with you!"
We welcome and encourage comments on this site. There may be some instances where comments will need to be edited or removed, such as:
Comments deemed to be spam or solely promotional in nature
Comments not relevant to the topic
Comments containing profane, offensive, or abusive language
Anonymous comments
If you have any questions on the commenting policy, please let us know at heretoserve@globalleadership.org
Equip, encourage & inspire global leaders with a gift today
When you give to the Global Leadership Development Fund, your gift inspires and equips Christian leaders, facilitating transformation in some of the world's most challenging environments.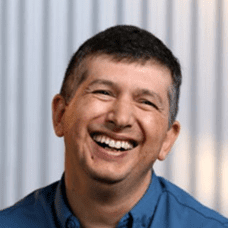 "Without your heart for giving, we could not have had the GLS in many countries like Bolivia, Ecuador, Cuba, Chile, Peru and others in the rest of Latin America."
Carlos Arroyo, South America