Published June 29, 2020
A Dream is Born at the GLS – Stories Build Relationships, Driving People to Action
This blog article is part of a two–part series about Rachael Jackson's incredible leadership journey where she discovered the power of story and relationship, starting in the military, and now leading a company that helps organizations create meaningful connections through storytelling in the workplace and beyond. Inspired by The Global Leadership Summit, her vision accelerated forward to where it is today. (If you missed part one, click here). 
About five years ago, I started to see glimpses into the next part of my journey. I was sitting at The Global Leadership Summit at a church site here in Huntsville, Alabama. At the time, my team had been talking about the idea of developing an app to create a "meaning network." Travis Bradberry, one of the GLS speakers, started talking about emotional intelligence, vulnerability and relationships. During his talk, God said to me, "This is the time. Start figuring it out." I left that GLS event and called my business partner.  
"God said it's time," I said.  
So, we put together a plan and pitched it to investors. I felt God calling us to go to corporate America and create a platform of platforms to help connect leaders build truly strong, resilient, inclusive and inspired teams using the power of strategic storytelling to connect people to the resources that equip and the relationships that empower. 
Realizing a 
D
ream 
S
tart
s
w
ith
H
ard 
S
teps
At first, we struggled to get investors to back our plans. After being told "No" by one too many investors, my husband asked me, "Don't you think you should quit?"  
He was trying to be supportive, but his question hurt. Why would I quit? We were just starting out and the potential was huge! He asked me why I was so upset and that's when I told him, at this stage, the people who invest are the people who believe in me and it hurts to have him suggest I quit. 
I was in a video meeting the next day. Realizing we had no more money; I told my team they might need to look for other jobs. Then, in the middle of that meeting, my husband texted me: "I will invest in you." He took money out of his retirement account, and with that investment, we were able to build the prototype that allowed us to share with investors a better vision of what is now TRIBAL. God used my husband in a very meaningful and special way to make TRIBAL possible. 
Over the past two and a half years, we have raised another $2M and have officially released our go-to-market product. We have been working hard as a team to make the product better with every release and make every process in our customer journey something we can scale. With every step, we follow our unofficial mantra of "build, measure, learn, repeat." 
Now God is opening doors within Corporate America, the Military and nonprofit communities. 
Research today shows that people are more isolated and lonelier than ever before even though we're "more connected" than ever. As a result, depression and suicide rates are rising at alarming speeds. Pandemics, social distancing, racial tensions and unrest are causing even greater levels of anxiety and fear. We need to connect people back to what matters in life. We need to connect people back to hope. The question is, "How can we do that?"  
We use storytelling to connect people in more meaningful relationships and to the resources for hope, help and purpose.
We need to cut through the noise and the demands of an overly busy world and connect people in meaningful, high-quality relationships with the people in their sphere of influence. We need to connect people to practical resources for hope, help and purpose.  
The concept is simple. We use storytelling to connect people in more meaningful relationships and to the resources for hope, help and purpose. Stories connect us to hope by letting us know that we're not alone in our story. Stories can lead us to help as we realize that there are people we can talk to and resources out there to help us. And stories lead us to purpose as they inspire us to know that we can give back in our stories to those who need the hope we have found. Stories serve as natural on-ramps to meaningful conversations that lead to those more meaningful relationships. 
TRIBAL is the Meaning Network. As opposed to social networks where people go to check out, TRIBAL is the where people will go to check in. TRIBAL is a secure platform that is private to the organization that uses it. TRIBAL is different in that our mission is meaning, our core transaction is storytelling and we are a leader-led platform. It's like Groups on steroids. 
The 
P
owerful 
R
esult of 
C
onnection and 
R
elationship 
T
hrough 
T
RIBAL
One user's story that sticks with me and sets the example of what can happen through the power of story is Crystal's story. After her company signed on with TRIBAL, she said, "Until I read Andre's story about having an autistic son, I thought I was the only one who had an autistic child and didn't want to bring my burdens to work. Andre and I connected in a supportive friendship and as a result, we actually ended up starting a support group for parents with autistic kids for everyone in our entire building."  
To me, that's a compelling example of how stories connect us in relationships and relationships move us to action.  
TRIBAL is truly helping leaders that care build up strong, resilient and inclusive teams—the kind of teams that can thrive even through the most difficult times. 
I'm so grateful for the vision I received at the GLS to create meaningful connections between people as they share their stories and build relationships that lead to action. If you get lost in the day–to–day, take a break away and focus on big thoughts and a grander vision—attend the GLS this year. Five years ago, I had a God moment at the GLS that led to the new movement I'm a part of today.  
I am still a soldier, but today I am a soldier serving in a different army.  I hope others can experience that as well.  
How is God showing up in your story? 
We welcome and encourage comments on this site. There may be some instances where comments will need to be edited or removed, such as:
Comments deemed to be spam or solely promotional in nature
Comments not relevant to the topic
Comments containing profane, offensive, or abusive language
Anonymous comments
If you have any questions on the commenting policy, please let us know at heretoserve@globalleadership.org
Equip, encourage & inspire global leaders with a gift today
When you give to the Global Leadership Development Fund, your gift inspires and equips Christian leaders, facilitating transformation in some of the world's most challenging environments.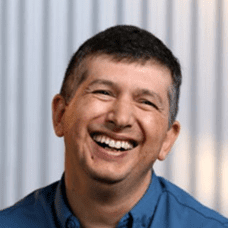 "Without your heart for giving, we could not have had the GLS in many countries like Bolivia, Ecuador, Cuba, Chile, Peru and others in the rest of Latin America."
Carlos Arroyo, South America