Published May 29, 2019
Access to Opportunity Changes Everything—A Conversation with a Serial Entrepreneur & Philanthropist
Billy Watterson's story breaks the statistics as being the "one in a million" to make it out of poverty. He later became a serial entrepreneur who started and owns 20 companies—and counting. His current capacity is as CEO of Watterson Brands, a holdings company for those entities. In 2019, he and his wife Brenda established a family foundation for the purpose of giving away as many resources as they could to causes they care about deeply, and ultimately expanding God's Kingdom and seeing lives transformed. We hope you are as encouraged by his story as we are!
How did you grow up?
I grew up in absolute poverty. My family survived on food stamps and the generosity of strangers. I experienced mental and physical abuse in my childhood and those things can't help but shape you. As a result, I don't fear the same things as most people. I know what the bottom looks like and I'm less afraid of it because I've been there. We tend to fear the unknown and there was a time that poverty was all I knew.
My story is somewhat unusual considering my childhood. I'm the one in one million to make it out of that world. I grew up going to church, but it was what I called a legalistic "crazy church," long on rules and short on grace. The experience made me turn my back on God. I was angry about my childhood. I couldn't imagine why a loving God would allow such horrible things to happen to innocent children like myself who couldn't do anything to change their circumstances. I later learned how pain and suffering can be transformative—even purposeful—because great beauty comes from brokenness
What helped you become that one-in-a-million statistic?
I got my degree in Environmental Hazardous Materials Management, which, as it turns out, has nothing to do with what I do today. I went to work in the environmental department at Sears headquarters right out of college which gave me a tremendous amount of exposure to a lot of incredible people—senior VPs and fantastic attorneys. Having access to that level of expertise and professional mentorship really helped shape my career. I also had a fabulous boss who believed in me, giving me both guidance and autonomy to run with some pretty large programs.
When I got to the end of that experience, I thought, "What's next?" I was 26 years old but my boss was only 51 and not retiring anytime soon. I didn't want to wait around, so I decided to go off on my own. It was my destiny.
I found a niche in the retail world and jumped in with a small environmental consulting team I'd formed. We built a pretty nice organization and within three years became a nationwide company doing environmental consulting for some of the biggest billion-dollar brands out there.
What happened next? Did your past present itself again in your future?
I spent my life running away from my past, mistakenly believing that my experiences defined me. Embarrassed and ashamed of where I came from, I was determined to create a new identity. My wife Brenda, God bless her, brought me to church for 11 to 12 years. I went reluctantly but she kept bringing me and praying for me and little by little, my heart started to change. Things began happening around me that I couldn't explain. Circumstances and situations that broke my heart wide open. God was revealing things to me and it was undeniable.
The Summit changed my life, sending me on a journey to get myself right.
In 2012, I toured one of our consumer chemical recycling plants with a representative from the West Ohio Food Bank. During that visit, God reminded me that it was the West Ohio Food Bank that stocked the very same food pantries I'd visited as a child. I even remembered having Thanksgiving dinner in one of their soup kitchens. All the memories came flooding back in that moment and I was a wreck.
I drove back to Chicago in tears. I didn't understand what was happening to me. All I knew was something had to be done. I returned to the food bank and within a month we'd created a program called "Feed the Future," a food-distribution program based on metrics for recycling. That was my first step into my path to finding God.
Did you find God?
During one particular sermon the pastor talked about being a "casual Christian," a part-time follower of Christ. The words really sunk in.  In March of 2016, I got baptized and finally surrendered. As an alpha male, surrendering to a higher power was one of the hardest things I've ever done.
I've always had this fire inside that cannot be quenched. The difference now is that I understand the fire, and I'm using it for God's work. When I truly understood my gifts, talents and what it is He's asked me to do, it made my work even more fun. It's not difficult for me to start 2 or 3 businesses at a time. I have an expiration date, and a compelling urge to do as much as I possibly can in the time I've been given to further God's Kingdom, and I get to have fun doing it.
How has The Global Leadership Summit played a role in your life?
My wife had been bugging me to attend The Global Leadership Summit, but I just wasn't into it. Finally, in 2016 I agreed. At the time, I had just closed a major buyout. My companies were growing, but they weren't going well.
Never having attended anything like it, my expectations of the Summit were relatively low, but the experience changed me. The teachings were so powerful, the speakers so dynamic, it was overwhelming. At times even difficult to take it all in. But one thing was for certain, I felt God telling me to "get my house in order." So, when I got back to work, I immediately started working on culture, trying to understand why things were the way they were. I soon realized that while my people loved and believed in me, they didn't trust me. It was eye opening but gave me the information I needed to make a change.
…three years from the time I left the company and attended the GLS in 2018, all my companies doubled in size.
The second Summit challenged me even more. I felt God telling me to walk away from the company I was running and appoint someone in my place. When I told a fellow attendee what I believed God wanted me to do he was in shock. "What are you talking about?! You love that company!" he said. And he was right, but I knew it was what God wanted me to do.
I left my company at the end of 2017, resigned from two others and put new presidents in place. In February of 2018 I created a holdings company to bridge the businesses and leverage their infrastructure.  In the midst of all that, I felt a nudge to start a foundation—a way of giving while I'm living.
This is so crazy—most people wouldn't believe this—but three years from the time I left the company and attended the GLS in 2018, all my companies doubled in size. That's no small thing. That is the impact of trusting God with my businesses, something I would have never done without the GLS.
Though my wife had to drag me to my first Summit, here I am four years later dragging everybody else. It's amazing what the power of influence can do, personally, professionally, spiritually. The Summit has tremendous influence, the messages are so potent. Every year I invite more employees, peers, friends, sometimes even acquaintances. I love watching the impact it has on their lives. It's so inspiring. I may have already had a fire inside me, but the Summit threw gasoline on that fire, and things have since exploded. The Summit changed my life, sending me on a journey to get myself right.
Tell me more about your journey to getting yourself right. What did that look like?
While we weren't planning to relocate, a summer vacation turned into an extended stay and we ended up moving to South Carolina. It was here that God helped me finally face my demons and really deal with all that had happened to me when I was young. It was the hardest work I'd ever done, but I didn't do it alone.
I found a Christian therapist, hired an executive leadership coach and started the work to fix my foundation, seeking to better understanding who I am, how God designed me, what my strengths and weaknesses were and how my experiences shaped my perspective of the world.
By reflecting on my story of origin I was able to identify the voices in my head and call them out for what they were. To disarm our gremlins (we all have them, doubt, fear and anxiety) we have to identify who they are and where were they born. When you understand the origin of your demons you can learn to address them, not their symptoms. This process had a significant impact on helping me rebuild my foundation, reminding me that God has a plan for my life. I now know that no matter what happens he will use it for good. A lot of us often leave God on the table next to our chair every morning. We have got to get back to believing He is in control. He is in charge. What if we let him lead our day? It's from this foundation where I cast new vision, allowing Him to walk with me and lead me.
What happened with the nudge you received to start a foundation?
I'm happy to say we got our foundation off the ground in January 2019. Through the success of the Watterson Brand companies God is allowing us to change lives. I've never had so much fun writing checks! When I see the power of transformation, it's more exciting than buying a Ferrari!
Generosity is contagious, but it can also be scrutinized. Until now, most of our giving has been done discretely and anonymously, but our family foundation will make our giving practices more public. We anticipate that most people won't understand our decisions to "give while we live" and we are ok with that. If you believe it all belongs to God in the first place, it's much easier to let it go. The blessings come from Him, the foundation is just the vehicle.
Stewarding God's resources is a big responsibility. Creating the foundation helped us be more intentional with our giving and put structure to our goals and our board will help us be accountable to those goals.
What are the causes you and your wife are most passionate about?
The overriding theme to our mission is access. Growing up as a child without access to opportunities, network or mentors to help navigate this confusing world was a clumsy adventure through life. For so many, access does not exist. It isn't about giving out money, it's about providing access to opportunities and transferring knowledge to allow folks to be self-sufficient.
Growing up as a child without access to opportunities, network or mentors to help navigate this confusing world was a clumsy adventure through life.
We want to offer hope to families in crisis, single moms, foster children, the hungry or homeless and veterans in need of mental health care. We want to provide sustainable solutions to economically challenged communities by offering opportunities for education and entrepreneurship to empower people using their God given gifts.
The Summit has been so transformational for me that I can't imagine others not being able to hear the same thing. The term access comes back, which is why we're so excited about the prison ministry at the Summit. With access to this kind of influence countless lives could be transformed. We want to make the Summit available to everyone! That's why my wife and I have made this an important part of giving from our foundation.
What is your life purpose?
I have this internal tenacity I can't deny, but knowing my purpose is what keeps me moving forward. I've made a lot of mistakes, but the failures have strengthened me. A lot of people get shut down by failure, but I always look for the opportunities in the failures. There are so many people out there who have yet to be touched by what God is allowing me to create and do, and if I don't get up every day to do it, then I'm not living up to the standard I need to.
I envision standing in front of God on my expiration date. God asks me, what did you do with what I gave you?
God created each of us uniquely. He gave me the desire to innovate, to build and create monetizing thoughts and ideas. I'm nothing but a messenger and someone who is supposed to carry out the mission of brand building. He's given me these gifts for a reason—to generate more resources for the Kingdom. That's my entire mission!
I'm doing what I'm born to do, and I'm having the time of my life doing it! The journey is the joy. I'm not going to stop until I drop. It's my job to build and create and in doing so, the Kingdom is served and lives are transformed. That's it. It's a blast. I live for it.
Your life is an adventure. How inspiring! I want to get up and run with my life purpose, too!
That's just it! Everyone has gifts and skills. If everyone got up and ran, and ran hard, can you imagine what would happen? We can't do that until we know who we are and what our purpose is because our purpose is what drives us.
I don't see Satan as the greatest opponent of man. I see that our greatest battles happen in our own minds. It's our gremlins born from our circumstances that come up again in adulthood. We begin to believe they're there to protect us. They keep us in a safety zone. They keep us from reaching out and daring us to go beyond where we are comfortable. Fixing your foundation and knowing who you are is so critical. Prayer is wonderful, and I believe in prayer, but God says you've got to step up and do something, too!
I envision standing in front of God on my expiration date. God asks me, what did you do with what I gave you? He gave me a lot! It didn't look that way when I was growing up, and I've had to go through a lot to get where I am, but He positioned me here. Not to live it out is to deny what I was put on this earth to do. I've got to leave it all on the field.
I know when I'm done, I'll be able to say, I've done everything I've been able to do. That is the joy and purpose I have. If everyone could find that peace, it would be transformational.
We welcome and encourage comments on this site. There may be some instances where comments will need to be edited or removed, such as:
Comments deemed to be spam or solely promotional in nature
Comments not relevant to the topic
Comments containing profane, offensive, or abusive language
Anonymous comments
If you have any questions on the commenting policy, please let us know at heretoserve@globalleadership.org
Equip, encourage & inspire global leaders with a gift today
When you give to the Global Leadership Development Fund, your gift inspires and equips Christian leaders, facilitating transformation in some of the world's most challenging environments.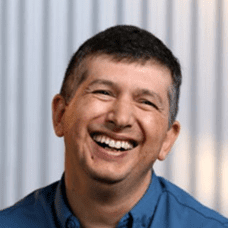 "Without your heart for giving, we could not have had the GLS in many countries like Bolivia, Ecuador, Cuba, Chile, Peru and others in the rest of Latin America."
Carlos Arroyo, South America