Published May 15, 2017
Behind the Scenes GLS Volunteers Go Above and Beyond Behind Bars
When people attend The Global Leadership Summit, they leave with a distinct feeling of motivation, inspiration, challenge or encouragement. Their vision is sparked. They leave with thoughts and insights from the faculty flooding their minds…
"The Church is the hope of the world." 
 "Intentionally dd value to people every day." – John Maxwell
 "If you want to be a hero, do what God wants you to do." – Mama Maggie
The list goes on.
If you have attended the GLS, you can probably remember the exact seat you were in when God rang your bell.
These moments spark action we've seen literally changed lives, families, churches, organizations and even entire cities.
At the GLS, these are the moments we strive to create. No distractions. And that's where a lot of key volunteers come in.
Behind the scenes of the GLS, the volunteer Tech Team makes it happen
Today, we want to highlight our volunteer technical directors and producers across the 500+ sites in the United States alone. More than 1,000 talented people volunteer their time to make the GLS run as smoothly as possible behind the scenes so that you can experience your bell-ringing moment with God.
During the GLS, they run lights, satellite connection, sound, programming and any number of unexpected issues that may come up along the way. They do this all at the same time, across the country, and across time zones.
It is an amazing feat, and the GLS would not at all be possible without them! (Thank you!)
But what is even more amazing about this team is their incredible heart to go above and beyond their volunteer role. Led by Shana Case, broadcast production manager for the GLS, this team not only makes the GLS happen at your host site, but they have also developed a fiery passion to bring the GLS to prisons across the country.
"The team is full of folks who are willing to reach out and share experience and wisdom with others, whether they are across town or across the country," Shana shares. "They want to contribute to the Kingdom in ways that are relevant to who they are, and I love that about them!"
The spark that started the passion to bring the GLS to prisons
Several years ago, Rick Warren spoke at the GLS, and something he said struck Shana deeply. "What he had to say has stayed with me for years," she shares. "It was a seed planted waiting to bloom. He said:
Not everyone has a platform like this, but everyone DOES have a circle of influence…everyone.
"And I thought…what was mine? How did God want me to use my circle of influence to impact the Kingdom? These are big questions. I'm not a visionary. I didn't have the answers at the time. But now, I can see it!"
Something was brewing in Shana.
Several years later, for the GLS in 2015, Shana went to a prison site in Sioux Falls, South Dakota. Even though she didn't have the security clearance to go inside that day, she did an outside tour and learned all about their programs. In 2015, the GLS was only in three prisons.
Waiting list for prison sites? Opportunity list for prison sites 
She was moved by what was happening in the prison. God kept stirring. "It seemed like that fall, conversations about the GLS and prisons kept coming up," Shana shares. "It's funny how God does that to get my attention! He was definitely stirring something up inside of me. I could barely talk about it without welling up with emotion.  Then in the spring, I heard there was a waiting list for prisons who wanted to host the GLS, but they didn't have enough sponsors."
Not enough sponsors?!

One of the speakers talked about letting your heart break for the things that break God's heart. And for Shana, this was it. "I couldn't let it go. Not enough sponsors? A waiting list? I thought about it, talked about it and dreamed about it frequently. Then I decided to use my own circle of influence to DO something about it!"
She brought it to her circle of influence, her "people." She shared her heart and the situation with her team of 1,000 tech directors and producers during their training event in hopes to raise enough money to sponsor three prison sites.
But God had bigger plans.
"I was just excited to support Shana and her vision for spreading the GLS to the prisons. I've worked with her and the GLS for several years now and could see her heart for this. I instantly saw the impact it had here locally. I hope this continues to grow and the impact spreads even more!"—Greg Klimetz, production manager at Hillcrest Baptist Church
I heard Shana's challenge to contribute monetarily to getting the GLS into three prisons. I felt that we could do so much more than that in our own backyard! Bringing the GLS to more prisons is important because Jesus challenged us to share the gospel in tangible and inventive ways. He also expects us to equip the saints—no matter where they live. This is not just a tech team mission, it's a Church mission.—Liz Jarocki, creative director at Woodmen Valley Chapel, and summit host site producer
The team caught the vision.
The tech team not only sponsored three prisons sites—they sponsored twelve! "It's funny what can happen when you share what God has put on your heart. I was in awe."
Shana had the chance to attend one of the prison sites they sponsored in Florida. "I walked in and was greeted by the chaplain and one of the inmate church leaders," Shana explains. "He shook my hand and smiled, just as if we were at my church—minus the guards. We walked into the chapel and they were having worship rehearsal. There were about eight guys, all ages, and multiple races, singing and worshiping together. We listened as they sang, and joined in with the songs we knew.
"My heart was stirring again. It was really hard to keep it together. I think it's because I knew God wanted these folks to be a part of the GLS, to hear whatever it was He wanted them to hear. And I got to be a part of it.
"Afterward, we sat down with two of the inmate church leaders. They talked about the struggles of their church and community. Ironically, they sounded like a lot of the same struggles my own church faces. It was eye-opening and heart-warming."
In 2016, the GLS is held in 43 prisons
More people are catching the vision to expand the GLS into prison sites. In 2016, the GLS was held in 43 prison sites across the country, and the demand increases. "The biggest impact I've seen is empowerment," Dave Wiggins, campus pastor at Hillcrest Church, explains. "Bringing GLS into the prison has shown the inmates that they are worthy of the investment being made in them. The lessons they learn are empowering them to behave more like leaders in the microcosm of prison culture in preparation for who they will be on the outside.
"Two men coming out of last year's GLS have started a weekly gathering of interfaith inmates to discuss how they can work hand-in-hand to improve the culture of their facility and serve, not just one another, but the guards and officers as well. One of the men leading it is a Christian and the other is Muslim. Both were at the GLS and inspired to do this out of their experience.
"I'm in the prison with the guys every week and they still talk about GLS. In fact, a bunch of them just wrote more letters to attach to our initial application to Florida Department of Corrections to do it again this year."
Prisoners at the GLS pay it forward
When inmates at one of the prison sites learned about how money was raised for their GLS experience in 2016, they were moved that people cared for them so much. So moved in fact, that when it came time during their event to raise money for leaders to attend the GLS in under-resourced countries around the world, they stepped up and gave.
In total this one prison site collected $500.
In a prison, this is significant! The reason being that if you have a job in prison, it doesn't pay much. Sometimes inmates make less than a $1 an hour. It's amazing to think how the simple act of caring and stewarding our resources can have Kingdom impact.
What's next?
"I've been doing the Summit for so long, it almost feels like it's my life's work," Shana says. "I wouldn't do the GLS, or have left the marketplace, if I didn't believe that the GLS could make an impact in each city, town, prison and community across the globe. It's worth it. The GLS will knock the dust off you, breathe new life into you and stretch you a little. You won't be the same.
"My hope is that building into the GLS for prisons becomes a tradition for the GLS tech team. More than that, a movement. Just because these folks are behind the scenes doesn't mean they can't get into the game.
"We'll start raising the money again soon for prison sites in 2017. I'm already getting emails from folks around the country about sponsoring their local prison. Let's see what God's up to this year!" (To give to the Tech Team's fundraiser for prison sites, click here.)
If you're interested in learning more about the impact the GLS is having in prisons, watch this video created by our friends at Woodmen Valley Chapel:
Say thanks to our amazing GLS Tech Team for all the work they do to bring the Summit to more than 500 sites across the United States, including prisons. Leave a comment below!
We welcome and encourage comments on this site. There may be some instances where comments will need to be edited or removed, such as:
Comments deemed to be spam or solely promotional in nature
Comments not relevant to the topic
Comments containing profane, offensive, or abusive language
Anonymous comments
If you have any questions on the commenting policy, please let us know at heretoserve@globalleadership.org
Equip, encourage & inspire global leaders with a gift today
When you give to the Global Leadership Development Fund, your gift inspires and equips Christian leaders, facilitating transformation in some of the world's most challenging environments.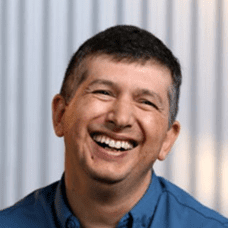 "Without your heart for giving, we could not have had the GLS in many countries like Bolivia, Ecuador, Cuba, Chile, Peru and others in the rest of Latin America."
Carlos Arroyo, South America