Published June 22, 2020
Business Leader Finds New Purpose at the Summit, Sees His Companies Double in Size
Billy Watterson's story breaks the statistics as being the "one in a million" to make it out of poverty. He later became a serial entrepreneur who started and owns 20 companies—and counting. His current capacity is as CEO of Watterson Brands, a holdings company for those entities. In 2019, he and his wife Brenda established a family foundation for the purpose of giving away as many resources as they could to causes they care about deeply, and ultimately expanding God's Kingdom and seeing lives transformed. We hope you are as encouraged by his story as we are!
I spent my life running away from my past, mistakenly believing that my experiences defined me.
Embarrassed and ashamed of where I came from, I was determined to create a new identity. My wife Brenda, God bless her, brought me to church for 11 to 12 years. I went reluctantly but she kept bringing me and praying for me and little by little, my heart started to change. Things began happening around me that I couldn't explain. Circumstances and situations that broke my heart wide open. God was revealing things to me and it was undeniable.
The Summit changed my life, sending me on a journey to get myself right.
My wife had been bugging me to attend The Global Leadership Summit, but I just wasn't into it. Finally, in 2016 I agreed. At the time, I had just closed a major buyout. My companies were growing, but they weren't going well.
Never having attended anything like it, my expectations of the Summit were relatively low, but the experience changed me. The teachings were so powerful, the speakers so dynamic, it was overwhelming. At times, it was even difficult to take it all in.
But one thing was for certain, I felt God telling me to "get my house in order."
When I got back to work, I immediately started working on culture, trying to understand why things were the way they were. I soon realized that while my people loved and believed in me, they didn't trust me. It was eye opening but gave me the information I needed to make a change.
…three years from the time I left the company and attended the GLS in 2018, all my companies doubled in size.
The second Summit challenged me even more. I felt God telling me to walk away from the company I was running and appoint someone in my place. When I told a fellow attendee what I believed God wanted me to do he was in shock. "What are you talking about?! You love that company!" he said. And he was right, but I knew it was what God wanted me to do.
My companies doubled in size!
I left my company at the end of 2017, resigned from two others and put new presidents in place. In February of 2018 I created a holdings company to bridge the businesses and leverage their infrastructure.  In the midst of all that, I felt a nudge to start a foundation—a way of giving while I'm living.
This is so crazy—most people wouldn't believe this—but three years from the time I left the company and attended the GLS in 2018, all my companies doubled in size. That's no small thing. That is the impact of trusting God with my businesses, something I would have never done without the GLS.
Though my wife had to drag me to my first Summit, here I am four years later dragging everybody else.
It's amazing what the power of influence can do, personally, professionally, spiritually. The Summit has tremendous influence, the messages are so potent. Every year I invite more employees, peers, friends, sometimes even acquaintances. I love watching the impact it has on their lives. It's so inspiring. I may have already had a fire inside me, but the Summit threw gasoline on that fire, and things have since exploded. The Summit changed my life, sending me on a journey to get myself right.
The Summit has been so transformational for me that I can't imagine others not being able to hear the same thing. The term "access" comes back, which is why we're so excited about the prison ministry at the Summit. With access to this kind of influence countless lives could be transformed. We want to make the Summit available to everyone! That's why my wife and I have made this an important part of giving from our foundation.
I'm doing what I'm born to do, and I'm having the time of my life doing it!
The journey is the joy. I'm not going to stop until I drop. It's my job to build and create and in doing so, the Kingdom is served and lives are transformed. That's it. It's a blast. I live for it.
Everyone has gifts and skills. If everyone got up and ran, and ran hard, can you imagine what would happen? We can't do that until we know who we are and what our purpose is because our purpose is what drives us.
I don't see Satan as the greatest opponent of man. I see that our greatest battles happen in our own minds. It's our gremlins born from our circumstances that come up again in adulthood. We begin to believe they're there to protect us. They keep us in a safety zone. They keep us from reaching out and daring us to go beyond where we are comfortable. Fixing your foundation and knowing who you are is so critical. Prayer is wonderful, and I believe in prayer, but God says you've got to step up and do something, too!
I envision standing in front of God on my expiration date. God asks me, what did you do with what I gave you? He gave me a lot! It didn't look that way when I was growing up, and I've had to go through a lot to get where I am, but He positioned me here. Not to live it out is to deny what I was put on this earth to do. I've got to leave it all on the field.
I know when I'm done, I'll be able to say, I've done everything I've been able to do. That is the joy and purpose I have. If everyone could find that peace, it would be transformational.
We welcome and encourage comments on this site. There may be some instances where comments will need to be edited or removed, such as:
Comments deemed to be spam or solely promotional in nature
Comments not relevant to the topic
Comments containing profane, offensive, or abusive language
Anonymous comments
If you have any questions on the commenting policy, please let us know at heretoserve@globalleadership.org
Equip, encourage & inspire global leaders with a gift today
When you give to the Global Leadership Development Fund, your gift inspires and equips Christian leaders, facilitating transformation in some of the world's most challenging environments.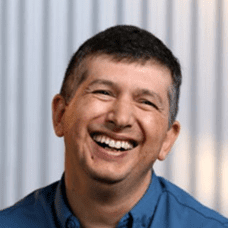 "Without your heart for giving, we could not have had the GLS in many countries like Bolivia, Ecuador, Cuba, Chile, Peru and others in the rest of Latin America."
Carlos Arroyo, South America