Published July 3, 2019
Christ-Centered Leadership Impacts Youth in Zimbabwe
Harold Chilowa, Global Leadership Summit (GLS) champion in Zimbabwe, sees the GLS as the primary tool to equip and inspire youth with leadership skills, bringing the much needed transformation he hopes to see in his country. Harold initiated a youth GLS movement in Zimbabwe, encouraging young people to attend the GLS and learn about what it means to be a Christ-centered leader.
Eyes open.
Before attending the GLS, Harold felt hopeless and angry due to the high level of corruption in his country. "We've lived in fear because of the regime that was in place in the past," Harold explains. "People are angry. People are corrupt. With a mentality like that, how can a person grow? Personally, I used to be a person who named and blamed. I was on the pastoral team, but it was about me and me alone. I never got involved in anything to do with the community because I thought it wasn't my responsibility."
I used to be a person who named and blamed.
But in 2011, Harold traveled 263 kilometers (163 miles) to attend his first Global Leadership Summit. "It transformed my life!" Harold shares, "I felt like something was lifted off my shoulders. I felt like my eyes were opened. I felt like there was a fire burning inside of me saying, You can do it—Be the leader you want to see. That inspired and encouraged me to go and share with the rest of our country."
Hands reach out.
With a passion for youth, Harold started a youth movement in the country, and invited many students to participate in the GLS. At one event, some students were inspired to launch a major clean-up at and near their school.
"The school was dilapidated. The kids were demoralized and their grades were very low," says Harold. "There was a trash heap right next to the school, which was causing a lot of health problems. We went there, and with the students, we did a major clean-up. And because of the transformation of the school, that school got the highest grades in the country!"
Youth rise up.
The GLS movement started to gain momentum. Individuals who were attending the Summit, were rising up to make themselves available to bring change to their own communities. One of those individuals is a young man named David Bekoe.
It changed the way I looked at myself—as a leader.
"All I ever wanted to do was play music and fly planes," says David. "But there are certain things that are for the rich and elite, and flying is one of those things. Growing up in a humble family like mine, I felt defeated. But when I attended the Summit, it changed the way I thought. It changed the way I looked at myself—as a leader. Doors opened because of links, networks and people I met through the Global Leadership Network. I got into a local flying school. I got my license and now I'm proud to be a pilot!"
David continued to be involved with the GLN, and because of what he was learning through the GLS, he looked around at the situation in the country through new lenses. "I found myself thinking, How do I dig deeper? How do I bridge the gap between flying and ministry? I fly planes to remote areas to deliver food and medicine to try to reach as many people in Zimbabwe as possible. I'm hoping to be able to facilitate young people to achieve their goals and dreams, merging my love for planes with helping my community. That's my dream!"
Young women realize their potential.
Saliwe Zakariya, with Talia Women's Network in Zimbabwe, is passionate about empowering the next generation of young women in Zimbabwe. "In the story of our nation, men take leadership roles," says Saliwe. "The young women who participate in our leadership development program all attend the GLS locally. We've got women who are breaking the barriers in regard to employment, going into traditionally male-dominated fields like engineering and computer science.
They realize there's nothing limiting them from soaring higher and higher!
"Now they are seeing, I've got the power and potential to achieve anything that I want to achieve in life. Then when success comes, it's up to them to continue the trickle-down effect—to reach out into their communities, digging deeper into other issues that affect girls and women. They realize there's nothing limiting them from soaring higher and higher!"
Zimbabwe transforms.
Harold shares his gratitude for what is happening through the Global Leadership Network. "I just want to give thanks to the GLN because of the transformation that has taken place in my own life," says Harold. "I have become a better leader in my home, a better father to my children and a better leader in my community. I know that God is going to use the GLN to touch our new government. We are so excited for what this will mean for Zimbabwe."
Thank you for supporting leaders like Harold, David and Saliwe through the GLS in Zimbabwe!
We welcome and encourage comments on this site. There may be some instances where comments will need to be edited or removed, such as:
Comments deemed to be spam or solely promotional in nature
Comments not relevant to the topic
Comments containing profane, offensive, or abusive language
Anonymous comments
If you have any questions on the commenting policy, please let us know at heretoserve@globalleadership.org
Equip, encourage & inspire global leaders with a gift today
When you give to the Global Leadership Development Fund, your gift inspires and equips Christian leaders, facilitating transformation in some of the world's most challenging environments.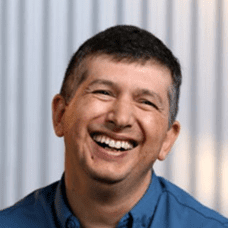 "Without your heart for giving, we could not have had the GLS in many countries like Bolivia, Ecuador, Cuba, Chile, Peru and others in the rest of Latin America."
Carlos Arroyo, South America