Published January 9, 2019
Christians in Persecuted City Find Hope at the GLS
The Global Leadership Summit takes place in countries and cities we never thought God would take it. In some cases, we can't even disclose the name of the city for the protection of the Christian pastors and leaders there who hunger so desperately for the leadership encouragement, inspiration and training.
This is one of those cities.
During the 2018/2019 GLS season, the Summit blessed hundreds of leaders in a remote city in a persecuted region of the Middle East.
Be blessed by the words of several of the attendees, and know that your prayer and support are not in vain.
Thank you for standing beside me.
Just few days before Christmas in 2017, there was a terrorist attack on our church. Scores of people were gunned down and brutally injured during the Sunday church service.
I will not forget the bloodshed, the screaming and gunfire in the church. Life felt meaningless and fear dominated me and the congregation. At the same time, I was in deep sorrow for all the victims. For months, nothing could help or put a balm on my wounds for what happened under my leadership. I was badly broken inside.
How much more thanks can I say for the GLS—for caring for us in this time and taking a step of faith and boldness? God sent the GLS for me, especially, and for all others who went through this dark time.
I can stand firm now and say, God cares for me and He cares for all the sorrow and wounds, because He already took all this on the cross for me. Thank you for standing beside me.
The best is yet to come.       
After being in isolation because of the persecution here, I asked God "Is this it? Is this the end to my calling? Maybe I have to move from this hard ground and to another city."
But here comes The Global Leadership Summit again this year. It was just like a fresh breath of air for me. I felt God show me that He is not yet done with me! Truly, after spending two days at the Summit, the Lord is showing me that the best is yet to come!
He has not given us a spirit of timidity.
The situation here is dire. We did not expect there would be a big gathering here for Christian for quite a long time. It's been a terrible situation. But the GLS showed us our God teaches us to work above our situation and circumstances, not under them. And when the team came all the way here, there was no point for me to stay away and be afraid.
I got more encouragement and boldness to do His service after attending the GLS. Indeed, He has not given us the spirit of fear and timidity (2 Timothy 1:7). I am active again in evangelism.
It was daring of them to come here.
It was a very difficult decision, but I had decided to move with my family to another city, as it's been getting very difficult to carry on. But deep down in my heart, I knew it was not right. Then the GLS came to our city. It was surprising and daring of them to come.
During the two days of the Summit, I experienced how God has the power to turn every bad situation into something for good. It was so compelling to me that every element, discussion and session were all speaking to me. This year, the GLS was made for me.
Today is a turning point.
The thing that is astonishing for me is that God has a plan for my life even at the age of 67. Today I attended my first GLS. I never thought I could get better or develop more skills. But the teachings were so clear. I cannot deny that I repented and made my pledge to God that I will put forth my best effort to grow more to the full potential God has given me. I will glorify God in my business from now on. Thank you. Today is a turning point in my life.
We welcome and encourage comments on this site. There may be some instances where comments will need to be edited or removed, such as:
Comments deemed to be spam or solely promotional in nature
Comments not relevant to the topic
Comments containing profane, offensive, or abusive language
Anonymous comments
If you have any questions on the commenting policy, please let us know at heretoserve@globalleadership.org
Equip, encourage & inspire global leaders with a gift today
When you give to the Global Leadership Development Fund, your gift inspires and equips Christian leaders, facilitating transformation in some of the world's most challenging environments.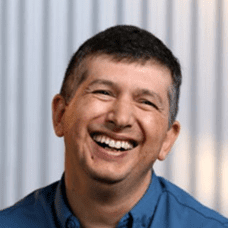 "Without your heart for giving, we could not have had the GLS in many countries like Bolivia, Ecuador, Cuba, Chile, Peru and others in the rest of Latin America."
Carlos Arroyo, South America