Published July 31, 2017
Church Disunity Becomes Holy Discontent & Opportunity to Change a City
Is there something happening in our world that you can't stand?
At The Global Leadership Summit, we often brings up the topic of passion. We ask people to pay attention to the thing that wrecks you, the thing that you can't stand, and breaks the heart of God. We call this your "Holy Discontent".
We've heard hundreds of stories about people who've discovered their "Holy Discontent" at the Summit, and are now working in fields where God is using them to bring healing, unity and peace to our broken world.
For Ian Stevenson, former pastor at The Crossing Church in Costa Mesa for 27 years, and now Founder and Director of Trellis, The message on "Holy Discontent" turned his world upside down.
A Holy Discontent emerges
Ian has been attending the GLS since its inception. At the time, he was a young leader with a passion to see the church thrive in his community. Over the years, his church grew, and started to serve both the local community, and through global partnerships. As Ian's eyes became more open to the brokenness in our world, his "Holy Discontent" emerged.
"The lack of unity in the body of Christ started to become a burden on my heart," said Ian. "As I traveled to other countries, it became even more evident. In reading scripture, God's heart for unity among his people and Jesus' prayer in John 17: 20-23 jumped off the pages.
"I looked around our city and saw each church doing its own little thing to try to make a difference. I started thinking, 'What if we talked to city leaders, identified the greater challenges and worked together like a body and a team and really made a difference'?"
Ian's dream is that the Church in the city of Costa Mesa would experience such perfect unity that every man, woman, girl and boy would know how much they matter to God. (John 17:23)
After hearing the message on "Holy Discontent," Ian knew God was asking him to step into what came to be the organization known as Trellis.
What does unity in the body of Christ look like?
Trellis emerged after 14 years of various pastors and leaders meeting together regularly to pray for God to work and move in Costa Mesa. In 2011, the 15 churches, three non-profits, one city agency and one university gathered for the first meeting to discuss how they were already working together in the city and dreaming about even more ways they could have an impact. In the following months, initiatives emerged around homelessness, cultural integration and education. Each initiative mobilized Christ-followers from multiple churches to work with city leaders to impact their community.
Today, Trellis continues to gather Christian leaders for prayer and strategic action to make a positive impact in the city. Through Trellis, Ian's hope is that the Church would actively be doing three main things:
Pray for Costa Mesa—Collectively, intentionally and consistently—30 churches each hosting 24-hour prayer, one day a month so they have 24/7 prayer in the city
Love their neighbors—Creating a Neighboring Network in every neighborhood in our city to serve those in need
Engage in the city's biggest challenges

Homelessness—Creating a "Costa Mesa Living Center" to address the issue
Education—Every 3rd grader is reading at their grade level
The outcomes of this initiative are incredible!
Here are the biggest things they've seen happen as a result of churches working together with the city in Costa Mesa:
In the past 3 years, more than 270 people are no longer homeless
Literacy rates have improved by 10%
Prayer coordinators from different churches are meeting together to expand prayer movement in the city.
Listen to God's whisper
We are grateful for leaders like Ian who listen to the Holy Spirit's whisper to pay attention to the things that break their heart. The impact Ian has had on the city of Costa Mesa is inspiring, but without listening to that still small voice he heard while attending the GLS, imagine the adventure he would have missed. "Taking the time to listen is never easy, especially for leaders," said Ian. "But when we do it—when we create space to listen to God and how He speaks into our lives through other leaders—it has dramatic implications for what He is calling us into. Don't miss out on a chance to listen, learn and get better as a leader."
We welcome and encourage comments on this site. There may be some instances where comments will need to be edited or removed, such as:
Comments deemed to be spam or solely promotional in nature
Comments not relevant to the topic
Comments containing profane, offensive, or abusive language
Anonymous comments
If you have any questions on the commenting policy, please let us know at heretoserve@globalleadership.org
Equip, encourage & inspire global leaders with a gift today
When you give to the Global Leadership Development Fund, your gift inspires and equips Christian leaders, facilitating transformation in some of the world's most challenging environments.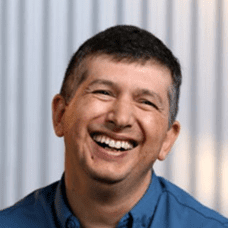 "Without your heart for giving, we could not have had the GLS in many countries like Bolivia, Ecuador, Cuba, Chile, Peru and others in the rest of Latin America."
Carlos Arroyo, South America