Published October 25, 2017
If the Church is the Solution, the Summit Exists to Strengthen Church Leadership
You've heard about the news in Colombia — guerrilla warfare, drug lords with too much power and rampant injustice. But leaders like Camilo Bedoya, director for the GLS in Colombia, believe in a new day and a grander vision for their country. It's a vision motivated by the idea that neutralizing evil will not change a nation, but activating the Church will.
As the church leaves the building, Camilo believes the nation will be transformed.
Drug lords to revival: an opportunity for peace
Camilo and others like him are utilizing the tools of The Global Leadership Summit to activate the Church, and take advantage of a window of opportunity during their government's current peace process. "There are doors of opportunity being opened that we need to take advantage of," says Camilo. "Twenty years ago, there were prophesies spoken about revival in the country and how God would use a land that was known by drug lords to export the Gospel to other nations."
"In Colombians, and in people all around Central America and South America, God has raised something in leaders, and the timing is right," says Camilo. "The Summit is bringing insightful, intelligent people into the scene. I believe this is a key element for a transformation to take place. It's a window of opportunity. The resources that are invested in the Summit can change a whole nation!"
Change is already taking place for youth and in prison systems
One of Camilo's first key takeaways from the GLS was that in order to see real change occur, we need to realize that the Church has the solution. By activating the Church, and connecting key church leaders together, we bring that solution to the nation. "It's been interesting, because it's like a very natural and organic network where people are now speaking up about their city, and having a heart towards their city, and even towards the nation," says Camilo. "They are taking a stand, and moving things forward. Through the GLS, they now have tools to do it, and that's what's beautiful."
Two major transformations Camilo has witnessed as the GLS inspires church leaders to GO out of their buildings:
Homeless youth now go to college"In a small town close to Bogota, there were some homeless youth in a government program. So our church started training all those kids who were orphans, some of them who didn't expect (or even desire) to live. We were not just sending them a Bible, but our church's youth went for two years to help them envision a God who cares. And just by being with them, the youth in the government program started to bloom. The stories were amazing."Now some of them are going to college, because the government has those programs in place, but without a dream or a desire, why would they go? Now we're seeing them really moving forward."
Crime rate is reduced in Colombia's prison system
"In the prison system, it was the same situation. We decided not just to go, but to engage. We work with another program that was started by a general in the country. Doors opened, and after two years of doing the program in the prison system, the crime rate reduced.In these past weeks, a church member who is highly influential in the country is now open to taking the GLS into the country's prison system."As people see the GLS, they realize how they can be an influence, and witness the changes in the community," says Camilo. "It's really exciting."
Vision: Expand the GLS to serve remote leaders
When a vision has the potential to change a nation, leaders like Camilo are motivated to expand the reach of the GLS even further. "The grander vision for the year 2020 is to have the GLS in six major cities, and from there spread throughout the country," says Camilo. "I believe you need key people, but you also need the tools, and the money that will help move things forward. I believe that the GLS has some of the greatest tools.
"When you look at underdeveloped countries, you see big cities that are crowded and sometimes you find resources in those cities, but there is a huge difference when you go to villages and other places. The format of the Summit allows it to be placed anywhere, as long as the resources are there to support it.
"In the rural areas, we have pastors sometimes leaving at three in the morning, and swimming through ponds and lakes to get to the Summit. They pack a bag with their Bible and another set of clothes, so that on the other side, they can change. They are the first ones to arrive. Once they arrive, they are ready and willing to receive. Only God can say what will happen with all these people, but we must provide the resources. Sometimes we think we are the ones making an effort in the city, but they are the ones who are really doing amazing things, but we must make resources available to them.
"I believe that the Summit can create the connectivity for all of us to work in a kingdom mindset."
Thank you from Colombia
I would like to thank each one of the donors who has made the GLS possible. In Colombia, I'm witnessing a country that is flourishing and going through a transition. It makes a difference when a leader is impacted and transformed. I, myself, am a part of a process, and I'm also seeing other leaders become part of a process of transformation. It makes a difference in many areas—one of them is when someone believes in you, and encourages you to move forward. I believe the GLS is helping others move forward by believing in them. I see God moving. And I believe we need to learn to see more of where God is showing up or moving, because he is everywhere. I believe there are nations right now, not just Colombia, that desperately need what the GLS is providing. If leaders are exposed to this level of training or this level of influence, then they can step up and be a solution to the issues in our countries. Investing in the GLS is key right now. I want to thank each one of you for making this possible for the world, and for my country. Thank you.—Camilo Bedoya, GLS leader, Colombia
We welcome and encourage comments on this site. There may be some instances where comments will need to be edited or removed, such as:
Comments deemed to be spam or solely promotional in nature
Comments not relevant to the topic
Comments containing profane, offensive, or abusive language
Anonymous comments
If you have any questions on the commenting policy, please let us know at heretoserve@globalleadership.org
Equip, encourage & inspire global leaders with a gift today
When you give to the Global Leadership Development Fund, your gift inspires and equips Christian leaders, facilitating transformation in some of the world's most challenging environments.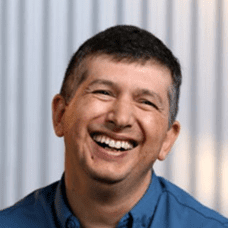 "Without your heart for giving, we could not have had the GLS in many countries like Bolivia, Ecuador, Cuba, Chile, Peru and others in the rest of Latin America."
Carlos Arroyo, South America