Published August 16, 2021
Create a Ripple Effect of Positive Change through The Global Leadership Summit
If you were part of The Global Leadership Summit audience in 2021, thank you for joining us!
Your decision to invest in developing your leadership skills will have a ripple effect and give back to everyone around you. (Did you miss it? That's ok! You can still watch the full talks and get access to discussion guides and bonuses resources with GLS On-Demand).
The ripple effect of what happens through The Global Leadership Summit drives the Global Leadership Network to continue to provide intentionally curated leadership resources and create high-impact events, while convening people globally around a vision for positive transformation.
Did you know? Many of stories we heard at GLS21 have one thing in common…
Each story represents just a few of the thousands of stories that become a reality through a new learning or encouragement discovered at The Global Leadership Summit each year!
"The Summit gave me the practical leadership tools I needed to make my vision for my nonprofit a reality. It's one thing to dream. It's another to lead people in the fight." – Rebecca Bender, former trafficking survivor, Founder & CEO, Elevate Academy
"After the Summit, I developed a mentoring program called Building Block that teaches leadership principles to incarcerated men. It has been life changing for both the residents and prison staff. I am so grateful." – Renaldo Hudson, formerly incarcerated Summit attendee, current Director of Education, Illinois Prison Project
"I used to see things so negatively, but the Summit changed my mindset. I decided to take advantage of the situation during a global pandemic and equip myself with new skills in psychological counseling to follow my dream of serving youth."– Le Thi Hai, Summit attendee in Vietnam
"In every Summit session, God taught me how to be more compassionate to humanity. There are about 35 people working under me in healthcare—and there is a ripple effect. I salute the passion, love and determination of the Summit team here who risked their lives to give back and serve humanity with His love and care." – medical doctor and GLS attendee in an undisclosed location in the Middle East
"The Summit gave me courage to choose to do what is right for me. It gave me a different outlook than the toxic one that had consumed me for so long. I am stronger now, taking care of myself, leading better and looking for ways to support others who are in similar situations." – Jessica, GLS Ministry Connect attendee in U.S.-based homeless shelter
Guess what? You too are part of these stories.
Our generous Summit audience, driven by a desire to see positive transformation through leadership, makes stories like these possible. In fact, when you give a donation to the Global Leadership Network, you don't just touch one life—you touch hundreds of thousands of lives through the legacy of these stories.
If you gave last week during The Global Leadership Summit, THANK YOU! Every gift matters!
"When I found out that the Summit came to prison because of the big hearts of people, I was blown away. I thought, wow, someone is thinking about me and I'm so grateful." – Renaldo Hudson, formerly incarcerated Summit attendee, current Director of Education, Illinois Prison Project
If you are interested in giving today, consider this opportunity!
Whether you decide to give $25,000 to start a Summit site in a new city or $75 to scholarship a young leader in a rural village, every gift, of any size, makes a difference!
Translate the Summit into 55+ languages, bringing the GLS to more than 110 countries this season
Provide safe event venues in war-torn regions, including locations we can't even mention for their own safety
Bring the Summit into homeless shelters and transition homes, as well as to vulnerable youth and trafficking survivors
Bring the Summit to over 100 prisons across the U.S.
Give people the opportunity to hear, maybe even for the first time in their lives, the words, "you have value" and "your leadership matters."
Every person deserves the chance to realize their value, their worth and their purpose in this world. Everyone deserves the invitation to use their unique gifts to bring about the positive difference they can make. Will you join us?
Give today to join the movement at GlobalLeadership.org/Give.
We welcome and encourage comments on this site. There may be some instances where comments will need to be edited or removed, such as:
Comments deemed to be spam or solely promotional in nature
Comments not relevant to the topic
Comments containing profane, offensive, or abusive language
Anonymous comments
If you have any questions on the commenting policy, please let us know at heretoserve@globalleadership.org
Equip, encourage & inspire global leaders with a gift today
When you give to the Global Leadership Development Fund, your gift inspires and equips Christian leaders, facilitating transformation in some of the world's most challenging environments.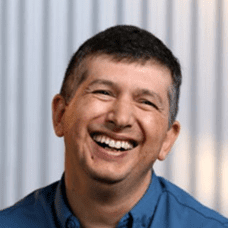 "Without your heart for giving, we could not have had the GLS in many countries like Bolivia, Ecuador, Cuba, Chile, Peru and others in the rest of Latin America."
Carlos Arroyo, South America