Published January 7, 2019
Encouragement & Challenge After the Summit in Zambia
At the conclusion of The Global Leadership Summit in Zambia, Lawrence Temfwe, local pastor, non-profit leader, and Summit champion, left the audience with these powerful words of encouragement and challenge. May they also bless you as they have blessed us.
---
My beloved brothers and sisters, we now conclude a great Summit. We have been edified and uplifted. We promised you that you would: Get a unique blend of vision, inspiration and practical skills that you can immediately apply. We now challenge you to go back into your communities to: Leverage the Summit materials as a resource to transform yourself, family, church, media, government, business, community and nation.
We encourage you again to read the notes and listen to the talks and discuss them together—with friends, family and workmates. These teachings are the products of much prayer and meditation and are well worthy of careful consideration.
As we leave the Summit, it is my prayer that you go with the question: How do I contribute to making Zambia a better place?
How do I contribute to making Zambia a better place?
It is my prayer that you have received marching orders from the Lord about your role in loving your neighbor, fighting corruption and creating jobs. It is my prayer that the Summit has challenged you to be part of the answer to Zambia's problems. May your catch words be: Not under my watch will people do immoral things and get away with it. It is about time that Zambia knew there are Christians in this country.
I am asking you, therefore to:
Be baptized with holy discontent…
until Zambia has crushed the causes of poverty.
until every Zambian has access to clean water and good sanitation.
until every child in Zambia has access to quality education.
until every Zambian will not be judged on the basis of their tribe, but as Dr. Martin Luther King put it, "be judged on the basis of the content of their character." 
until in Zambia every Member of Cabinet, Parliament and the President acts justly, loves mercy, and walks humbly with God.
until Zambia's judiciary system is filled with men and women who will see to it that justice is done.
until every Zambian who goes to hospital receives quality health services.
until every Zambian hears the words that "Jesus is Lord."
People of God, the road ahead will not always be shiny.
We will fail along the way, but we have learnt in this Summit that failure is part of the deal if we are going to make a difference. And there will be those moments when the struggle of hope will be transformed into weariness and hopelessness. Our dreams will sometimes be crushed and our hopes blasted. But difficult and painful as it is, we must walk on in the days ahead with bold faith because we have a God who has promised us a better future.
When our days become lifeless with grey clouds of despair, let us remember that we serve the Creator of the earth and the Universe who told Moses, "And now the cry of the Israelites has reached me, and I have seen the way the Egyptians are oppressing them. So now, go. I am sending you to Pharaoh to bring my people, the Israelites out of Egypt."
This is the same God who has given us a baptism of holy discontent and will be with us until the task is accomplished.
Will you trust God today?
Let us roll on, team. The Lord is sending us.
We welcome and encourage comments on this site. There may be some instances where comments will need to be edited or removed, such as:
Comments deemed to be spam or solely promotional in nature
Comments not relevant to the topic
Comments containing profane, offensive, or abusive language
Anonymous comments
If you have any questions on the commenting policy, please let us know at heretoserve@globalleadership.org
Equip, encourage & inspire global leaders with a gift today
When you give to the Global Leadership Development Fund, your gift inspires and equips Christian leaders, facilitating transformation in some of the world's most challenging environments.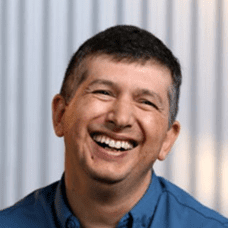 "Without your heart for giving, we could not have had the GLS in many countries like Bolivia, Ecuador, Cuba, Chile, Peru and others in the rest of Latin America."
Carlos Arroyo, South America