Published June 19, 2019
Everything Changes When Someone Believes In You and Calls Out Your Leadership
Early in my design career, I started to question myself and what I was doing. I went through all this schooling and I figured out what I wanted to do, but I felt like I wasn't fulfilling my purpose in the agencies I was a part of. So, when I saw the design job open up at the Global Leadership Network, I was so excited. It connected with who I was. I got hired, and I finally felt like the work I was doing had purpose. I felt like if I could visually communicate a clear message and value, and it inspired someone to attend a conference, I could be part of their journey. And I knew once they came, God would use the Summit to speak to them.
…early on, I didn't feel like I was a leader…
I feel like I am one of the fortunate ones who has been able to merge my passion for design with purpose and meaning in my work. I get to be a part of a vision that believes leadership can change the world. And in a small way, I can be a part of helping people discover their leadership, discover how they can make a difference in their communities and families.
But early on, I didn't feel like I was a leader even though I was working here. I loved the cause, but I felt more like a helper. I was able to relate to the part of our audience at the time that didn't feel like they were a leader, and wondering why they were at The Global Leadership Summit in the first place.
Then the message began to shift—everyone has influence.
I had been working here for about 10 years when the GLN went from doing nine conferences to doing one conference—The Global Leadership Summit. During that season, my supervisor would say to me, Sue, you are a leader. I would laugh at her and blow it off. She was trying to inspire me and encourage me, but I didn't believe her. I fought her for a long time. She would say it to me and write it to me all the time.
Maybe she's actually saying something that I need to stop laughing at.
I respected her and saw her leadership was exactly what we were speaking about at the Summit. She was the embodiment of a leader to me. To think that she actually believed I could be a leader too really meant something. So, I had to trust her. I trusted her in every other area, so I had to trust that she wouldn't say this if she didn't really feel that way. I began to think, Maybe there is some truth to this. Maybe she's actually saying something that I need to stop laughing at.
I started to hear it. I started to look around me and see the different areas where I could have influence.  I started to believe it. Once I started to believe it, I felt confident. She built into me so strongly over that three-year period, it was the most I've ever grown in my leadership. I realized, I'm one of those people who didn't know they had influence, but I see it now!
She didn't just say I was a leader, she showed she believed it with her actions.
Up until the transition of going from nine conferences to one, we had been outsourcing the Summit conference design to an outside firm. They created the art, and we worked with the concepts when they came back. But in 2012, my supervisor decided to stop outsourcing it. We were in a new era now.
I became more emotionally connected to the concept "everyone has influence"…
My supervisor believed I could lead the strategy, concept and design for the Summit and elevated me to Art Director. And that year, for the first time, the Summit design process happened in-house under my leadership. All this was happening just as I was discovering, through her belief in me, that I am a leader.
I became more emotionally connected to the concept "everyone has influence" because I was going through a process of discovering that about myself. As an organization, we started talking to everyday moms, teachers, coaches, etc., and I was also in that demographic. I started to become more absorbed in learning about branding and who our audience was. It was an exciting time of change in the history of our organization because we were focusing on leadership and influence in every sector, and I got to be a part of that brand message from the beginning.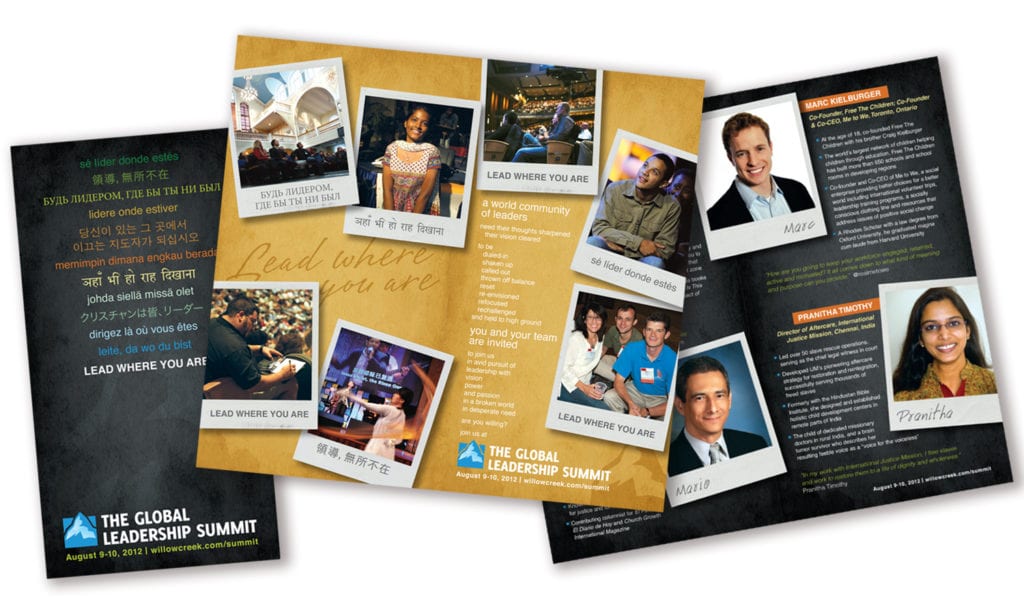 Even after 19 years of working at the GLN, I still get excited about the creative process. Every year is a new, fun, exciting challenge to figure out how to come up with interesting, inspiring visuals and graphics that will inspire people to come to the Summit. I love branding. I love helping to convey and uphold our brand values of global, accessible, high-quality and world-class through design—to communicate that everyone has influence and everyone is a leader.
My supervisor was "multiplying" me.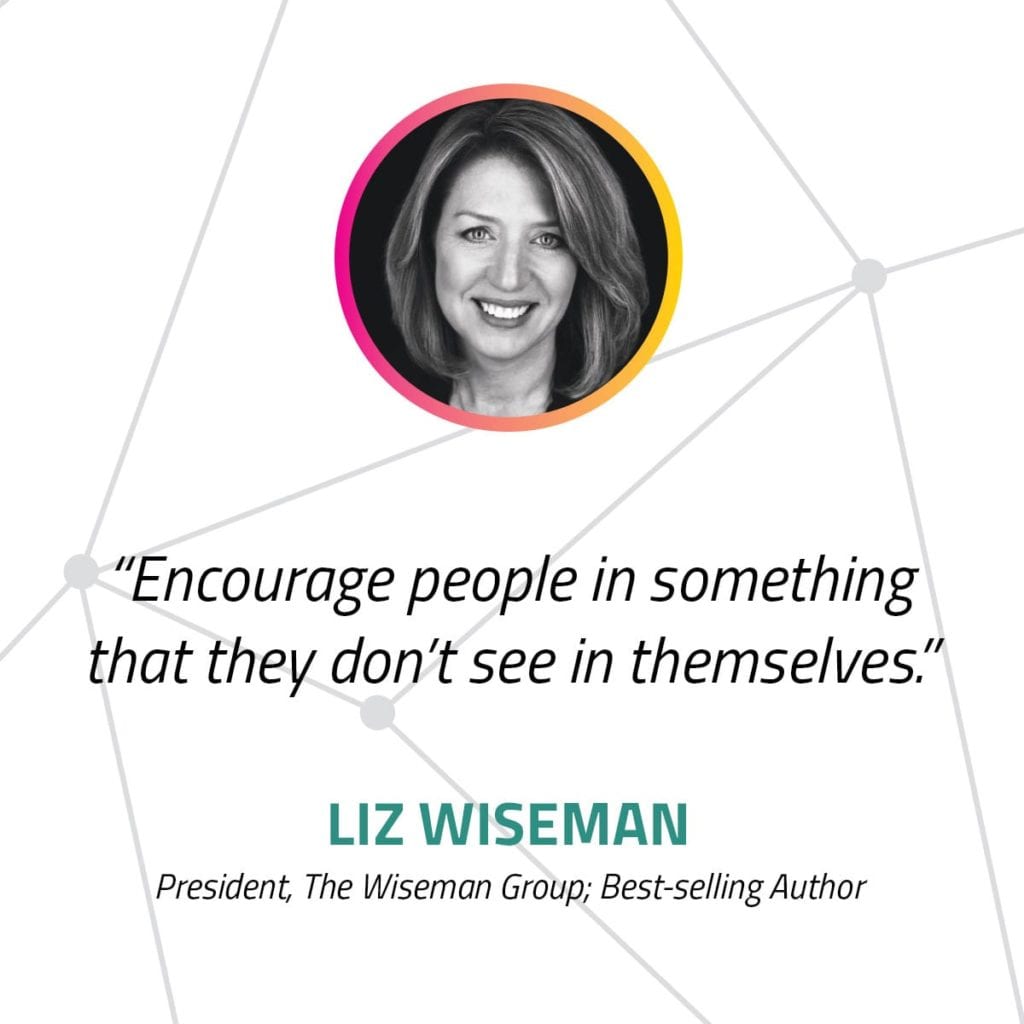 One of the Summit talks that had the most impact on me was by Liz Wiseman. She talked about leaders who are multipliers, and that clicked for me. I realized my supervisor was a living model of multiplier. It was so powerful to me. After she moved on, I wanted to make sure I could be a multiplying leader to the people I'm responsible for leading.
After I read Liz's book, Multipliers: The Best Leaders Make Everyone Smarter, I apologized to my supervisor. I thanked her for sticking with it, believing in me and calling out my leadership. I'm so glad she didn't give up on me.
Her belief challenged my negative talk.
Throughout my life, I've had a hard time with confidence. Growing up, I was shy and introverted. After I graduated with my degree in graphic design, my dad said, Oh, are you going to color me a picture? What was intended as a joke had a lasting, negative effect on me, and still does to this day. I constantly battle feelings of inadequacy.
I realized my supervisor was a living model of multiplier.
Since then, the hardest part of discovering and using my influence has been my struggle and battle with confidence. It's not that I can't see the impact of my influence now, but it's overcoming those negative voices from my past. It's Satan getting me off the track of what God is calling me to do.
This is why the Summit is so valuable.
Every year at the Summit, God talks to me specifically, and I am inspired and reinvigorated. My passion is reignited to continue doing what I do. It gives me the confidence boost I need and I no longer feel alone. And the tools I gain to lead my team as a multiplier are so valuable.
I can be a multiplier for my team at work, and my team back home.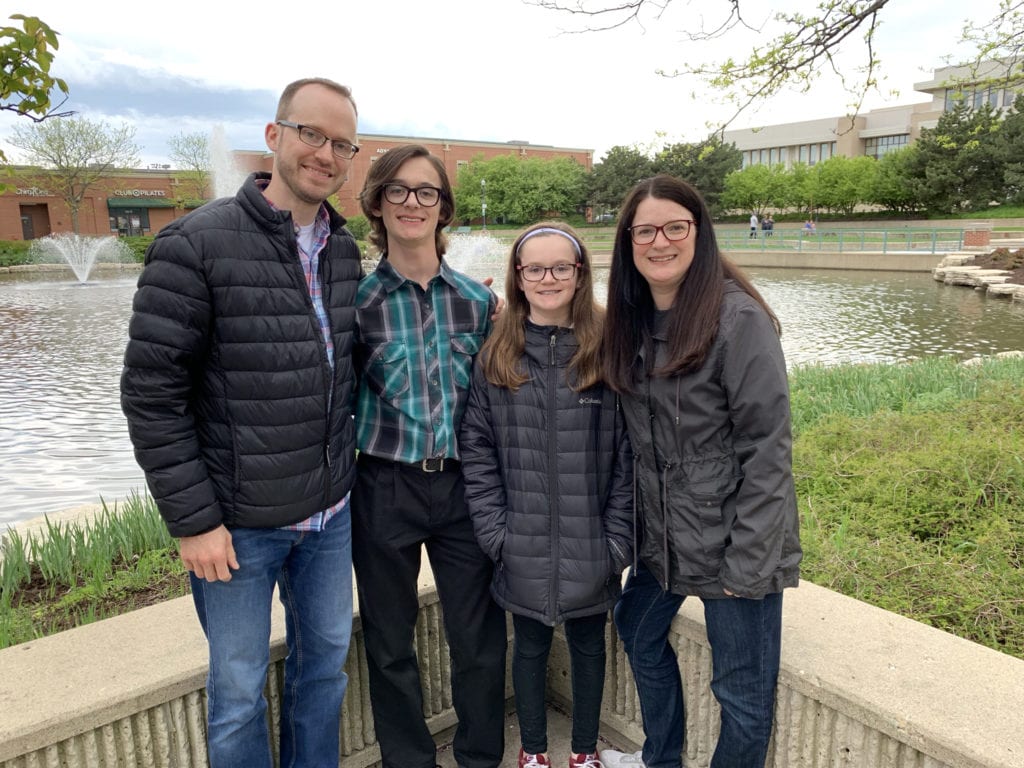 My job is not the only place where I can have influence. I realize I still have leadership influence with my family and my kids. When I leave work for the day, I still have a team of people back home. These are people that God entrusted to me first.
Pranitha Timothy's Summit talk also had a big impact on me. She said, My family is safer in God's hands than they are in mine. That stopped me in my tracks. I realized I had never thought of my kids this way before. It was in that moment when I realized I also have a responsibility as a leader to my kids. So, I want to make sure I'm continuing to grow in my faith and leadership for them, to multiply them as leaders too. I want to do my best to lead and guide them, knowing that one day they are going to leave home and lead their own lives of influence.
This is the power of belief—the belief of my supervisor in me. My belief in my kids. Calling out the leadership of others within your sphere of influence has a multiplying effect that can change lives. The ripple effect in leadership is powerful.
We welcome and encourage comments on this site. There may be some instances where comments will need to be edited or removed, such as:
Comments deemed to be spam or solely promotional in nature
Comments not relevant to the topic
Comments containing profane, offensive, or abusive language
Anonymous comments
If you have any questions on the commenting policy, please let us know at heretoserve@globalleadership.org
Equip, encourage & inspire global leaders with a gift today
When you give to the Global Leadership Development Fund, your gift inspires and equips Christian leaders, facilitating transformation in some of the world's most challenging environments.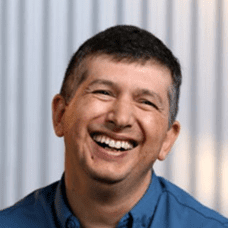 "Without your heart for giving, we could not have had the GLS in many countries like Bolivia, Ecuador, Cuba, Chile, Peru and others in the rest of Latin America."
Carlos Arroyo, South America