Published November 22, 2017
These are the Faces of the People You Support through the Summit
To all our friends who pray or financially support The Global Leadership Summit around the world…
Thank you!
Your generosity goes a long way. When you equip, empower and encourage someone through the GLS, you expand their impact in their community and change lives around the world!
In August we launched the 2017 international Summit season, which continues to train up leaders throughout the fall and spring months in another 128 countries!
Be encouraged and inspired by our friends who express their thanks for the impact you have already had on their lives and in their countries, and please continue to pray for them in this season.
Thank you from Uganda
On behalf of the GLS in Uganda, and the whole movement, thank you. Thank you from the bottom of our hearts for your giving that has changed lives and made a difference in the way we lead our nation. Thank you for sponsoring the tool that has opened doors for us to go to leaders in places we never thought we'd reach. Thank you for supporting us in discipling our nation one leader a time. Sometimes  as we do this work in our country, it occurs to us that on this side of heaven, you may never know what your contributions have done. But every time we hear a message or a testimony of lives changed, it is our prayer, just as the Bible says in Proverbs 11, "he who waters will himself be watered" that God would water you, and bless you and your families. We pray that God would enlarge your territories as you serve him. I would like to challenge you to go that one extra mile. With every gift, you touch a leader, and every time a leader is touched, a nation gets better. We've seen this in Uganda, and we know it can happen in any other country. May God richly bless your heart. Thank you for your giving.—Betty Byanyima, GLS leader, Uganda
Thank you from Thailand
On behalf of the Thai people, pastors and leaders, we would like to thank you for supporting the GLS so we can have the GLS in Thailand. We need the Gospel, and we need a lot of help, especially in terms of leadership development. Most of our people do not speak English, so we have very limited Christian leadership resources. But the GLS has been translated into Thai and now we have the chance to help many pastors and leaders in our country where we have less than one percent of the population are believers. If we can help Christian leaders get better, the church will win, and the Thai people will win with the Gospel. Thanks so much for helping us. Please continue to support the GLS in Thailand.—Anuparp Wichitnantana, GLS leader, Thailand
Thank you from West Africa
We want to say thank you to our beloved donors and friends. Without you, The Global Leadership Summit would not have been possible in my part of the world—Ghana, Liberia and Sierra Leone. Because of your support, encouragement, and because of your prayers, the GLS is now in our part of the world. In Liberia and Sierra Leone, you may have heard about what happened with the Ebola crisis, but because of the GLS, and because leaders are getting better, things are changing. So thank you. We are very grateful, and we appreciate you. We pray that the Lord will continue to bless you for all you are doing for WCA and the GLS. Your support will never be in vain. Thank you so, so much, and God bless you.—Philip Tutu, regional leader for the GLS in West Africa
Thank you from Colombia
I would like to thank each one of the donors who has made the GLS possible in the different countries. In Colombia, I'm witnessing a country that is flourishing and going through a transition. It makes a difference when a leader is impacted and transformed. I myself am a part of a process, as I'm also seeing other leaders be a part of a process of transformation. It makes a difference in many areas—one of them is when someone believes in you, and encourages you to move forward. I believe the GLS is helping others move forward by believing in them. I see God moving. And I believe we need to learn to see more of where God is showing up or moving, because he is everywhere. I believe there are nations right now, not just Colombia, that desperately need what the GLS is providing. If leaders are exposed to this level of training or this level of influence, then they can step up and be a solution to the issues in our countries. That is what is key right now in investing in the GLS. I want to thank each one of you for making this possible for the world, and for my country. Thank you.—Camilo Bedoya, GLS leader, Colombia
Thank you from Zimbabwe
What has happened in our country would not have been possible without you guys who have put your finances on the line in order for lives to be changed. You are putting your finances towards people you don't even know—people you've never even met, and I want to guarantee your resources are being used wisely, and are creating a better future for our young people. May the Lord truly bless you for the work you're doing. You don't have to be there, but your resources are representing you and are representative of what you guys have done. May the Lord bless you. Thank you so much.—Harold Chilowa, GLS leader, Zimbabwe
Thank you from India
The Summit in India is growing exponentially. We went from 6 to 16 to 34 to 54 sites, and now we have 84 events planned for 2017. The need is great. We see God using the GLS in a great way. And we really want to thank you—all our donors and supporters—for all the support you've given so we could make a change in our country, and so our leaders could have a greater opportunity for change. Our churches can have incredible influence because of your contributions.—Binu Varghese, regional leader for the GLS in India
Thank you from South America
Willow Creek Association donors, supporters and people who love the GLS, I am Carlos Arroyo from Latin America, and I have the blessing and the opportunity to serve several countries in South America, as well as Panama and Cuba. I've seen all the needs we have met through your resources. Thank you very much. Without your heart for giving, we could not have had the GLS in many countries like Bolivia, Ecuador, Cuba, Chile, Peru and others in the rest of Latin America. I encourage you to continue with your great heart and gift of giving. I challenge you to invite others to be part of this movement. Under-resourced countries like ours, need your support. I am certain that God will bless you, because this GLS movement is in the heart of God. Thank you very much.—Carlos Arroyo, regional leader for the GLS in South America
Thank you from Nazareth
I'm very thankful to the donors who've contributed to help us continue our journey with the GLS in Nazareth. Their contributions have helped us and enabled us to reach and impact more and more people that churches are generally not able to reach—key people in the community in Nazareth, the home town of Jesus. Thank you for believing in us and believing in the vision. With God's grace and favor, we are trying to accomplish that mission and vision for his glory.—Botrus Mansour, GLS leader, Nazareth
Thank you from Haiti
We are very thankful for the ongoing commitment of Willow Creek for leadership development in Haiti. We know the GLS happens through donors who share sacrificially so leaders in Haiti can have access to this leadership training. This training helps people, and helps leaders by encouraging them not to quit. It helps leaders by providing resources and insights. Thank you. We hope people will continue to support the cause so we can create more sites and more people can enjoy and benefit from the great mission of the GLS.—Edner Jeanty, Haiti coordinator for the GLS, Haiti
Thank you from Myanmar
On behalf of the GLS in Myanmar, we just want to say thank you for all your giving and contributions to this wonderful country. Leadership is so vital in this country. The GLS has brought so much transformation. So we want to thank you for giving. We hope you continue to give and to contribute. We know there are a lot of things God has in store for Myanmar, and we hope to see this coming into play. Thank you for all you have given and continue to give.—Peteullia Foo, regional leader for Southeast Asia, and GLS leader in Myanmar
Thank you from Nigeria
I want to express my appreciation to our donors for their gifts towards The Global Leadership Summit. It has helped us raise and multiply leaders in our communities, and it is changing our communities. We see the Lord moving our people from poverty. We see the Lord helping the nation to become a better nation. I pray the Lord will multiply their seed and cause their harvest to multiply.—Julius Msheliza, GLS leader, Northern Nigeria
Thank you from Egypt
I want to thank you very much for your donation and support for the GLS in Egypt. Last year we had a great Summit. For the first time, 150 people attended from outside the church. We had both Muslims and Christians there together. This is historical in our city. Newspapers wrote about it, and national television came to cover the Summit as well. We believe that next year, because of your support, we can have even more impact in our community. Thank you so much.—Samer El Daief, GLS leader, Egypt
Thank you from Ukraine
First of all, I really appreciate all the help that the GLS provides in Ukraine, and for helping us start the GLS here. My personal thankfulness is for people who invested in Ukraine and our GLS because God is using that tool to touch so many hearts and a new generation of leaders who will form what will happen in our churches and our society. In the midst of all the trouble we're going through, true leadership is what we really need. Without a true leader, and without a true vision, we don't really have a future, so thank you for investing in our future and our leadership development in Ukraine.—Yaroslav Pyzh, GLS leader, Ukraine
Thank you from Ghana
I just want to say thank you, all of you, who've contributed in making this GLS come to Ghana. I know I'm subsidized, because you gave. I want God to bless you, and I want you to know you should not stop what you started, because there are so many more people out there who need to have this experience. As you continue to give, God will reach out to them, and we will have a world with good leaders, and everybody will win. Thank you, and God bless you.—Rosemond Quarcopome, GLS leader, Ghana
Thank you from Jordan
I want to thank you very much for the continued support for the GLS in Jordan. We have been doing it now for seven years, but it was in the last year that we saw the breakthrough we were looking for. We saw the numbers double in attendance and how the community came. I just want to thank you so much because you believed and you kept on supporting and helping until we reached this point. You could have stopped supporting a few years ago, because there didn't seem to be much success, but you continued to say, 'We're going to support the leaders.' And now we are looking forward to a greater thing that will happen through the GLS in Jordan. Thank you very much for your support and prayers, and every person who is trying to put a small seed in the GLS. I thank you so much and pray that God will bless you richly and support you.—Randa Halaseh, GLS leader, Jordan
Thank you from The Bahamas
I want to thank the donors of The Global Leadership Summit for their investment in something that is so phenomenal. Your investment is making a big difference in the Bahamas. Our country and the lives of our people are being transformed as a result of your investment. I, myself, am being improved as a leader as a result of your investment. I encourage you to continue to invest.—Gadville MacDonald, GLS leader, The Bahamas
Thank you from Southern Africa
On behalf of Southern Africa, we would really like to express our heartfelt thanks for the commitment you've shown to our countries. We'd like to thank you for the sacrifices you've made so that leaders in our countries could attend The Global Leadership Summit and have their lives changed, which in turn will help to change their communities and their countries. From the bottom of our hearts, we would like to extend our thanks and our appreciation for everything you have done for us.—Janine Couchman, Willow Creek Association South Africa, and regional leader for Southern Africa
Thank you from The Philippines
On behalf of my country, The Philippines, we would really like to thank all of you who have been supporting the GLS, especially the GLS in our country. It is very helpful and important. My prayer is that you would continue to support us, and also partner and pray with us. I believe when the leaders of our country become better, our country can change. The Philippines can change when leaders become better. Thank you.—Jesusito Bong Baylon, GLS leader, The Philippines
We welcome and encourage comments on this site. There may be some instances where comments will need to be edited or removed, such as:
Comments deemed to be spam or solely promotional in nature
Comments not relevant to the topic
Comments containing profane, offensive, or abusive language
Anonymous comments
If you have any questions on the commenting policy, please let us know at heretoserve@globalleadership.org
Equip, encourage & inspire global leaders with a gift today
When you give to the Global Leadership Development Fund, your gift inspires and equips Christian leaders, facilitating transformation in some of the world's most challenging environments.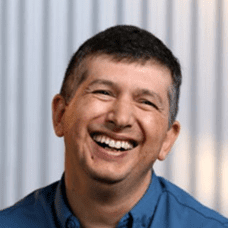 "Without your heart for giving, we could not have had the GLS in many countries like Bolivia, Ecuador, Cuba, Chile, Peru and others in the rest of Latin America."
Carlos Arroyo, South America