Published July 9, 2017
Faith at Work Leads to Giving Back, Stepping Out & Even Saving Lives
Lots of people leave the Summit inspired, and then feel they have to work at a non-profit or church. But that is not necessarily what we always need. What we need is more faith-based leadership in for profit companies.
"During the first Summit I attended, these words about the need for leaders of faith in the business world hit me like a ton of bricks and has stayed with me ever since," said Emily Schmitt, general counsel for Sukup Manufacturing. "It has helped me be more open about my faith at work, opening up more conversations and deeper relationships with employees than I could have imagined."
When Faith Permeates Your Life at Work
Since attending the Summit, Emily's faith has permeated every aspect of her work. And her employees are taking notice. Not only has it had a positive impact on her company, but it has fueled a vision for the company's give-back culture.
"Having a greater foundation of faith gives me the confidence I need to push forward," said Emily. "As I express my faith, a lot of what some people might call 'coincidences' have occurred. But I don't believe they are coincidences at all. I know God has put me in these situations for a reason—there's always a bigger purpose.
"I take my faith and lead by example in such a way that I believe those who work with me know my vision and heart. As a result, their trust in me increases. They know who I am, and more importantly, they know Who I serve. As a result, I find people are willing to take risks and work harder to achieve the vision.
"As a lawyer, I was worried about the possible legal implications that could come of being more open about my faith. But, in reality, not talking about it is a much bigger risk. People spend more of their waking hours at work than anywhere else. If there's any place we should be living out our faith or helping spread the word, it should be at work!"
A Give-Back Work Culture Changes Lives
"We are a family owned manufacturer of grain handling, grain bins and steel buildings, and we strive to leave an impact on the world through what we do," said Emily. "We fully believe in making a difference in the world, not just making a profit."
With "giving back" as a value in our culture, the staff seeks out opportunities to serve beyond what they do every day. It was out of this culture, the idea for Safe T Homes was born.
It started with an idea from the safety director, who was developing a concept for a bin home. When a massive earthquake hit Haiti in 2010, he wondered if the bins could be designed to withstand a disaster. The company was on board, and they began a journey to engineer a bin home that would withstand disaster.
The Summit Takes an Idea to the Next Level
Emily has always strived to use Sukup Manufacturing's skills and expertise to give back and serve people in need. But it wasn't until she attended the Summit that she was inspired to take the idea to the next level and speak up about her passion. Because of the Summit, Emily and the team were fueled to take the Safe T Home concept to a new level.
Since developing the idea and connecting with local non-profit GoServ Global, 200 homes have been built in Haiti.
When Hurricane Matthew hit Haiti in October of 2016, every bin home withstood the storm, protecting and saving hundreds of lives!
Not only are these homes saving lives, they're also providing meaningful work for the local community. "We believe creating jobs for Haiti construction crews to build homes and solar panels has a powerful effect on their economy," said Emily. "Eventually, I want to expand to a point where we will be able to help refugee camps and communities all over the world."
Throughout the adventure of building homes in Haiti, Emily has made meaningful connections with her staff, non-profits, local leaders and her church. God continues to place 'coincidences' in her life, and people's lives are being changed as a result. "I just smile when these 'coincidences' happen because I know who is doing it!" Emily exclaims. "I believe God wants me to do build relationships for the greater good, and bring people, companies and communities together for the common goal of serving His purpose.
"So many things have dominoed since I attended the Summit and stepped up to the challenge of Safe T Homes. I am so thankful for the inspiration I received at the Summit!"
Attending the Summit will challenge your faith and inspire you to take a courageous step to serve our world
"Don't sit on the fence," said Emily. "Jump on over and you won't regret it. The Summit is the best leadership event I have ever been to and it is less expensive than most. When you take a group to the conference, encourage debriefing discussions during session breaks. That took the impact to another level for us. There are no negatives in attending the Summit!"
We welcome and encourage comments on this site. There may be some instances where comments will need to be edited or removed, such as:
Comments deemed to be spam or solely promotional in nature
Comments not relevant to the topic
Comments containing profane, offensive, or abusive language
Anonymous comments
If you have any questions on the commenting policy, please let us know at heretoserve@globalleadership.org
Equip, encourage & inspire global leaders with a gift today
When you give to the Global Leadership Development Fund, your gift inspires and equips Christian leaders, facilitating transformation in some of the world's most challenging environments.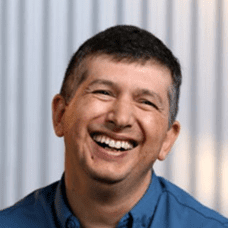 "Without your heart for giving, we could not have had the GLS in many countries like Bolivia, Ecuador, Cuba, Chile, Peru and others in the rest of Latin America."
Carlos Arroyo, South America