Published November 18, 2015
Feedback from the GLS in Jos, Nigeria | "You are changing the world. Keep doing it, the devil will go mad."
The local team in Nigeria worked hard to spread the word of the GLS to communities in the north, where the majority of the region practices Islam. Christian resources are limited in these areas, and the GLS came as an incredible blessing.
On November 3rd, more than 500 leaders from various backgrounds attended the GLS in Jos, Nigeria. Gabriel, GLS producer in northern Nigeria, expresses his great thanks.
Be encouraged by the amazing feedback from leaders in Jos, Nigeria. These are just some of the comments that we received!
"Great! Like the Great Commission, we need to get these messages on leadership to more and more of our people to get the change we desire and move forward." – Dr Daniel , Retired Federal Government Director & Evangelist
"It was awesome. A mind sharpener. Makes me see God's glory." – Suleiman, Teacher
"A huge wisdom on how to be a good leader and how to get feedback. Wow, you are changing the world positively. Keep doing it, the devil will go mad. Thanks." – Kayus, Arts and Craftsman
"It was a wonderful experience of a new perspective and new beginning for my life." – Kachollom, Public Servant (Government worker)
"The GLS was the most powerful and life changing moment of my life." – Andrew, Student
"Awesome! I have never experienced anything like this and am looking forward to coming next year, and bringing a friend."- Ndibe, Student
"Inspiring! I can't wait to get back to work and lead a little better." – Abraham , Botanist & Teacher
"I am getting sharper. Our ministry sponsored over 30 people. More people are getting blessed!" – Luiwanger, School Proprietress/Pastor
"It has changed my mindset concerning leadership. I am challenged."  – Lois, Civil Servant (Government Worker)
"It is indeed a great experience. I wish I knew about it before. I wouldn't have missed any in the past years." – Pastor Harris, Teacher, Pastor and Musician
"It was an excellent experience in God's presence and I appreciate the leaders involved. May God bless you." – Moses, Civil Servant (Government Worker)
"It is challenging, motivating, exhilarating and terrific. It is a moment of learning new stuff and it expands my faith. It is a good thing we are doing, and it is helping young leaders." – Louisa, Medical Student
"The GLS is one of my best experiences in building my leadership capacity. I have no appropriate words to commend the organizing committee, but say they are near perfect." – Gbedozin Elijah, Student/Farmer/Teacher
"I had a good time of my life because I have learnt what I have never learnt in life." – James, Private Businessman
"The GLS makes me change the way I think and makes me to have more ideas on how to organize my business well. It helps me develop courage in everything I do." – Sarah , Private Businesswoman
"It is a mind-blowing experience! You are doing a very wonderful job here and impacting ideas on people on how to have an excellent mindset to live their life.  Keep it up and God bless you." – Juliet, Student
"The GLS is something I will never forget. It empowered me as an individual and has made me see life from a different view. It has made me a better leader in my career. It has made me to know how to receive feedback no matter how bad or good it is to me." – Hassan, Teacher
"Amazingly refreshing, and broadening my leadership dimension!" – Obaje, Private Business (Water Drilling Technician)
"The GLS is timely for me as I take over the leadership of a Hospital with diverse problems with financial, human and material resources needing restoration." – Dr Fred, Medical Superintendent
"Honestly, awesome! This GLS  is so stimulating that going out to change my world is the only option. There's no alternative at all." – Onyike, Radio Presenter & Public Speaker
"This is what I need in this season of my life. Some days back, I was at the edge of giving up, but now God has strengthened me." – Odinaka, Student
"The GLS is insightful, empowering, elevating, encouraging, and challenging to be better. It has and will forever be a great blessing to me and my generation." – Rachel, National Youth Corps member
"To me it's a life changing experience that changed my perception on how I can become a great leader in this generation. It inspired me to involve God in all aspect of leadership.  I am blessed." – Phinehas, Ex-corps member
"It made me re-assess my leadership role and inspired me to make corrections and motivated me to lead better and to care for the people I lead and not be self-centered." – Shepherd
"The GLS is one of the best intellectual outreaches that God has graciously given me grace to be part of. Now I can see the need to touch a life other than mine." – Peter, Student/Business
"Potentially life-changing if I do my part." – Dashi Domshak, Medical Doctor
Thank you for your prayers and support for the GLS in Nigeria!
We welcome and encourage comments on this site. There may be some instances where comments will need to be edited or removed, such as:
Comments deemed to be spam or solely promotional in nature
Comments not relevant to the topic
Comments containing profane, offensive, or abusive language
Anonymous comments
If you have any questions on the commenting policy, please let us know at heretoserve@globalleadership.org
Equip, encourage & inspire global leaders with a gift today
When you give to the Global Leadership Development Fund, your gift inspires and equips Christian leaders, facilitating transformation in some of the world's most challenging environments.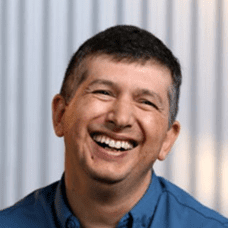 "Without your heart for giving, we could not have had the GLS in many countries like Bolivia, Ecuador, Cuba, Chile, Peru and others in the rest of Latin America."
Carlos Arroyo, South America