Published November 21, 2014
Forgiveness and Reconciliation in Uganda
Joshua Lwere from Uganda shares one of the most impacting things that has ever come out of the Global Leadership Summit:
One of the speeches that has been very, very, very impactful was the speech by Dr. Wes Stafford. Dr. Wes spoke about his own life, and how he went through trauma as a child, being abused. This resonates greatly with most of our people in Uganda. We had about 30 years of civil war which affected almost every family in Uganda. Not a single family was spared. These years of civil war have left many wounds on our people. With a speech like that, you are very sure, 100% of all the people that come to the Summit will identify with what Dr.Wes is talking about.
I survived, as a young boy, being slaughtered by the army that attacked our home and killed my cousin. The rest of the family escaped. I didn't know in time until the soldiers had surrounded the house. They put my neck on the window, and were about to cut my throat when one of the officials said, "Just leave that young boy alone." Since I was in a school uniform, I survived. Many people watched their families slaughtered and killed because of these civil wars that were the result of tribal conflict.
When we have this Summit, and we share messages like Dr. Wes' and experiences like that, they literally bring tears to people's eyes and leave them weeping. We help people to process this and bring healing between the tribes – reconciliation, and forgiveness. It has been a very, very powerful message. We've replayed it and played it again and again, even when you play it a second time in the same location, still many people who come are impacted by it.
In the recent past, in the Northern part of Uganda, which was greatly affected by war, we had Idi Amin's son [at the Summit]. Idi Amin was one of the leaders who became a dictator and killed many people. Whole villages were killed. Men were killed and women survived as widows, and some families were totally wiped out with just a few survivors. Idi Amin's son came and attended [the Summit], and stood up and took responsibility for his father's atrocities in one particular area where Amin killed so many people. There are so many widows. They came forward and said, "We have never forgiven Idi Amin, but now we have seen his son here, and he is standing up to apologize, we are ready to forgive Idi Amin." They came in a long line, and they were hugging him and the rest of Amin's family who had come to attend in a large number. They were hugging in tears and weeping. It took a long time, about 40 minutes of just weeping, forgiving, and praying.
That day we forgave the tribe of Idi Amin.
Watching some of the things happen in our different communities is just amazing. I asked Idi Amin's son, "How can you stand up for 4 days, every day, almost every other session, standing up and repenting and apologizing to these many people your father really wounded and killed? Don't your feel depressed?" He said, "No. Actually, every time I apologize for another wrong or another thing my father did, I feel lighter and lighter." And at the end, he told me, "Everywhere you go and conduct these meetings, I'm ready to come because I know the hurt that my father did all throughout this country, and I'm ready to come to every tribe." We have 56 different tribes in Uganda so you can imagine what all these different tribes mean to this man. He said, "I'm ready to go and spearhead the process of reconciliation if that would help in the rebuilding of our nation.  I can see this is one of the biggest foundations to rebuilding a nation."
If people are wounded and sick, emotionally and psychologically, you cannot build a strong nation. People have to be healed; they have to be free in order to build a strong nation. This has been a big contribution that the message of the Global Leadership Summit is bringing to our people.
–Joshua Lwere, Uganda
We welcome and encourage comments on this site. There may be some instances where comments will need to be edited or removed, such as:
Comments deemed to be spam or solely promotional in nature
Comments not relevant to the topic
Comments containing profane, offensive, or abusive language
Anonymous comments
If you have any questions on the commenting policy, please let us know at heretoserve@globalleadership.org
Equip, encourage & inspire global leaders with a gift today
When you give to the Global Leadership Development Fund, your gift inspires and equips Christian leaders, facilitating transformation in some of the world's most challenging environments.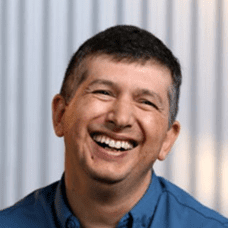 "Without your heart for giving, we could not have had the GLS in many countries like Bolivia, Ecuador, Cuba, Chile, Peru and others in the rest of Latin America."
Carlos Arroyo, South America