Published October 2, 2017
Because of the GLS | Pastor is Called to Step Up, Not Back
Stu Cameron is from the Gold Coast of Australia, where he is the pastor of a church and the board chair for the WCA office in Australia. He started attending the GLS while he was still a student in Bible college, during the beginning of his leadership journey. When Stu experienced the GLS, God whispered a challenge to step up. What happened next confirmed this call, and encouraged him even during a season of economic pressure.
"One of the most impactful moments was back when Gary Haugen spoke at a Summit," Stu shared. "It was right around the time of the global financial crisis. We were in the process of planning our next year at our church. We were really feeling the pressure to step back from taking too many risks.
"I remember where I was sitting at the Summit. I remember being in that session and really sensing God whisper to my spirit, 'Now's not the time to step back…it's time to step up.'
"I went to our Elders meeting the next week and said, 'Now's the time for us to take a few risks.' We went to the congregation the following Sunday, a week after the Summit, and asked them to support a significant mission initiative with one of our mission partners. We had a target in our mind and we raised it on that one Sunday!" Stu exclaimed. "It was real confirmation for me about what I had heard at the Summit, but also about what, as a leader, I'm called to do – Step up."
Australia Needs Strong and Courageous Leaders
"Leaders need the GLS anywhere, but particularly in Australia because I think leadership in our rapidly changing culture is incredibly challenging," Stu explains. "The definition of Australia is the 'Great South Land of the Holy Spirit,' but in many ways, we're a secular nation. We need the gospel now more than ever. I pray for a God-honoring revival in our nation. People are desperately hungry for God even though they might not say it in those terms."
Stu really sees the need for a more courageous, step-up kind of leadership. He has a passion for people experiencing God's love and transforming the nation of Australia through the gospel. "I want people to experience just how deeply loved they are by God," Stu shares. "I think when we know our identity as sons and daughters of God, it changes and reshapes everything in our world. My dream for our church is that it would be a church that transforms our city and our nation—one changed life at a time.
"My biggest prayer request doesn't really shift too much," Stu shares. "It is both for wisdom to know what to do and then the courage to actually do it. I'm always inspired by the story of Joshua. God said not once, but three times in Joshua chapter one, 'Be strong and courageous.' Knowing what to do and having that Godly wisdom is the first thing, but then having the courage to step out – that takes courage. I know there are times when I am tempted to step back, but to step forward into whatever God is calling me to do is something that comes from God-given courage.
"I encourage leaders to be strong and courageous," says Stu. "Believe what God has called you to. Believe that one who goes before you will also do it. In other words, God will prepare the way. God will make the way when there is no other way."
Be strong and courageous. Do not be afraid; do not be discouraged, for the LORD your God will be with you wherever you go. Joshua 1:9
We welcome and encourage comments on this site. There may be some instances where comments will need to be edited or removed, such as:
Comments deemed to be spam or solely promotional in nature
Comments not relevant to the topic
Comments containing profane, offensive, or abusive language
Anonymous comments
If you have any questions on the commenting policy, please let us know at heretoserve@globalleadership.org
Equip, encourage & inspire global leaders with a gift today
When you give to the Global Leadership Development Fund, your gift inspires and equips Christian leaders, facilitating transformation in some of the world's most challenging environments.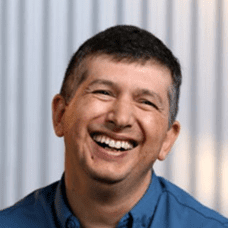 "Without your heart for giving, we could not have had the GLS in many countries like Bolivia, Ecuador, Cuba, Chile, Peru and others in the rest of Latin America."
Carlos Arroyo, South America