Published October 10, 2016
Because of the GLS | Leaders Unite to Battle Corruption in Trinidad & Tobago
In 2013, the Global Leadership Summit launched for the first time in Trinidad and Tobago with the help of generous donors who made it possible. Some of the results of the event are in seeing church and marketplace leaders come together to transform communities, and seeing youth embrace their calling to bring change to the nation.
The GLS in Trinidad and Tobago is ultimately creating unity, bringing fresh perspective, providing effective skill training and tapping into the potential of their future leaders.
Unity
"We saw marketplace leaders and the church leaders beginning to merge," said Russel Aching, GLS leader in Trinidad and Tobago. "And for the first time we saw a genuine desire for these leaders to work together. I think it was God ordained because God seems to be working out each step. He is bringing the leaders together to work in a genuine and effective way."
Perspective
Trinidad and Tobago have so much potential for growth. There is so much beauty, but there are many things working against it. "We have a real problem with corruption, which brings disunity, and results in major consequences," Russel explains. "It's working against what God intended for our nation. It really breaks my heart to see a nation go down because of a few things and a few people who don't understand how to lead well.
"So my passion is to see people get real perspective—God's perspective—on how to lead well."
 John Maxwell says, "Everything rises and falls on leadership." And Russel believes this to his core.
"I believe being effective with leaders is essential," Russel shares.  "That is why I am here." And this is why Russel is so passionate about bringing the GLS to more leaders in his nation.
Skill
Russel has started to realize that it comes down, not to desire or will to change the country, but to skill.
"A lot of us in ministry have the will to do something, but we don't necessarily have the skill," he explains. "I came from the marketplace, so I understand skill. The GLS helps others see the value of that balance between skill and will, between Church leadership and marketplace leadership. It is an essential need in my nation."
Potential
The GLS is also allowing leaders to steward their resources wisely. "Although the nation is full of resources, funding is still an issue," Russel shares. "My biggest prayer request would be that the work of God is not just properly funded, but also we get the right people in place to work in ministry."
Russel has seen that when people respond to God's call, change happens in the nation.
One of the biggest results of the GLS in Trinidad and Tobago is the youth who are responding to God's call. "The youth event sold out! To see how they responded and grew in a short period of time was encouraging because the future of our nation is in their hands.
"People know that this is the future, but letting go and releasing the youth it is not easy, because the adults think they know best. It is only when we let go that we realize the youth can have even greater results than we can have. I am saying 'we,' even though I am still a youth myself."
Thank you
Because of people like you, the GLS is being going to more leaders like Russel who are responding to God's call to put an end to corruption, and bring change to their country.
"Resources are critical to the success of any event or movement," Russel shares. "In a nation where resources are difficult to come by, it really means a lot when we get funding to support our events and support a movement.
We are really grateful for help in that area. We're also grateful for your deeds—the gifts of time and other ways people give. It goes a long way and helps us fulfill our mission to impact leaders in our nation.  Thank you."
To support and encourage leaders like Russel, consider a gift to the Global Leadership Development Fund
at www.willowcreek.com/give
We welcome and encourage comments on this site. There may be some instances where comments will need to be edited or removed, such as:
Comments deemed to be spam or solely promotional in nature
Comments not relevant to the topic
Comments containing profane, offensive, or abusive language
Anonymous comments
If you have any questions on the commenting policy, please let us know at heretoserve@globalleadership.org
Equip, encourage & inspire global leaders with a gift today
When you give to the Global Leadership Development Fund, your gift inspires and equips Christian leaders, facilitating transformation in some of the world's most challenging environments.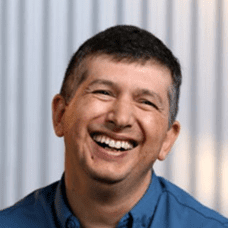 "Without your heart for giving, we could not have had the GLS in many countries like Bolivia, Ecuador, Cuba, Chile, Peru and others in the rest of Latin America."
Carlos Arroyo, South America