Published September 28, 2016
Because of the GLS | Mom Discovers an Approach to Parenting a Strong-Willed Son
When Lin Wahlen attended The Global Leadership Summit for the first time, she and her husband were at their wits end with her strong-willed oldest son. "Our oldest always seemed to be able to take advice from anyone aside from his two parents—even strangers. But he (seemingly) bucked every piece of advice we offered," Lin explained. "We were going through a crisis of wills."
Lin had gone into parenthood believing that her kids would, "hang on every piece of advice that my husband and I would give them. I thought we would be in agreement on everything so we would never argue, and that my kids would do everything perfectly so that I'd have nothing left to do but brag and travel (sarcasm implied)." Lin soon realized she was missing something.
"I just was missing one simple point."
She left the Summit with a fresh perspective, and attempted a different approach, "God hit me between the eyes with the revelation."
Sheila Heen talked about two needs of human beings:
To grow and learn
To know we are loved and respected as we are right now
These two concepts changed life as Lin and her husband knew it in their household. "Unlike God, we were overlooking the need of our child to be loved and respected for who he is right now," Lin shares. "It totally changed my leadership goal."
"God loves me as I am, and He empowers me to love others as they are."
Lin discovered the freedom in loving others where they are. "It has reassured me of God's sovereignty and plan over my own," Lin shares. "Loving my family without expectation allows me to bask in God's love for me, which truly is the easy yoke and a light burden. God broke through in a new way to me that day at the Summit, and I am often quickly pulled back into loving and responding to my children simply because they are my children and God says they are a blessing to me."
Even though her children are still the people they are, Lin's reaction toward them is now different. Lin says, "I am able, because of Jesus Christ, to send fear packing, and to focus on expressing love freely."
Romans 8:1 No condemnation in Christ Jesus
It has also changed her relationship with her husband of 23 years. "I have been released from holding my husband accountable to an expectation that I myself was not able to live up to," Lin exclaims. "It is not my responsibility to control my husband's spiritual growth or his relationship with our children. I have to trust God with his development and know that as I surrender my fear and expectations and focus on the relationship God wants for me with my children, He will work those same things through in my husband."
God's voice has become more audible as she opens herself up to his love, and shares it without burden. "He empowers me to keep on loving my family even when they're un-loveable," Lin shares. "He is encouraging me to expand His reach through relationships all around me—though that used to feel overwhelming, and sometimes it still causes me to take deep breaths.
"The difference is that His voice is more audible to me these days because as I take the deep breaths, I turn my entire face upon Him and His loving demeanor, arms outstretched, soothing and holding me…GUIDING me on His path."
God uses the Summit to bring people together to bring hope to our broken world—starting with the heart, and then often with your closest, direct influence—your family. "We are ONE body and though God doesn't need to use us, He chooses to use us as His light in a broken, but beautiful world," Lin says. "If God has put you in a position of leadership, whether at church, business or in the home, then there's a perfect leader for you to follow. We need to spur one another on to lead others to this abundant life Jesus speaks of in John 10:10: Press on brothers and sisters and enjoy His presence."
We welcome and encourage comments on this site. There may be some instances where comments will need to be edited or removed, such as:
Comments deemed to be spam or solely promotional in nature
Comments not relevant to the topic
Comments containing profane, offensive, or abusive language
Anonymous comments
If you have any questions on the commenting policy, please let us know at heretoserve@globalleadership.org
Equip, encourage & inspire global leaders with a gift today
When you give to the Global Leadership Development Fund, your gift inspires and equips Christian leaders, facilitating transformation in some of the world's most challenging environments.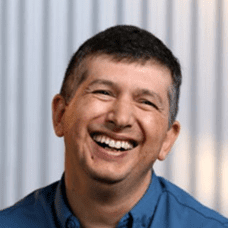 "Without your heart for giving, we could not have had the GLS in many countries like Bolivia, Ecuador, Cuba, Chile, Peru and others in the rest of Latin America."
Carlos Arroyo, South America