Published March 27, 2017
Interior Designer Brings Healing to Broken Homes
Kirsten Steno, who lives in Denmark, always enjoyed interior design. Her career has involved designing for some 2,000 homes over 20 years. She was experienced and passionate, but something was missing.
When Kirsten became a single mom in 2006, everything began to fall apart. Her son became her reason for living.
But when her friend, Mette, brought her back to church, Kirsten soon discovered the mysterious ways God works to redeem brokenness and even used her passion for interior design to bring healing to others.
God uncovers the missing piece of Kirsten's puzzle
In 2007, Kirsten wrote a self-help book on interior design for single parents and broken families. In the process, she also met Frank, another single parent, and they ended up getting married.
Writing her first book was just the beginning. God began to stir a vision in her.
Not long after her book was published, her friend Mette introduced her to The Global Leadership Summit on DVD.
Kirsten's "house coach" vision is realized at the GLS
Later, Kirsten attended the GLS event in Copenhagen, Denmark with thousands of other people like her who wanted to devote their lives to growing as leaders and impacting others.  It was at the GLS that God gave Kirsten a vision He had planted in her heart long ago when he gave her passion for designing homes. "God gave me the vision to become a 'house coach', which is a unique combination of interior design and life coaching," Kirsten explains.
She was able to connect with Martha Beck, a columnist for O Magazine (Oprah Winfrey) and both of them recognized there was a connection between life and home. People who are far from God often try to decorate their way out of misery.
Kirsten and Martha shared the thought that when clients describe their homes, what they are really describing are unresolved life issues. Homesickness at home = restlessness in life.
"I have seen so many people transformed in a few hours of working with them, even on Skype!" Kirsten says. "It has become my 'holy discontent' and my ministry."
God speaks to Kirsten about her Grander Vision
Kirsten's vision didn't become reality without struggle and complete trust in God.
She developed melanoma cancer, and her son experienced medical issues of his own. But Kirsten and her husband didn't stop attending the GLS. "Attending the GLS gave me the strength to believe in God's miracles," she shares. "God was changing my life's perspective."
In 2013, Kirsten attended the GLS on the main campus of Willow Creek Community Church and God stretched her vision. "I asked how I could give my creative talents, people skills and love to transform homes and lives of people in real need," she says. "I visited Willow Creek's food pantry, the clothes ministry and the cars ministry. When I asked 'Where is the Home Ministry?, I was surprised to hear that it didn't exist!
"God tapped me on my shoulder and whispered, 'This is your vision.' It scared me, but I remembered that God provides. So I learned all I could from the GLS books, resources and videos in order to take this dream forward."
Kirsten published her second book, and for two years, she toured South America, Europe and Asia with a furniture company called BoConcepts, sharing her passion for house coaching, her work and her God-given mission to serve single moms and broken homes through interior design. Everywhere she went, she was received with open, emotional hearts.
Today she continues to travel and share her Home Angels Ministry vision with churches, as well as build the Home Angels Ministry in Denmark.
Creative passion and soul-restoring ministry come together
This vision, which started in Kirsten when she was a broke single mother in 2006, developed into a powerful ministry serving families through their homes. Because of the training and encouragement she received through the GLS, she has been inspired to make her vision global, creating soul-restoring homes—not only in Denmark, but around the world.
"I am eternally grateful to have found my tribe and support through the GLS, and I'm excited about spreading the GLS across Denmark, expanding the ripple effect of the impact it has in my nation." Kirsten shares.
"I want to thank ALL the dedicated people who work on the GLS team. The GLS has transformed and blessed my life and work. You have equipped me to listen to God's whispers. You have enabled me to come home to God and restore my soul so I could become a blessing to many people around the world. My husband and I both owe our visions, motivation and our success, personal and professional, to the brilliant speakers at the GLS. Words cannot express our gratitude.""
To learn more about this year's GLS event, go to www.willowcreek.com/summit
We welcome and encourage comments on this site. There may be some instances where comments will need to be edited or removed, such as:
Comments deemed to be spam or solely promotional in nature
Comments not relevant to the topic
Comments containing profane, offensive, or abusive language
Anonymous comments
If you have any questions on the commenting policy, please let us know at heretoserve@globalleadership.org
Equip, encourage & inspire global leaders with a gift today
When you give to the Global Leadership Development Fund, your gift inspires and equips Christian leaders, facilitating transformation in some of the world's most challenging environments.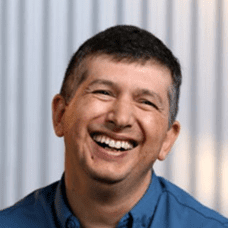 "Without your heart for giving, we could not have had the GLS in many countries like Bolivia, Ecuador, Cuba, Chile, Peru and others in the rest of Latin America."
Carlos Arroyo, South America