Published December 18, 2019
Grander Vision for Honduran Village Farm is a Game-changer for 20 Families with New Livelihood
The story I'm able to be part of in Honduras through Humanity and Hope United directly relates to how God spoke to me and others through The Global Leadership Summit. (Read more about my leadership journey to Honduras in part one.)
After I experienced my first Global Leadership Summit event in the U.S., I went to our Honduran team with Humanity and Hope United and said, I think you'll really love this. Let's give it a shot. The first year, there was a group of four of us that went. We noticed that first year was great, but if this is a leadership conference, we should bring all the leaders and not just paid staff.
In every village, there's a leader designated to lead businesses forward, so we brought each of the leaders from those communities. There were people attending who had never left rural Honduras. I remember them looking around, feeling a little bit out of place. When I asked about what they got out of it they said they felt known, valued and accepted—"I feel like I'm good enough."
Vision for a farm is a game-changer for a small village in Honduras
My favorite story is about Jose Luis, who attended the Summit for the first time and got his grander vision to buy land for farming, which today is changing the lives of an entire community, giving them a livelihood they never had before.
Jose Luis went to school through elementary school and then had to quit to provide for the family. He started working in the banana plantations when he was 12 years old, but by 17 he was disabled by the chemicals he was using. Fortunately, he was not disabled to the point where he couldn't walk, but unfortunately, to the point where he couldn't do the job lifting a lot of weight. He couldn't do the job they had for him, so they fired him.
But that job with bananas was the only game in town. He had nothing to do. He spent a lot of time going to the municipality because he didn't have a way to work, and it had been their chemicals that had injured him badly. But he got nothing. So, at 17, he felt like he was in a desert for the rest of his life.
But he got nothing. So, at 17, he felt like he was in a desert for the rest of his life.
This experience gave him a heart for people who are in the same situation. And at the GLS in 2016, he got this vision.
He had a dream that even though the land was disappearing all around the community, that he'd find a big piece of it and use it to raise cattle and grow the food they need for the community. At Humanity and Hope United, we took his dream seriously.
Our organization was really small at the time, raising $100,000-200,000 a year, and this was a big project. Once we budgeted it out, it was going to be $220,000. So, we said, Jose Luis, the way you're describing it, this vision is from God. So, our role is to believe in it, and your role is to believe in it, and little by little let's take one step at a time and see where God takes it!
The first step was to raise money in the community while we got the board ready for the idea. We wanted everyone to be bought in. So, Jose Luis got everyone in the village to start raising money, and within 2-3 months they had saved $1,000 total between 20 families. I brought that news to the board of directors and said, hey, this is going to happen with or without us. This is God's plan. Let's get on board and walk with our brothers and sisters as best we can.
Then we launched a fundraiser in 2018. It was difficult work. From October to December of 2018, we had 50 people throw fundraisers, and then more people put up fundraising pages, and in two months we were able to raise all that money!
Jose Luis and his team were able to buy the land. It was the very last piece of land in the area they could buy, supporting 20 families in the community who now work on that farm. Now they're able to supply other local businesses, and they have economic freedom to some degree, but they also know that this land isn't going to be taken from them. They have a way to move forward to bring education, healthcare or even a lollipop for their kids.
They have a way to provide for themselves, and at the same time, they have a way to help other communities in need. And now the nearby community they've started to serve has been able to build their own school. Before then, only 10 percent of the children were going to school, and now 90+ percent are attending school. It's part of a change of leading for more life and hope.
Jose's story is changing the paradigm.
Honduras is going to lose 5 percent of its population this year to come to the U.S. People move from a rural village to a big city, and they get to the big city, but they're afraid for their life when they get there. So, they live there for a few years and they decide to go north. In that paradigm, and given this cow businesses, the school being built and building homes, these communities are growing, even though the rest of the country is shrinking.
…these communities are growing, even though the rest of the country is shrinking.
The U.S. is known now as being closed and scared, afraid of different. And Honduras is known by the U.S. as a place that no one would want to go. But this story takes the lie out of both of those narratives. I know Honduras to be a beautiful country full of talented people that can change the world. And I know people in the U.S. who are warm, open, empathetic, and care about other people. People have gotten those stories wrong, and the more people hear the lie, the more we begin to believe it. So, I think the beautiful part of this story is that it's bringing light into the darkness and reminding people of who we really are.
The fact is Jose's community is a light in a country that everybody talks badly about. If we can link this chain long enough, the entire story of Honduras begins to change.
We welcome and encourage comments on this site. There may be some instances where comments will need to be edited or removed, such as:
Comments deemed to be spam or solely promotional in nature
Comments not relevant to the topic
Comments containing profane, offensive, or abusive language
Anonymous comments
If you have any questions on the commenting policy, please let us know at heretoserve@globalleadership.org
Equip, encourage & inspire global leaders with a gift today
When you give to the Global Leadership Development Fund, your gift inspires and equips Christian leaders, facilitating transformation in some of the world's most challenging environments.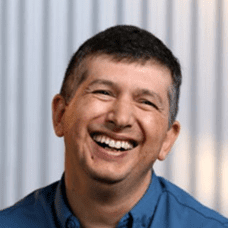 "Without your heart for giving, we could not have had the GLS in many countries like Bolivia, Ecuador, Cuba, Chile, Peru and others in the rest of Latin America."
Carlos Arroyo, South America