Published October 28, 2020
How the GLS Flipped My Church Upside Down
The Global Leadership Summit is a shaper of vision and catalyst for influence and change.
I can remember so clearly listening to Bono at the 2006 Summit. I was at the main campus outside of Chicago with my leadership team from Second Church of Christ in Danville, Illinois and here was the lead singer of one of the most influential bands in the world challenging us about the AIDS pandemic in Africa.
Our church was already supporting work in Ivory Coast, but I caught a vision for more that day. The following year, I went on a fact-finding mission to see for myself what was actually happening in Africa. I was blown away by what I saw, and in 2009 we brought a dental team to work in the clinic, and then again, several years later. We were inspired to fill a very real need for dental care.
In 2015, Second Church had the opportunity to become a premier host site.
We thought that hosting The Global Leadership Summit would be a great way to expose our congregation and members of our community to the leadership principles that had impacted our own team. But we had no idea the Summit would inspire so much vision. There were 200 attendees the first year.
By the third year, we had more than 500 people watching the Summit live in our auditorium. That was the year the vision really started to kick in. That was the year we began to fulfill our potential.
A vision for a city movement was born.
One of the most important things happening with The Global Leadership Summit right now is what we are calling "City Movements." Through their Summit experience, folks are being inspired with a vision to come together and bring transformation to their communities.
We have a business leader in our congregation in Danville who was so inspired by her Summit experience that she set out to create a community-wide movement to address some of the most pressing problems in our area. At the 2017 Global Leadership Summit, we presented a vision video about the challenges we faced in our community and had over 100 people sign up for what became a strategic planning session. Out of that came three critical issues that we committed to tackling in Danville: family and parenting, mental health and substance abuse.
We're now two years into what we're calling Step Up, and it has truly become our "City Movement." One of our first initiatives recognizes the lack of inpatient substance abuse treatment centers in our county. The Step Up Car provides transportation for patients who are forced to travel outside of Vermilion County for treatment but don't have a way to get there.
We also partnered with our local hospital to form a Step One Detox Program, and we helped double the number of people in our county trained for mental health first aid so we can respond quickly to people at risk for suicide and other mental health issues.
It's been amazing to see the vision take hold in our community.
The Summit was a call to action, bringing together all these people who had a heart for our community but were stuck working in their own silo. Now, everyone has their eyes on Danville, and this year we were honored to be recognized by the 2019 Governor's Hometown Award—all because of a vision inspired by the Summit.
A vision was born to serve our local prison.
As a church, our own Summit moment came when we watched the "Grander Vision" video about ministry in Louisiana's notorious Angola prison. Our leadership team was broken by that video. It was our moment of truth. We became convicted by the fact that just across the cornfields from our church is Danville Corrections. We've been neighbors to about 1,700 inmates for 30 years, but we've had absolutely no presence at that prison.
So, we reached out to the prison chaplain. He asked us if we had ever heard of The Global Leadership Summit!
Doors began to open, and by May of 2016, we were the first prison in Illinois granted permission to livestream The Global Leadership Summit. 200 plus offenders were involved, and several inmates got the vision to start a mentoring program.
In March of 2018, the Building Block program was launched with six mentors and three classes in housing wing 4B. The warden saw such remarkable change that they launched another one that August. Today, there are 448 participants, including about 30 mentors, on four wings.
The Global Leadership Summit has changed the lives of those incarcerated. It has also changed me.
The main inmate behind the vision is a former death row inmate who is now serving a life sentence for a murder he committed when he was 19. Renaldo may never be released. He recognizes that he could die in prison. But he also recognizes that he is where God has him to make an impact. Jesus transformed his life and now he's dedicated himself to changing the lives of incarcerated men.
The Global Leadership Summit has changed the lives of those incarcerated. It has also changed me. It changed my vision about who these men are and how valuable they are to God. The Summit has inspired vision for us as a church. We now recognize the prison as our part of responsibility to minister to the incarcerated men and to the employees. And this year, we were able to help two more Illinois prisons host the GLS.
So, pastors in a church…inmates in a prison—both exposed to The Global Leadership Summit, both inspired by a vision of what could be. And now, the Global Leadership Network is casting a bold vision for a million people and hundred million lives transformed.
You can help bring The Global Leadership Summit to locations around the world, including your local prison, when you donate to the Global Leadership Development Fund. Go to GlobalLeadership.org/Give to learn more!
We welcome and encourage comments on this site. There may be some instances where comments will need to be edited or removed, such as:
Comments deemed to be spam or solely promotional in nature
Comments not relevant to the topic
Comments containing profane, offensive, or abusive language
Anonymous comments
If you have any questions on the commenting policy, please let us know at heretoserve@globalleadership.org
Equip, encourage & inspire global leaders with a gift today
When you give to the Global Leadership Development Fund, your gift inspires and equips Christian leaders, facilitating transformation in some of the world's most challenging environments.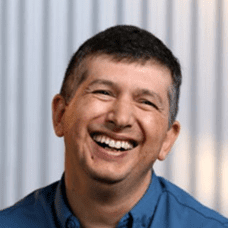 "Without your heart for giving, we could not have had the GLS in many countries like Bolivia, Ecuador, Cuba, Chile, Peru and others in the rest of Latin America."
Carlos Arroyo, South America