Published August 25, 2017
Because of the GLS | The Power of Mentorship Blesses an Entire Country
When an emerging leader is encouraged by a mentor, challenged through learning and surrounded by a community of love, their leadership gift has the opportunity to stretch to its utmost potential, maximizing Kingdom impact.
For Mirium Chumbi, Programs Coordinator for International Christian Ministries in Kenya, she was able to stretch her leadership gift through her organization's involvement with The Global Leadership Summit.
Since 2007, the GLS has grown in Kenya from training 1,000 people to more than 4,000 people in 2016. One of those leaders is Mirium.
Stephen Mairori, Mirium's boss, saw something in Mirium that could grow and have an impact. So he challenged her and believed in her abilities. He brought her to the GLS and got her involved.
What is happening as a result is blessing all of Kenya.
Encouraged through mentorship
"I have a great boss. Stephen believed in the capabilities and the skills I had and gave me a chance," Mirium explains. "I would say to leaders not to give up on people. To always give them a chance. And be humble. With leadership, it doesn't matter what you do if you are not humble, if you don't respect people and if you don't give them a chance. Because somebody gave you a chance."
Because Stephen gave Mirium a chance, she challenges leaders to do the same. "Share your experiences and mentor somebody. Be willing to go out of your way. Give an ear to somebody. If you don't, what legacy do you leave in this world? What happens if you die with all the knowledge, wisdom and connections because you kept it all to yourself?"
Encouraged through learning
"The GLS stretches you. There are always speakers you never forget," Mirium shares. "Over the years, there have been several people who have really grabbed my heart. They have made me want to be better, do better and stretch farther."
"There was a year when I really wanted to quit my job. I was going through a few things. I didn't feel useful. I felt like I was done," Mirium shares. "But at the GLS that year, somebody talked about perseverance and giving it your all even if you're not really sure where you're going. I didn't know it then, but this was the plan God had for me. He reached out to me that year. He encouraged me to go on."
Because Mirium knows what can happen when a leader is equipped and empowered to lead at their full potential, she wants others to experience the same. "I feel bad when I see people not giving it their all," she explains. "I don't like being in those kinds of situations that don't stretch me or make me go the extra mile. I feel bad if somebody is in that situation where they can't stretch. If I could change one thing in Kenya, I would enable people to be in situations, positions or places to stretch and allow all that is in them that God created to be utilized so they can be better people, better leaders."
Encouraged through community
One of the many outcomes of the GLS is the way it brings people together, mends broken relationships, and helps people see things from a different perspective. In Mirium's role, she's had the chance to witness this directly by being the person who receives the feedback from all the sites.
"At the GLS I've seen things that are broken get mended, especially in church," Mirium shares. "I am a pastor's kid. I have grown up in church all my life, so I've seen things that are not necessarily Christian happening in the Church. Some people really get broken and decide they don't want anything to do with God anymore. That's hard.
"But then you see somebody who was tired, who was done, come to the GLS and say, 'I was just in this situation with my pastor' or 'I was in this situation with my boss,' but they feel encouraged because they connected with somebody else who probably went through a worse situation, and they decide to pull through.
"The GLS is uniting people, empowering peacemakers and breaking down division.
"Many people who come to the Summit said they were feeling exhausted. Many come when they wanted to quit. They say, 'I came. I was tired, but I keep going on' or 'God put this thing in my heart, but I've never known what to do about it, and now I know what to do.' Others say they didn't feel like they were worthy, because people think as a leader you have to be a CEO, or director, but that's not really the case.
"People come and they learn that wherever they are or whatever are doing, they can still make a difference. That's the Global Leadership Summit for you."
Mirium's prayer 
Mirium has a dream to expand the GLS in Kenya to reach and empower more leaders to make a difference in their communities. "My biggest prayer is that whatever ideas, whatever things that need to be done, God will lift us up and bring people to come and take up certain areas so we can can run with this and make it happen. We can do better things to expand the Summit. We can reach out to more organizations. We can reach out to more business people. We can reach out to more government people — this year is an election year. That's my biggest prayer."
Thank you for supporting leaders like Mirium, and giving them an opportunity to stretch, grow and be a blessing to their entire country.
"To all the donors, I would just like to say thank you. You have no idea how much you give to us, how much it means to us and how far it goes, especially for the sites in the rural areas.
"The pastors there have so much passion for leadership, for growth, for improvement, for something different, for their minds to be expanded and for their minds to be given something new.
"What you give means so much and it goes such a long way in enabling us to reach those leaders who have such a yearning for leadership. They are always grateful.
"A number of times when we finish a Summit event, people are thanking you and telling you that they are so grateful. We've seen families changed, churches changed, people's hearts changed and bad situations made right.
"All of this is because of you, and we are very grateful and we are very encouraged.
"We pray that the Lord may continue to touch your lives."
Learn more about how to support leaders like Mirium at www.willowcreek.com/give
We welcome and encourage comments on this site. There may be some instances where comments will need to be edited or removed, such as:
Comments deemed to be spam or solely promotional in nature
Comments not relevant to the topic
Comments containing profane, offensive, or abusive language
Anonymous comments
If you have any questions on the commenting policy, please let us know at heretoserve@globalleadership.org
Equip, encourage & inspire global leaders with a gift today
When you give to the Global Leadership Development Fund, your gift inspires and equips Christian leaders, facilitating transformation in some of the world's most challenging environments.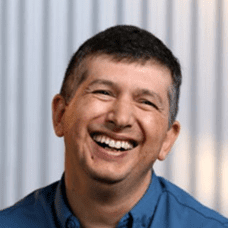 "Without your heart for giving, we could not have had the GLS in many countries like Bolivia, Ecuador, Cuba, Chile, Peru and others in the rest of Latin America."
Carlos Arroyo, South America