Published November 20, 2017
Leaders Thank YOU for Bringing the GLS to the World
To all our friends who pray or financially support The Global Leadership Summit around the world…
Thank you!
Your generosity goes a long way. When you equip, empower and encourage someone through the GLS, you expand their impact in their community and change lives around the world!
In August we launched into the 2017 international Summit season, which continues to train up leaders throughout the fall and spring months in another 128 countries!
Be encouraged and inspired by our friends who express their thanks for the impact you have already had on their lives and in their countries, and please continue to pray for them in this season.
Thank you from Ghana
I just want to say thank you, all of you, who've contributed in making this GLS come to Ghana. I know I'm subsidized, because you gave. I want God to bless you, and I want you to know you should not stop what you started, because there are so many more people out there who need to have this experience. As you continue to give, God will reach out to them, and we will have a world with good leaders, and everybody will win. Thank you, and God bless you.—Rosemond Quarcopome, GLS leader, Ghana
Thank you from Ukraine
First of all, I really appreciate all the help that the GLS provides in Ukraine, and for helping us start the GLS here. My personal thankfulness is for people who invested in Ukraine and our GLS because God is using that tool to touch so many hearts and a new generation of leaders who will form what will happen in our churches and our society. In the midst of all the trouble we're going through, true leadership is what we really need. Without a true leader, and without a true vision, we don't really have a future, so thank you for investing in our future and our leadership development in Ukraine.—Yaroslav Pyzh, GLS leader, Ukraine
Thank you from Jordan
I want to thank you very much for the continued support for the GLS in Jordan. We have been doing it now for seven years, but it was in the last year that we saw the breakthrough we were looking for. We saw the numbers double in attendance and how the community came. I just want to thank you so much because you believed and you kept on supporting and helping until we reached this point. You could have stopped supporting a few years ago, because there didn't seem to be much success, but you continued to say, 'We're going to support the leaders.' And now we are looking forward to a greater thing that will happen through the GLS in Jordan. Thank you very much for your support and prayers, and every person who is trying to put a small seed in the GLS. I thank you so much and pray that God will bless you richly and support you.—Randa Halaseh, GLS leader, Jordan
Thank you from The Bahamas
I want to thank the donors of The Global Leadership Summit for their investment in something that is so phenomenal. Your investment is making a big difference in the Bahamas. Our country and the lives of our people are being transformed as a result of your investment. I, myself, am being improved as a leader as a result of your investment. I encourage you to continue to invest.—Gadville MacDonald, GLS leader, The Bahamas
Thank you from Southern Africa
On behalf of Southern Africa, we would really like to express our heartfelt thanks for the commitment you've shown to our countries. We'd like to thank you for the sacrifices you've made so that leaders in our countries could attend The Global Leadership Summit and have their lives changed, which in turn will help to change their communities and their countries. From the bottom of our hearts, we would like to extend our thanks and our appreciation for everything you have done for us.—Janine Couchman, Willow Creek Association South Africa, and regional leader for Southern Africa
Thank you from The Philippines
On behalf of my country, The Philippines, we would really like to thank all of you who have been supporting the GLS, especially the GLS in our country. It is very helpful and important. My prayer is that you would continue to support us, and also partner and pray with us. I believe when the leaders of our country become better, our country can change. The Philippines can change when leaders become better. Thank you.—Jesusito Bong Baylon, GLS leader, The Philippines
We welcome and encourage comments on this site. There may be some instances where comments will need to be edited or removed, such as:
Comments deemed to be spam or solely promotional in nature
Comments not relevant to the topic
Comments containing profane, offensive, or abusive language
Anonymous comments
If you have any questions on the commenting policy, please let us know at heretoserve@globalleadership.org
Equip, encourage & inspire global leaders with a gift today
When you give to the Global Leadership Development Fund, your gift inspires and equips Christian leaders, facilitating transformation in some of the world's most challenging environments.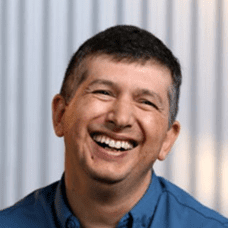 "Without your heart for giving, we could not have had the GLS in many countries like Bolivia, Ecuador, Cuba, Chile, Peru and others in the rest of Latin America."
Carlos Arroyo, South America