Published September 18, 2019
Leadership for Healing & Reconciliation in Post-war Liberia
Dr. Katurah York Cooper fled the dangers of civil war in Liberia to live as a refugee in the United States. But her leadership journey did not end here. Eventually it brought her back home to Liberia in the middle of the war. She has become a force of influence for transformation, healing and reconciliation for her country, which is still experiencing post-war trauma, even after 15 years of peace. Over the past nine years, bringing The Global Leadership Summit to Liberia has played a key role in her vision to transform the country in a new era.
It started with a call.
God called Katurah to bring her passion for education into ministry. Despite her doubts, she said yes, and planted a church. "I was a refugee, and after I received my calling, God compelled me by his spirit to go home to Liberia," Katurah shared. "Many people, when they hear their call, will doubt whether they're worthy. My question was, Ok, God. Did you make a mistake here? I had received my master's degree in biology and had already had a successful career in science education. I thought, I will have to go back to school. I was already a mother. I had my children who were still growing up. It just seemed like such a big transition. But of course, the compelling voice of God moved me forward."
My question was, Ok, God. Did you make a mistake here?
As a female in a patriarchal dominated society, she was challenged by the fact that there were those whose doubts rested solely on her gender—ignoring her multiple master's degrees and doctorate degree. "It's an external obstacle, which is why you have to be clear on your calling," said Katurah. "You have to do the work of preparing yourself—go to school and get what you need. You have to be willing to come to places like The Global Leadership Summit to get more cutting-edge ideas on ministry. You have to avail yourself.
People say, Well, women are not supposed to be preaching. And because of those kinds of obstacles, you have to make sure you are prepared, your vision is clear, and your passion is strong. People will follow you if you have a vision that is going to take people to somewhere that is better than where they are or where they have been, regardless of whether you are male or female. The truth is, if you are moving people to somewhere that is better, especially in a country like mine where you have so much lack, you will find that they will follow you."
The Global Leadership Summit became the tool to instill hope and bring transformation.
A colleague introduced Katurah to The Global Leadership Summit. As an educator, pastor and church founder, hungry for a way to provide fresh opportunities for growth in her church community, she attended. After her first experience, she knew without a doubt, this would be the tool that would instill hope and equip her country with the leadership required to bring the transformation she envisioned.
What the GLS does is give people tangible, provable solutions because they see and hear stories about what is possible.
"Liberia is a very small, very poor country," said Katurah. "Most of what we're experiencing is because we don't have strong educational opportunities for our people."
Katurah explains that the psychology of those who've lived through war—they don't have much hope. "This was a civil war," said Katurah. "This was brother against brother. People lose hope in their communities, because it's the communities who kill them. They lose hope in leadership, because leaders who are supposed to save them, don't. The country was not invaded by an outsider, so there's a lot of suspicion and a lot of mistrust. For me, I think the challenge is for people to believe they can move beyond that."
The war has been over for about 15 years. And Katurah is grateful for peace. But she knows overcoming trauma and changing mindsets takes time. "The positive things that you can bring to the table and bring to society will help to water down, or remove those mindsets," said Katurah. "The thing is, how do you get people to believe they can be entrepreneurs, or run their own businesses, and that they can follow their dreams and vision and be whatever they want to be? This is what gets stolen from people when they go through such a devastating experience. People need to live."
As a result of the war, she explained that a lot of people fled. Those who fled not only had finances but were also blessed with education. "They're usually the first people who run away or leave when there is a civil crisis because they have the means to get out," Katurah explains. "Most of them have not returned. There is a big gap in terms of human resource development and in terms of visionary leaders. Youth experienced a lot of devastation because many of them were child soldiers and fighters. It left a hole in the midst of our society."
Katurah believes that if she can educate people, they will be able to have a better life, and her nation will grow. "When I experienced the GLS for the first time, I thought, Wow, there's so much more I have to learn! This is so life transforming. My country needs this. I've had the advantage of being exposed to some of these principles along the way, but there are so many people in all aspects of our country, from the president on down, who have not had this kind of exposure. That's when I said, This is needed. I need it for my church, and we need it for our country. Through the GLS you get new ideas, training and education.  It helps shape your mind and develop you into a great leader. I believe leaders make an impact that can change our world. What the GLS does is give people tangible, provable solutions because they see and hear stories about what is possible."
Leadership is so important—without good leadership, nothing works—simple as that.
With support from the GLS, Katurah's vision will change the country.
"If we can create the training and expose people to these excellent presentations, not only from church leaders, but from career leaders and marketplace leaders, they can gain a vision for their lives and begin to see themselves as leaders," said Katurah. "Coupled with a better educational system, we can begin to close the gap. Leadership is so important—without good leadership, nothing works—simple as that. I believe that—not only from my own experiences, but because of what I've learned through the GLS.
"My grander vision is that Liberia will erupt with a strong group of young leaders."
The youth of Liberia did not have the experience of pre-war Liberia the way Katurah did when she was growing up—they were not in a family and didn't have the same education. These youth lost their parents. They lost their way. "Leveraging the GLS for me means moving our youth to another level, having a springboard, overcoming those years of devastation," said Katurah. "There are so many younger ones who are coming up, and we need to start providing these leadership opportunities to them immediately."
Sixty-five percent of the population in Liberia is under 40 years old. In Katurah's church of 600 members, only 20 people are over 50. By the age of 18 or 19, people are becoming parents or starting households. Katurah sees this as opportunity. "This is fertile ground because their minds are still young, and they can still be molded," said Katurah. "They can be injected with all these creative and cutting-edge ideas that are all under the foundation of the gospel of Jesus Christ. We put in the spiritual principles and do things so they will be ethically and morally fit citizens, and at the same time we must challenge them to be better leaders. We're creating opportunities for them to become leaders, because now they are equipped with the right tools."
Liberia needs reconciliation.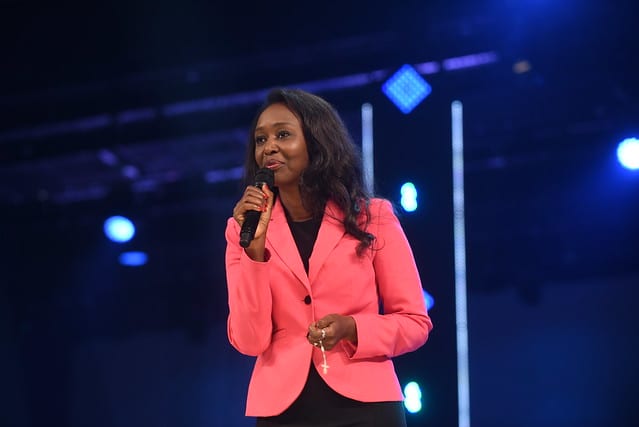 Because of the war, Katurah recognizes that what Liberia needs now is reconciliation. Immaculee Ilibagiza, a genocide survivor from Rwanda, and a former GLS faculty member, has made an incredible impact on the country and its path of transformation. "We play that tape almost everywhere we go, regardless of what's on the menu," said Katurah. "Why? Because she brings up the whole issue of reconciliation, healing and forgiveness, which are strongholds in my country.
"You can tell a person they can be a great leader, but if they are broken, and there's no reconciliation and there's no peace, no healing and no forgiveness, they can't get to that stage. When we play Immaculee Illibagiza's tape, grown people start crying. People start hugging each other who wouldn't even talk to each other before. It helps people transition into the realization that if they can get over that, they can probably follow their dream because they're not going to be bogged down with all of this. You can embrace somebody who just may be the person who can help you to realize your dream. Reconciliation and forgiveness bring healing to the nation."
You can tell a person they can be a great leader, but if they are broken, and there's no reconciliation and there's no peace, no healing and no forgiveness, they can't get to that stage.
The GLS is an investment in good soil.
As the GLS grows in Liberia, it is taking on innovative ways of expanding. Instead of bringing people to the GLS, they are taking it to institutions where they have developed partnerships. In 2019, they will bring the GLS to six sites. Right now they're in four political subdivisions, but Katurah sees the potential to take it to all 15 political subdivisions, praying to see her vision of transformation come to full fruition.
"It is an investment in good soil," said Katurah, addressing those who have donated to the Global Leadership Development fund. "We know that both biblically and in the natural realm, once you invest in good soil, you can expect to get a good harvest. The GLS is critical. In many areas of the world, there are multiple avenues people can pursue to fine tune their leadership ability. But this is not true in countries like mine. Having done this for about 9 years, the GLS has now become a household word. And the result is transformation. Inevitably it's creating a better country. It's creating better opportunities for young people. And because we are so global, the ripple effect is creating a better world."
---
Dr. Katurah York Cooper
fled Liberian civil war with her five daughters to reside in the United States as a refugee for eleven years. Since returning to Liberia in 2001, she has served as an educator, human rights advocate, leadership coach, author and pastor.
We welcome and encourage comments on this site. There may be some instances where comments will need to be edited or removed, such as:
Comments deemed to be spam or solely promotional in nature
Comments not relevant to the topic
Comments containing profane, offensive, or abusive language
Anonymous comments
If you have any questions on the commenting policy, please let us know at heretoserve@globalleadership.org
Equip, encourage & inspire global leaders with a gift today
When you give to the Global Leadership Development Fund, your gift inspires and equips Christian leaders, facilitating transformation in some of the world's most challenging environments.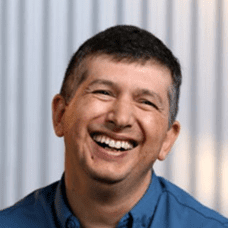 "Without your heart for giving, we could not have had the GLS in many countries like Bolivia, Ecuador, Cuba, Chile, Peru and others in the rest of Latin America."
Carlos Arroyo, South America