Published December 6, 2017
How the Local Church Became the Hope to End Oppression in The Gambia
Until this year, The Gambia spent 22 years under an oppressive dictatorship. The country was in bondage with no sign of apparent hope for release.
Pastor Seal Sylvester, Vice Chairperson of The Gambia Pastor's Alliance, Senior Pastor of an interdenominational church, and director for Youth for Christ in The Gambia, describes the state of his country during those 22 years, "There was no freedom of expression, no freedom for the press. People were disappearing without a trace. Many ran out of the country seeking asylum in others nations. Businesses were closing down due to the poor economy. (The majority of the country lives on less than $1.25 a day.) There were unlawful arrests and killings. At some point the former regime declared the country an Islamic state, leaving Christians in fear."
But something happened in November of 2016.
Pastor Seal, who had been attending the GLS for the past four years, was inspired by Chris McChesney's 2016 talk on the Four Disciplines of Execution. It ignited a spark of hope. He dreamed of a better day for The Gambia, released from oppressive rule.
With these leadership lessons in his mind, he and other key leaders rallied together to organize the body of Christ in The Gambia to pray in the national stadium. "I was given the task of mobilizing the Pentecostal, evangelical and charismatic movements," says pastor Seal. "I brought church leaders to the event, raised funds and helped lead prayer at the stadium for our day of prayer in November 2016. I also organized prayer vigils over two weeks before the elections, and encouraged the young people to vote and make their voice heard."
During the event, Bishop Faal Heim said the president's role should include looking after everybody in The Gambia, including Christians, Muslims and non-believers. "We should not be afraid to live in this country since we are all citizens of our motherland. For peace to reign in this country, the president should love all of us as we are all Gambians. God is the one who plants us all in this land, therefore we are all equal to live in harmony with one another; I pray to God that he sows his wisdom and blessings upon all of us."
Elections came. People voted, and a new president was elected.
"Now Christians can freely worship," says pastor Seal. "People are also free to express themselves openly in public. The media can freely write and broadcast without fear of unlawful arrests. I even built a church in a particular area in the country that had been demolished."
With this new freedom to worship, Pastor Seal is even more motivated to raise up leaders of integrity, who will turn the country around. "I want to raise leaders," says Seal. "Because poor leadership is the problem in my country and in Africa."
"Remembering John Maxwell's wise words from the 2016 GLS about adding value to people, I have lots of ideas and projects already in the works:
I want to pursue a PhD in leadership and public health education or organizational development. I am trusting God for a scholarship.
I want to start a leadership institute where I can continue to equip young people and the government officials.
I want to expand our Hope Habitat project and build more homes for widows, poor people who live in very poor conditions.
I want to continue the construction of our college campus.
I want to continue holding leadership development seminars for parliamentarians in my country. (The next one is October 2017.)
I want to continue holding leadership seminars for the young people in the Gambia University and other institutions.
We also just started a high school in the community that previously had no high school at all!
"The local church is the hope of the world!"
"This lesson, and many others I've learned at the GLS help me not to relent, but to keep dreaming big. The GLS helps me to realize the need for godly leadership in our world and empowers me to continue equipping  leaders.
"The story about the little engine that could resonates for me. I am convinced that I can make a huge difference in the country and the world at large as Christ strengthens me.
"The GLS is empowering lives and bettering institutions. It is important for the GLS to continue in The Gambia so that we can see the transformation we yearn for!"
We welcome and encourage comments on this site. There may be some instances where comments will need to be edited or removed, such as:
Comments deemed to be spam or solely promotional in nature
Comments not relevant to the topic
Comments containing profane, offensive, or abusive language
Anonymous comments
If you have any questions on the commenting policy, please let us know at heretoserve@globalleadership.org
Equip, encourage & inspire global leaders with a gift today
When you give to the Global Leadership Development Fund, your gift inspires and equips Christian leaders, facilitating transformation in some of the world's most challenging environments.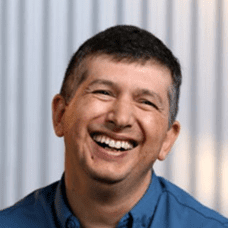 "Without your heart for giving, we could not have had the GLS in many countries like Bolivia, Ecuador, Cuba, Chile, Peru and others in the rest of Latin America."
Carlos Arroyo, South America