Published June 12, 2019
My Influence Journey Started in High School With One Simple Invitation to the GLS
The simple act of someone investing in me when I was a high school student had a huge impact.
The first time I went to The Global Leadership Summit, I was in high school. My youth pastor, who had been attending the Summit for a number of years, decided to bring a couple of students who were leading small groups and participating in our youth group. I didn't know why I was invited to the Summit at the time. But looking back, without me knowing it, I realize he was investing in us.
The act of simply being invested in had an impact on me as a young student. I thought, Wow, I'm worth the time and energy to build into.
My spark to create and have influence
The first time I knew I wanted to be creative with video and imagery was also when I was in high school. I went to a youth conference and during the event, they played short ice-breaker videos. The response generated from those videos really stuck with me. I thought, I wish I could do that! That was the start of my spark to create. It was the beginning of my journey to discover my influence.
I thought, Wow, I'm worth the time and energy to build into.
Then when I started getting more involved with creative work at my church, the Global Leadership Network and a company called OX Creative (one of the GLN's creative media partners), I started to see I could have influence in a bigger way.
People who were involved in the creative process for the Summit inspired me to see how powerful imagery and creative storytelling could be. It's disappointing when a good message, good intentions or great passion are lost because of poor imagery. But good and beautiful imagery can really resonate and connect with the audience in meaningful ways.
I believe it's my calling to create beautiful imagery that connects with people.
One of the most powerful visual pieces I've ever seen was a video for a non-profit called Liberty North Korea. Their whole mission is about helping North Korean refugees integrate into society. The video piece is a story about a woman and her baby who fled North Korea. In the video, there's a moment when you see her deciding whether to act or whether to give up—giving a raw, intimate look into her situation. These are the kinds of videos I want to make!
While at the GLN, I've started to see myself as a leader with influence.
Since I've been around the Summit content so much while editing videos, it is getting ingrained in me that I have influence. So, even if you're not in a leadership role, everything you do and say can have influence.
By investing in your own leadership when you're young, you could have a lasting influence on people.
Looking at my life, I realize you don't become a good leader overnight. You also don't become the most creative person overnight. Looking back to high school and that moment when I went to the Summit, I might not have remembered what I learned, but the act of being invested in and being there had an impact on where I am today. It's a gradual ripple effect. And it starts by showing up and doing the work.
It may feel like the creative process is taking longer than it should, but being an artist is a long game. By developing my leadership now, I can maximize my influence so that I can connect with people in better unique ways going forward.
To all young, emerging leaders, it's never too early (or too late) to start investing in yourself.
I'm grateful for my youth pastor who invested in me by taking me to the Summit. Before the Summit, I would not have been exposed to amazing leaders curated from so many different sectors and walks of life. It has broadened my perspective. By investing in your own leadership when you're young, you could have a lasting influence on people.
Your voice and influence matter!
---
Check out one of the many pieces that Peter had his creative hand in for the GLN:
We welcome and encourage comments on this site. There may be some instances where comments will need to be edited or removed, such as:
Comments deemed to be spam or solely promotional in nature
Comments not relevant to the topic
Comments containing profane, offensive, or abusive language
Anonymous comments
If you have any questions on the commenting policy, please let us know at heretoserve@globalleadership.org
Equip, encourage & inspire global leaders with a gift today
When you give to the Global Leadership Development Fund, your gift inspires and equips Christian leaders, facilitating transformation in some of the world's most challenging environments.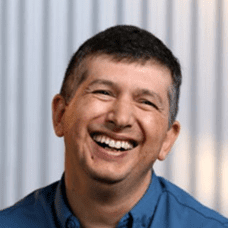 "Without your heart for giving, we could not have had the GLS in many countries like Bolivia, Ecuador, Cuba, Chile, Peru and others in the rest of Latin America."
Carlos Arroyo, South America