Published June 27, 2019
Prison Inmate Inspired to End Incarceration for the Next Generation Through Education
When The Global Leadership Summit and Prison Fellowship partnered to broadcast the Summit to prisoners, it was to give men and women who are incarcerated the tools they need to become effective leaders. In 2015, the Summit welcomed 1,500 prisoners in 11 U.S prisons. In 2019, the Summit will be live-streamed to incarcerated men and women in 82 prisons.
Leadership matters—even in prison.
This letter came to us from Alejandro, who is incarcerated at Heritage Trails Correctional Facility in Plainfield, Indiana. We're grateful for Kingdom-minded leaders like Alejandro and pray that God will bless his experience at GLS19!
Dear GLN,
My first day in prison I found someone's 2018 Summit notebook on the bookshelf. Once I discovered what was inside and what The Global Leadership Summit was all about, I knew that God placed that notebook in my hands to be a help in fulfilling His purpose for my life, and that teaming up with GLS was how to get the mission done. I am extremely excited for this year's Summit.
I am writing to you today to share my grander vision story.
I first went to Juvenile Indiana Department of Corrections at age 15. I was raised by a single mother and had gotten involved in drugs and gangs, seeking the acceptance I was longing for from an absent father. I did over one year in the facility.
At my release hearing, the warden asked me where I expected to be at age 25. I told him my honest answer. Prison!
Once released, I was arrested 19 days later with five new charges. My gang involvement intensified and I was back in D.O.C. within four months. I went to a tougher facility this time. I caused many problems while I was there. Finally, at age 18, just short of three years in, I was being "kicked out." I had no desire to change and they couldn't help me. At my release hearing, the warden asked me where I expected to be at age 25. I told him my honest answer. Prison!
You see, to me, a kid in his most influential years of adolescence should not be raised in a prison wire environment. Regardless of their choices or bad path they are on, prison is not the answer to correcting that behavior, nor is medication. I'd like to introduce my grander vision God presented to me.
I grew up in a small town called Rensselaer, Indiana. Once released from Juvenile D.O.C., I relocated to Lafayette, Indiana. One day while in jail, I read how Saint Joseph College in my hometown had gotten shut down due to being 28 million dollars in debt. In the same newspaper, Lafayette, Indiana was going to spend 27.8 million dollars to build a juvenile D.O.C. Thanks to Lafayette's chief of police, that idea was halted because he'd seen a pattern that locking up juveniles was just creating adult offenders, and they needed to take a different course of action.
That's when it hit me.
Here is an empty campus that's 28 million dollars in debt, as well as a city wanting to do something and willing to spend 27.8 million dollars. What if I could just somehow convince them to take the money and start a new campus, Saint Joseph Academy—a place where at-risk youth can come and become the best version of themselves?
The school motto would be FLATLINE: Forever Learning. Always Teaching. Love Is Never Enough.
It could be a school of broad opportunity where kids who may have made mistakes can come and learn a new and encouraging path. We'd receive recommendations from probation officers, pastors, teachers and counselors who see potential in an at-risk child who is in need of special attention and care. We'd have a team of recruiters visit them the same way a college coach would try to recruit them to come play for their team. We'd present them with the choice to join the once-in-a-lifetime opportunity of coming to the academy where we teach them things kids are interested in today: Brazilian jiu-jitsu, kickboxing, art, culinary arts, cosmetology, communication or anything they want to become. We would help them achieve all their dreams. They would live on campus in the dorms, have their own room, decorate it the way they want and get to dress how they want. We'd encourage them to be individuals. We'd help teenage kids 13-18 years old. We wouldn't tell them they have to go here because they are in trouble. We wouldn't have razor wire fences or brown jump suits. We wouldn't train their minds to tell them they are criminals. We'd teach them to believe in themselves because we believe in them. We'd create the path for them to reach higher. It'd be run by ex-cons who have made it out of the cycle and want to lead the next generation away from the mistakes they once made. This would give purpose and meaning to these ex-cons' lives, create job opportunities for them and decrease the risk of them recommitting crimes.
See, as a troubled youth, nothing I was told meant anything to me. I mean, the judge, police officers, teachers, counselors, principles—their words fell on deaf ears. But, if I heard it from a tatted-up guy who just got out of prison, I would've listened to him. I could have related to him.
The school motto would be FLATLINE: Forever Learning. Always Teaching. Love Is Never Enough. I am very dedicated to this mission and know it's God's will for my life. While here, I am training myself to be able to carry and build this dream. I look forward to 2019's Summit! Most of all, your prayers are greatly appreciated. As I pray for the success of GLS, I end this with a heartfelt peace be with you and God bless.
Yours very truly,
Alejandro
We welcome and encourage comments on this site. There may be some instances where comments will need to be edited or removed, such as:
Comments deemed to be spam or solely promotional in nature
Comments not relevant to the topic
Comments containing profane, offensive, or abusive language
Anonymous comments
If you have any questions on the commenting policy, please let us know at heretoserve@globalleadership.org
Equip, encourage & inspire global leaders with a gift today
When you give to the Global Leadership Development Fund, your gift inspires and equips Christian leaders, facilitating transformation in some of the world's most challenging environments.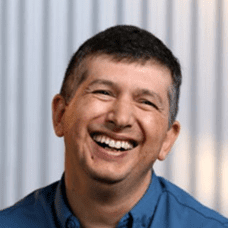 "Without your heart for giving, we could not have had the GLS in many countries like Bolivia, Ecuador, Cuba, Chile, Peru and others in the rest of Latin America."
Carlos Arroyo, South America