Published October 19, 2016
The Prophetic Significance of Iraq Pushing ISIS Out of Modern-Day Nineveh
This week Iraqi forces and their allies are fighting to take back the city of Mosul from ISIL, who have held it since 2014. It's happening in an area of biblical significance: Mosul, Iraq's second-largest city of some 1.5 million people is in modern-day Nineveh.
We remember Nineveh from one of the most popular stories of the Old Testament in which the prophet Jonah reacted badly to a command from God. He had been tapped to go to Nineveh, the prosperous and powerful center of the Assyrian empire. The people there had become so wicked that God wanted to destroy them unless Jonah could preach some sense into them. But Jonah had his own view of the Ninevites, that they weren't worthy of God's compassion. Instead of obeying God, he ran away.
As we and most Sunday school children know, Jonah ended up in the belly of a whale. After three days, he saw the light and obeyed God. He went to Nineveh and preached a warning to the people. And it worked. Immediately everyone, "from the greatest to the least," donned sackcloth and repented. God spared them.
Today, God is concerned about Nineveh again—and is calling His church to action.
An intense humanitarian crisis is already starting to unfold as a result of the military action in Mosul. Earlier conflict has already uprooted more than 3 million Iraqis, and this campaign could displace as many as 1 million more, causing immense needs Iraq can't manage alone.
Americans might be reacting like Jonah, unwilling to get involved. This is yet another Middle East conflict with bewilderingly complex politics—who's fighting whom and why? The U.S. has been entangled in Iraq's troubles for more than a decade with little to show for it other than the sacrifice of our fallen soldiers. And the people are Muslim, a group many Americans distrust. All of that might make us want to go another way, like Jonah—anywhere but Nineveh.
But when we look at what's happening in Mosul, as Christians we should seek to understand what God is doing rather than just the geopolitics. Is it a coincidence that today's crisis is playing out in the very place where Jonah learned a hard lesson about obeying God? I don't think so.
I believe God is calling us, His church, to participate in His plan for the people of Iraq. But we'll have to overcome our prejudices first.
We've already seen considerable reluctance from churches to help Syrian refugees, who are predominantly Muslim and have been branded potential terrorists in the court of public opinion. A recent survey showed that Christians are less likely even to pray for Syrian refugees, much less financially assist them or welcome them, than they were a year ago. Why would Iraqis—also largely Muslim, their former government a past enemy of our country—be worthy of our help?
As Jonah's story proves, sometimes God calls us to something we don't want to do. Whether Jonah liked it or not, God loved the people of Nineveh. "Should I not have concern for the great city of Nineveh?" God asks in Jonah 4:11. Should God not have concern for the people of Iraq?
Certainly He does, especially considering that half the Iraqis caught in the crossfire are children. These are boys and girls like our own—except they have already experienced more than their share of hardship. "Those who have been in Mosul have potentially witnessed unspeakable horrors of conflict, not once but many times over," says Wynn Flaten, World Vision's director in the region.
This is our Nineveh moment. God is asking us to overcome our own biases just as Jonah had to. Whatever God has planned for Iraqis—peace, security, salvation—it may not happen if we don't engage.
In God's mysterious ways, reluctant Jonah was the one chosen to help the Ninevites. Now, in the very same land, it's our opportunity to come alongside the people God loves in modern-day Nineveh.
Rich Stearns has brought strong leadership and oversight to World Vision U.S. since 1998, when he left his position as CEO of Lenox to follow what he felt was a distinct call from God on his life. He holds a B.A. in neurobiology from Cornell University and an MBA from The Wharton School of the University of Pennsylvania. Stearns is the author of several books including The Hole in Our Gospel and Unfinished. This article originally appeared in Charisma News.
---

Host a Refugee Sunday
Engage your whole church around the refugee crisis. When you host a Refugee Sunday, you'll get all of the resources needed to deepen your congregation's understanding of the crisis and move them to respond to God's heart for the most vulnerable.
We welcome and encourage comments on this site. There may be some instances where comments will need to be edited or removed, such as:
Comments deemed to be spam or solely promotional in nature
Comments not relevant to the topic
Comments containing profane, offensive, or abusive language
Anonymous comments
If you have any questions on the commenting policy, please let us know at heretoserve@globalleadership.org
Equip, encourage & inspire global leaders with a gift today
When you give to the Global Leadership Development Fund, your gift inspires and equips Christian leaders, facilitating transformation in some of the world's most challenging environments.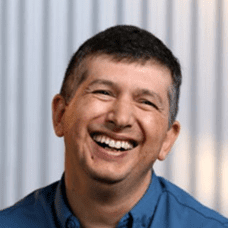 "Without your heart for giving, we could not have had the GLS in many countries like Bolivia, Ecuador, Cuba, Chile, Peru and others in the rest of Latin America."
Carlos Arroyo, South America