Published November 28, 2018
Church Serves Community in Need After Hurricane Michael
At the 2018 Global Leadership Summit, Strive Masiyiwa said, "Identify a human need and solve it."  Those words rang in my ears in the weeks following the Summit, and now I understand why.
"Identify a human need and solve it." – Strive Masiyiwa
While Strive may have been talking about his business, this can also be a mantra for the Church—to reach out to our communities and look around. What needs do the people have? How can we solve local problems?
We live in a world driven by social media and images constantly barraging our brain. It can be numbing, and knowing where to start, what to do and how to help can be overwhelming. The church has been called to be the hands and feet of Jesus, but how exactly do we continue to do that in new and relevant ways in our communities? Responding quickly, mobilizing our troops, caring for our neighbor—whatever that may be for you, is a critical mission.
God showed me how important it is to just GO
This is my firsthand story of how God showed me how important it is to just go. To move! And how the Church needs to be equipped to respond to crisis.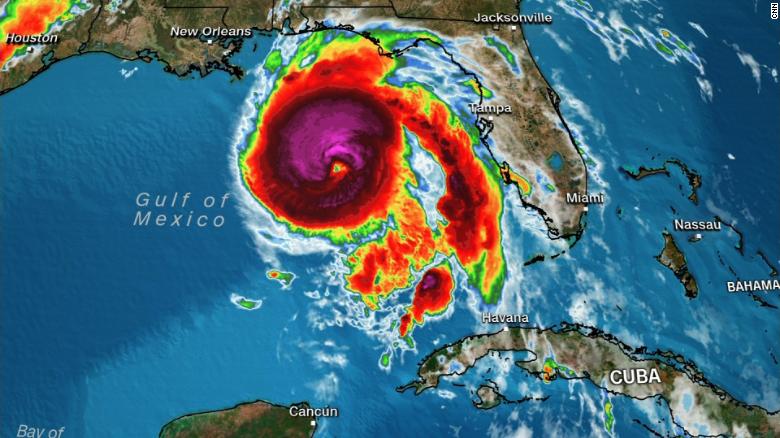 We live in Tallahassee, which had been hit hard in early October 2018 by Hurricane Michael. Approximately 99% of the area lost power. Numerous downed trees and mountains of debris were everywhere, but we were slowly recovering.
We had been without power for four days after the storm. We lost cellular service, which cut us off from the outside world. No texting. No internet. The Florida panhandle had suffered the worst hit from a hurricane—ever. But we were slowly recovering. When power was restored, and I was able to relax on the couch and watch college football with the AC cranked, I was in heaven.
All I was saying yes to was to call the friend who had posted and ask how I could help, but then God took over.
We were going from chaos to clean up to recovery to almost normal. Gratefully sipping my hot tea, I started flipping through Facebook to see how everyone had fared. That's when I saw it. Nothing outrageous. No pictures of destroyed homes or homeless pets, just a basic Facebook post from a friend asking for help. And a funny thing happened. My couch, my A/C, my hot tea… became quite uncomfortable.  I felt something well up inside me and I sensed one word:
Go.
What happened when we said yes to God
What do you do when God presents you with a problem—a human need, and He gives you the ability and resources to do something about it?
So, I said, "yes" to God. All I was saying yes to was to call the friend who had posted and ask how I could help, but then God took over.
We formulated a plan and communicated needs on Facebook and through the church network. (Being married to the lead pastor helps.)  We aren't a big church—far from it. I didn't know what to expect or if this would even work, but I knew we had to try.
Then it began.
People started dropping supplies at my house. Gofundme donations streamed in, and the church lobby started filling up with items to help people who had lost so much in the hurricane. Within 20 hours, we had seven carloads of supplies, a chainsaw crew and a team that could bring gas, food and water to those who couldn't get out of their house. It was unbelievable.
We went to serve the rural areas, just 40 miles west of us. The towns that got hit after the hurricane left the beaches and came inland. It was an area that no one was showing on TV or talking about in the news. Whole communities were left to pick up the pieces.
It's hard to explain what it looked like as we drove on I-10 that morning. Miles and miles and miles and miles of destruction. Complete devastation.  My heart sank. It felt crushed. I didn't know what God had called me to, but I wondered if this might be too much.
That Sunday in Cottondale and Alford, Florida, we gave out food, made new friends and heard their painful stories. And as we listened, we found hope. And smiles—lots of them. Tears of thanks, hugs of appreciation. People were beyond words to know they weren't forgotten—that they mattered to someone. That people cared about them.
That week we were able to make multiple follow-up trips, bringing diapers to a mom with 2 toddlers, corn dogs and chicken strips to a boy with autism who wouldn't eat anything else, a generator with a well connector to a farmer who couldn't get water to his cattle, a case of ravioli to the couple who were desperately tired of eating PB&J. Specific people with specific needs.
We brought bags and bags of ice—something more precious than gold. And 100 gallons of gas to help fuel generators or cars. (NOTE: It's probably not safe to drive with that many cans of gas in the bed of your truck).
God shows up again
And then, this thing we were doing, took on a life of its own. God showed up.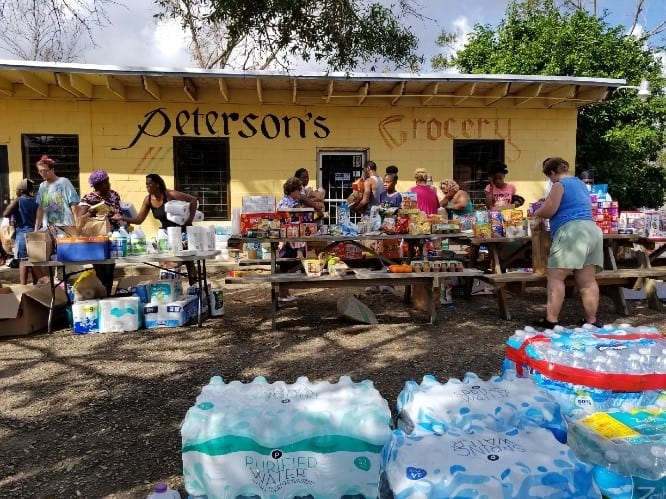 He showed us the next need—Marianna, Florida, which was still without power and had a downtown that looked like a bomb had gone off.  Again, we called on our community to step up. This time, help came from all over the country. Small business owners opened their spaces for collections. People shipped diapers to our doorstep. Amazon boxes containing tarps and batteries showed up. The church remained open and unlocked as people filled need after need. Repeated quiet acts of generosity. Hope.
The next Saturday, we brought a chainsaw crew and set up a mobile grocery store, bringing the food to people. I ended that day exhausted and popping Motrin, but my heart was full. We had served the people of Mariana.
Are we done yet?
Now we were done, right?
Funny thing, when you say "yes" to God, he doesn't always (or ever) give you all the details up front.
To be honest, I really, really wanted to be done. All this organizing… it felt like I had a new part-time job. Yes, it was rewarding. I loved it, but I also wanted to check off the box that we had served. I did my time. I gave. I used my talents and time and treasure. I was tired, and my own home was a mess.
I am actually pretty good at setting boundaries. I can say "no" when I need to and make sure I don't do too much. Maybe that is why I knew this was different. God wasn't done with me, or the church yet.
Next, God brought us to Bristol, Florida to fill needs. Bristol was a neighborhood banding together to share supplies, cook meals and keep their ever-burning bonfire going. A family who had lost their home and everything in it found a new home in an abandoned trailer on an uncle's property, but needed 4 beds, frames, bedding, toys, games and food as well as someone to assess their roof damage. So we went.
Show me what is next
Next weekend we are constructing shade structures and pens for a horse farm in Panama City.
This little project God called me to doesn't seem to be ending. It's one foot in front of the other. One need at a time. My prayers have changed from, "God, is it over?" to "God show me what is next."
Just save one
In the movie Justice League, there is scene where the JL is meeting Steppenwolf, the bad guy, for the first time. Flash admits he has never done battle before. Batman tells him, "Just save one. You'll know what to do next."
Batman must have been thinking of Mother Teresa who said, "Do for one, what you can't do for everyone."
That's where this all started, with just one.
In times like this, it is easy to be overwhelmed by pictures of destruction and stories of loss….to sit and watch and feel so many feelings and not know what can even be done… how can you even make a difference?
The news coverage and stories may have already moved on, but there is still so much to be done here. One by one, as God presents us with what is next, we will respond, and say "yes."
We welcome and encourage comments on this site. There may be some instances where comments will need to be edited or removed, such as:
Comments deemed to be spam or solely promotional in nature
Comments not relevant to the topic
Comments containing profane, offensive, or abusive language
Anonymous comments
If you have any questions on the commenting policy, please let us know at heretoserve@globalleadership.org
Equip, encourage & inspire global leaders with a gift today
When you give to the Global Leadership Development Fund, your gift inspires and equips Christian leaders, facilitating transformation in some of the world's most challenging environments.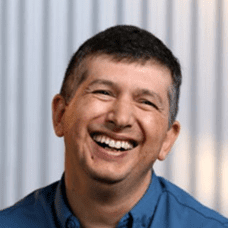 "Without your heart for giving, we could not have had the GLS in many countries like Bolivia, Ecuador, Cuba, Chile, Peru and others in the rest of Latin America."
Carlos Arroyo, South America