Published May 24, 2021
Strategic Pause Launches Organization Forward
Brian Grim, founding president of the Religious Freedom & Business Forum, is the world's leading expert on the relationship between religious freedom and the economy, having held leadership roles with the World Economic Forum, as well as the Pew Research Center in Washington D.C. Having spent 20 years in China, Central Asia, Europe, the Middle East and the former USSR, Brian has acquired a wealth of research and first-hand experience he now brings to his work to help leaders bring religious diversity, equity and inclusion into the workplace.
In February 2021, the Global Leadership Network sponsored the second annual Religious Business & Freedom Foundation (RFBF) Faith@Work Conference, which brought together leaders from 75 companies, including 11 Fortune 500 companies, as well as 26 universities, 5 business schools and 46 NGOs. "I'm excited about seeing what God is doing in people's lives and seeing where I can be supportive and amplify the good work people are doing," said Brian. "With the RFBF we have seen principles working well in different companies, and our conference allows those companies to share best practices and connect with one another. It excites me to see what is working and see where practices are having a positive impact. The overlap with the Global Leadership Network is leadership."
Ultimately the Faith@Work Conference allows companies and leaders to come together to share and learn from one another about why religiously inclusive workplaces are so important for the future of business. During the conference, one of the keynotes, founder and CEO of WhiteSpace at Work, Juliet Funt, provided a wealth of insight on her concept of "the strategic pause" which she introduced to The Global Leadership Summit audience for the first time in 2017.
Juliet's talk proved to be a catalytic session for Brian personally because of what he was moved to do next.
"Leading up to the conference, there were so many moving pieces. I didn't have time to take a pause," said Brian. "But after her talk, and after the conference, I decided to take a pause period for myself to see what ideas would flow out of it. Like Juliet said, it is in the pause where you have your next big idea."
It is in the pause where you have your next big idea.
In fact, Brian's next big idea was developed out of a very strategic pause; coming up in August this year, in the days before the Paralympic games, RFBF is going to have a global business and peace symposium focusing on the work being done through Employee Resource Groups and throughout Asia. "This is a unique opportunity because this event will be at the Paralympics, so it will include faith groups and the groups that work for inclusion related to people's abilities—Disability Employee Resource Groups," said Brian. "Many large companies have Employee Resource Groups for faith, disabilities and others all over the world, but nobody is shining a light on the topic. So, I want to shine a light on the wonderful activities companies are doing all over the world."
"Juliet Funt reminded me that it's important to pause to allow for forward momentum for what is next—it's productive and the concept is so valuable. Had I not taken a strategic pause, I wouldn't have had the idea to do this event coming up in Tokyo!"
After Juliet Funt's talk, she and Tom De Vries, president of the Global Leadership Network, had a timely conversation where Juliet brought up the concept of purposeful authenticity. "Purposeful authenticity is a really useful term in the work I'm doing," said Brian. "Bringing your full authentic self to work means being authentic about who you are but with purpose to move things forward."
Bringing your full authentic self to work means being authentic about who you are but with purpose to move things forward.
It is leadership talks like Juliet Funt's that remind us why it is so valuable to invest in our leadership growth. For Brian, it was Juliet's concept of the strategic pause that became a catalytic principle propelling him forward toward his next big idea. "People should take time to invest in their leadership development," Brian emphasized. "It's about learning and benefiting from somebody else's perspective. It gives you input on things you wouldn't have thought of through your own lens. It is really valuable. Sometimes it is easy to function in your own bubble, which makes it difficult to authentically relate to others. For that reason alone, it's so valuable to invest in learning from others, through their stories, and investing in your leadership growth. It's about staying curious."
Much like Brians experience, the Summit helps bridge the divide, bring people together and bring curious minds together to learn from one another. "If people are going to find God and connect with God in a real way, they need freedom, right?" asked Brian. "In order for people to find and connect with God, however, they need freedom to be authentic in who they are. I've discovered along the way that most people are happy to stay in their bubble. So, what I'm trying to do is bridge the divide and create that space for conversation, learning from one another and purposeful authenticity."
How can we approach people without judgment? We can be curious.
Brian poses a challenge to consider on our leadership journey. "Jesus' teaching about not judging others, as well as the most important commands—to love God, love your neighbor and even, love your enemy—are provocative challenges which apply to leadership and what it means to live and work in the world. How can we approach people without judgment? We can be curious."
If you're a curious leader looking for ways to stretch and learn from others' journey, including returning faculty, Juliet Funt, join us at The Global Leadership Summit on August 5-6, 2021!
We welcome and encourage comments on this site. There may be some instances where comments will need to be edited or removed, such as:
Comments deemed to be spam or solely promotional in nature
Comments not relevant to the topic
Comments containing profane, offensive, or abusive language
Anonymous comments
If you have any questions on the commenting policy, please let us know at heretoserve@globalleadership.org
Equip, encourage & inspire global leaders with a gift today
When you give to the Global Leadership Development Fund, your gift inspires and equips Christian leaders, facilitating transformation in some of the world's most challenging environments.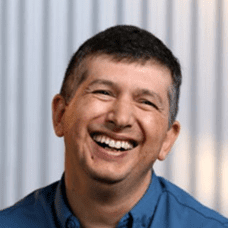 "Without your heart for giving, we could not have had the GLS in many countries like Bolivia, Ecuador, Cuba, Chile, Peru and others in the rest of Latin America."
Carlos Arroyo, South America